Crew focused on getting Garza ready for '16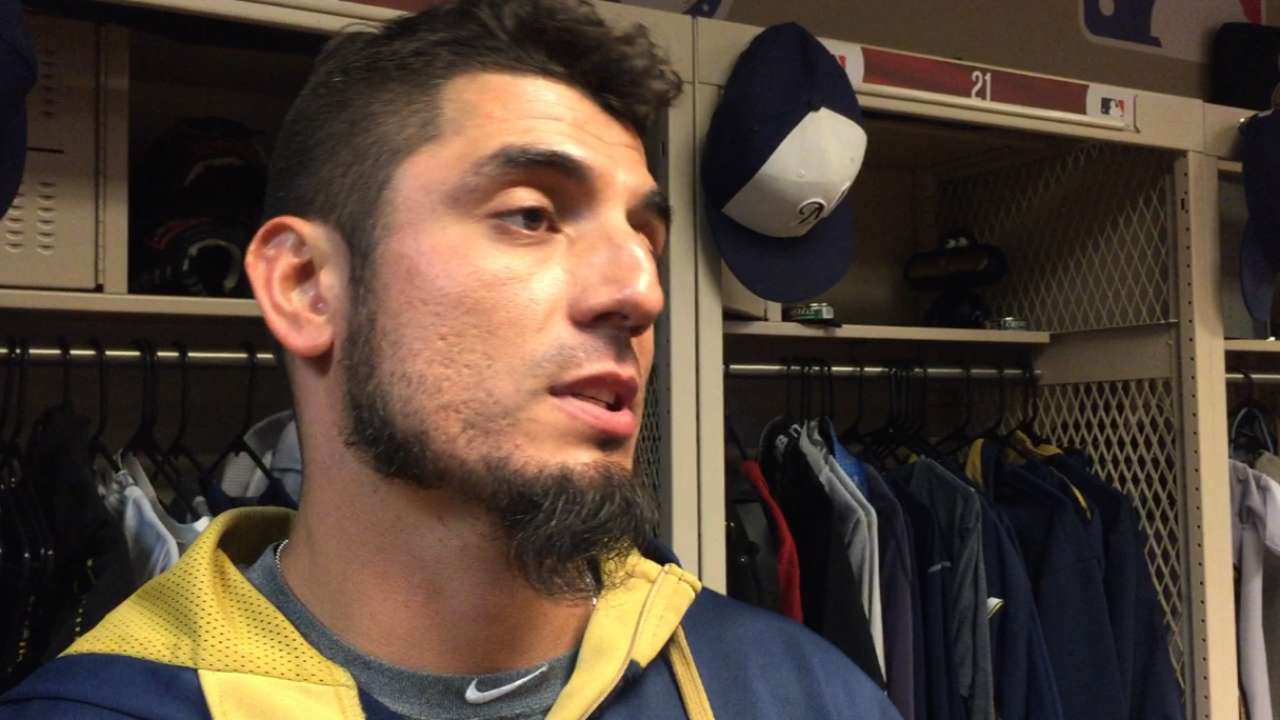 CINCINNATI -- A day after the Brewers removed Matt Garza from the starting rotation over Garza's strong objection, it remained unclear how the veteran right-hander would occupy himself during the remaining month of the regular season.
Garza, 6-14 this season with a 5.63 ERA, refused an offer to pitch out of the bullpen. Garza said he thought about going home to his family, but he was still with the team as of Sunday morning. Barring a change of heart on either front, it appears he will continue to report to work for the next four weeks without throwing another pitch.
"We're just moving forward," manager Craig Counsell said before Sunday's series finale against the Reds. "We've got a game today. We're getting ready for that game. That's how I'm moving forward with it."
Asked how Garza will fill his time, Counsell said simply, "He's going to get ready for 2016."
Is Counsell concerned the Brewers will have a malcontent on their hands?
"No. No concerns at all," he said. "No."
Counsell made clear in announcing the move Saturday that Garza was penciled into the team's 2016 starting rotation. Garza is due $12.5 million in each of the next two years, per the four-year, $50 million contract he received prior to the 2014 season.
That commitment helps explain why the Brewers, after bumping Kyle Lohse to the bullpen last month, resisted a similar move for Garza, even as he continued to sputter through the worst season of his career. They hoped Garza would accept the move now if the team sold it as a way to use September to take a look at some prospects. The idea was to take the focus away from Garza's struggles and focus on the franchise's big picture.
In a fiery conversation with reporters Saturday, Garza made clear he saw things differently.
"I'm not going to throw another ball, and that's it," Garza said. "If I wasn't a good team guy, I'd just ask to go home. I've got four kids and a wife pregnant with two. I don't know. I haven't made a decision yet. I'll go from there."
In his discussion with reporters, Garza did not mention that the Brewers had offered him a spot in the bullpen. General manager Doug Melvin said Garza could still accept such an assignment if he has a change of heart, a sentiment Counsell echoed on Sunday morning.
"We're open to that," Counsell said. "But I don't think that's going to happen. … What's important to me is Matt's in the best place to start 2016. That's what's important to me. However we get him in the best place to come into 2016 is the way we should go. I'm fine with either [him pitching relief or sitting out]."
Counsell said he shared some of Garza's frustration about not finding solutions to Garza's season-long struggles, and he expressed confidence in the player bouncing back in 2016.
"When you make an investment in a player, it's because you believe in that player, and that hasn't changed," Counsell said. "But I think at some point you have to take into consideration performance. We have to try to get Matt back to a performance level that matches up to the reasons we made that investment in him. That's what we're working on doing. We still believe fully that can happen."
Adam McCalvy is a reporter for MLB.com. Follow him on Twitter @AdamMcCalvy, like him on Facebook and listen to his podcast. This story was not subject to the approval of Major League Baseball or its clubs.