Aaron cemented legacy during time with Brewers
Hall of Famer left impact in two seasons with club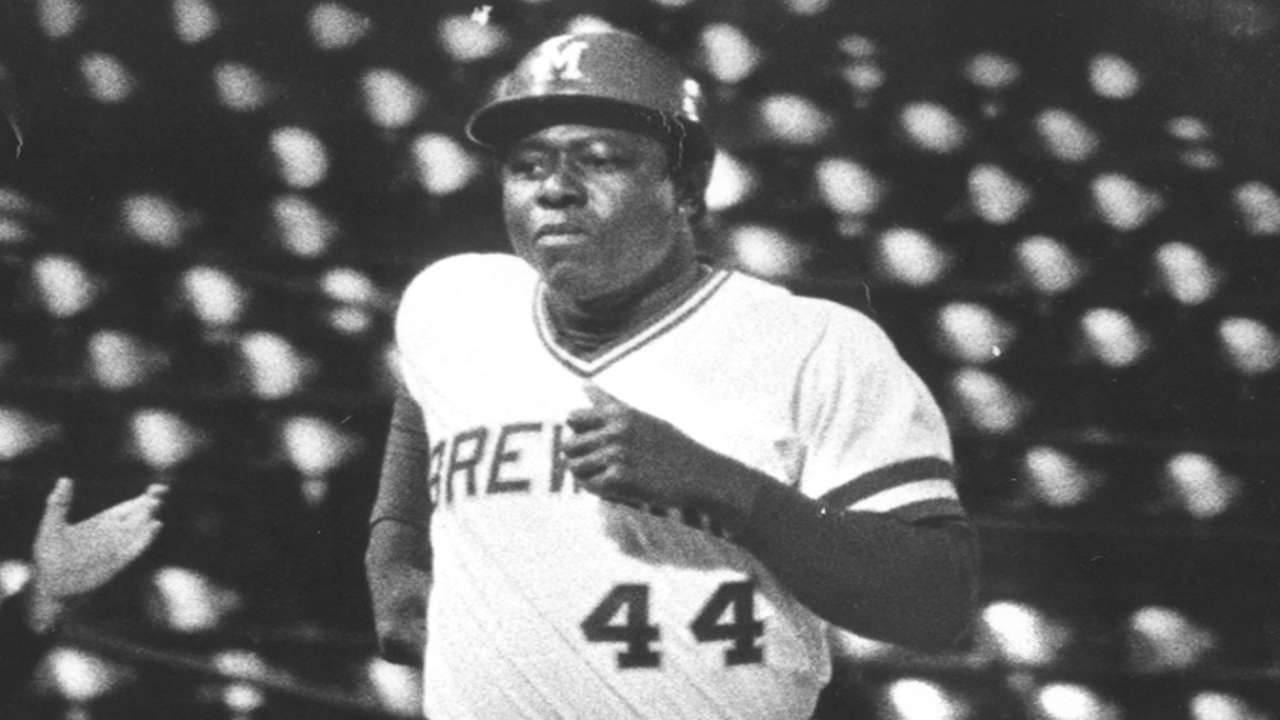 MILWAUKEE -- Hank Aaron was 40 years old and was feeling a bit weary in November 1974. He had just borne the weight of breaking Babe Ruth's all-time record for home runs, part of a trying season in Atlanta that saw Aaron's friend and former teammate Eddie Mathews relieved of his duties as the Braves' manager. Robin Yount was 19 and over the moon. Aaron was coming back to Milwaukee.
"A 19-year-old kid was going to get a chance to play with the home run king," Yount said last month at Brewers On Deck. "It was a pretty big deal for us."
The Brewers, a five-year-old franchise at the time, sent Dave May and a player to be named later to the Braves on Nov. 2, 1974, so Aaron could end his Major League career where it began. The new designated-hitter rule, enacted in 1973, made it possible, allowing Aaron, who along with Mathews and Warren Spahn led the Milwaukee Braves to a World Series championship in 1957, to hit the final 22 of his 755 home runs in a Brewers uniform.
Aaron broke baseball's all-time record for RBIs along the way and cemented his legacy in Wisconsin, where his professional career began in 1952 with the Minor League Eau Claire Bears. Two years later, he was playing the first of 14 big league seasons in Milwaukee.
"I think about all of the things that the people of Milwaukee really did for me as a young kid growing up," Aaron told longtime Milwaukee sportscaster Tom Pipines in 2015. "I came here when I was 19 years old, and made a lot of mistakes, but I've never once been in this city and the fans have booed me. They accepted me for what I am, and I'm just so grateful."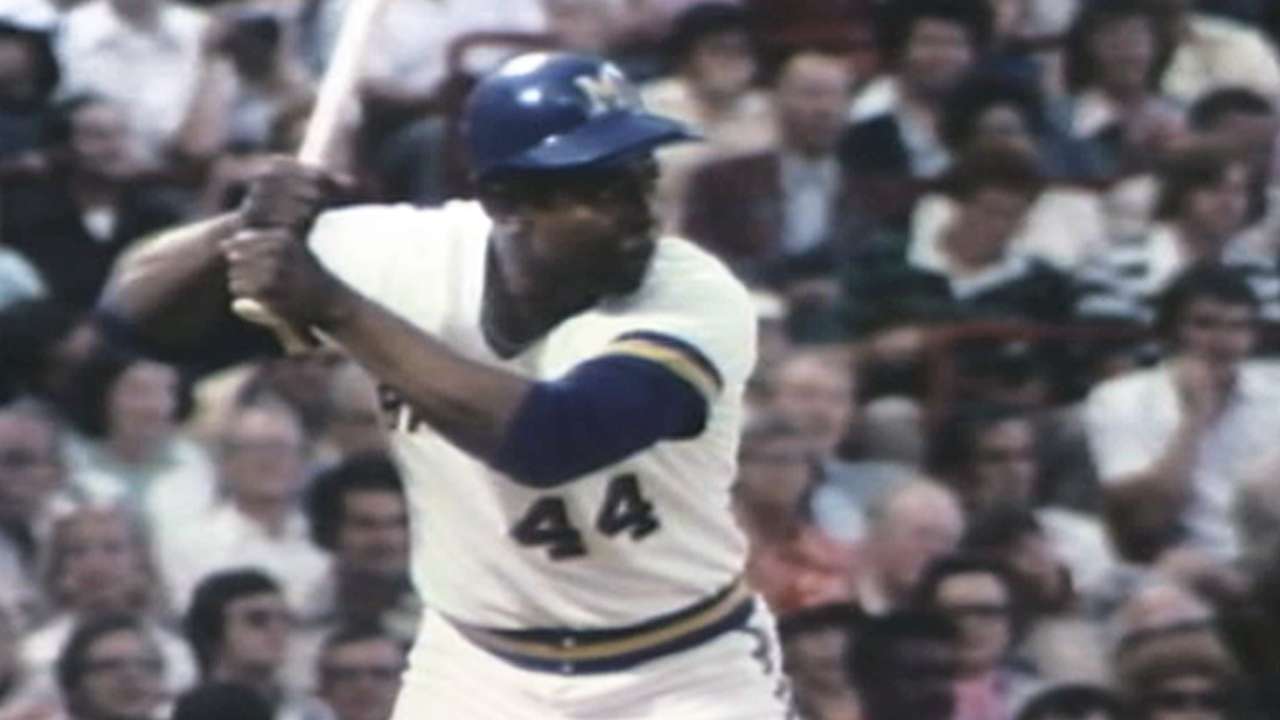 Yount, who had idolized Aaron growing up, was initially unsure how to address his new teammate. He had to muster some nerve before saying hello.
"I didn't realize how big a deal it was until I got to be a teammate of his and play with him and see what a great influence he was on a young player," Yount said. "He was one of the greatest players of all time, but the way he went about his business, he was just one of the guys. I'll never forget that."
On April 11, 1975, 48,160 fans attended "Welcome Home, Henry Day" at County Stadium. Aaron knocked an RBI single for his first Brewers hit in a 6-2 win over the Indians.
"He just looked at me and I looked at him, and he just said, 'Wow,' and I said the same thing," Commissioner Emeritus Bud Selig said. "It was an emotional day."
Aaron played his final two seasons with the Brewers, posting a .686 OPS. He finished with 2,297 RBIs and 6,856 total bases, records that stand today.
The Brewers retired his No. 44 after the conclusion of the 1976 season, when Aaron's playing career came to an end.
"He wasn't the same Hank Aaron -- we knew that," said Bob Uecker, a teammate of Aaron's with the Braves who was just beginning his broadcasting career when Aaron joined the Brewers. "But he was still a presence."
Aaron hit his 755th and final home run on July 20, 1976, at County Stadium, a solo shot off California reliever Dick Drago. The baseball hooked just inside the left-field foul pole at County Stadium and landed in section 28 of the lower grandstand. Months passed before anyone realized it was the Home Run King's final shot.
In 2007, the Brewers worked with a group of students from the University of Wisconsin-Milwaukee to identify the precise landing spot, which today is marked by a plaque in the parking lot outside Miller Park.
Adam McCalvy has covered the Brewers for MLB.com since 2001. Follow him on Twitter @AdamMcCalvy, like him on Facebook and listen to his podcast. This story was not subject to the approval of Major League Baseball or its clubs.