Attanasio wants Crew to take next step in '17
Owner, Stearns, Counsell address players before first full workout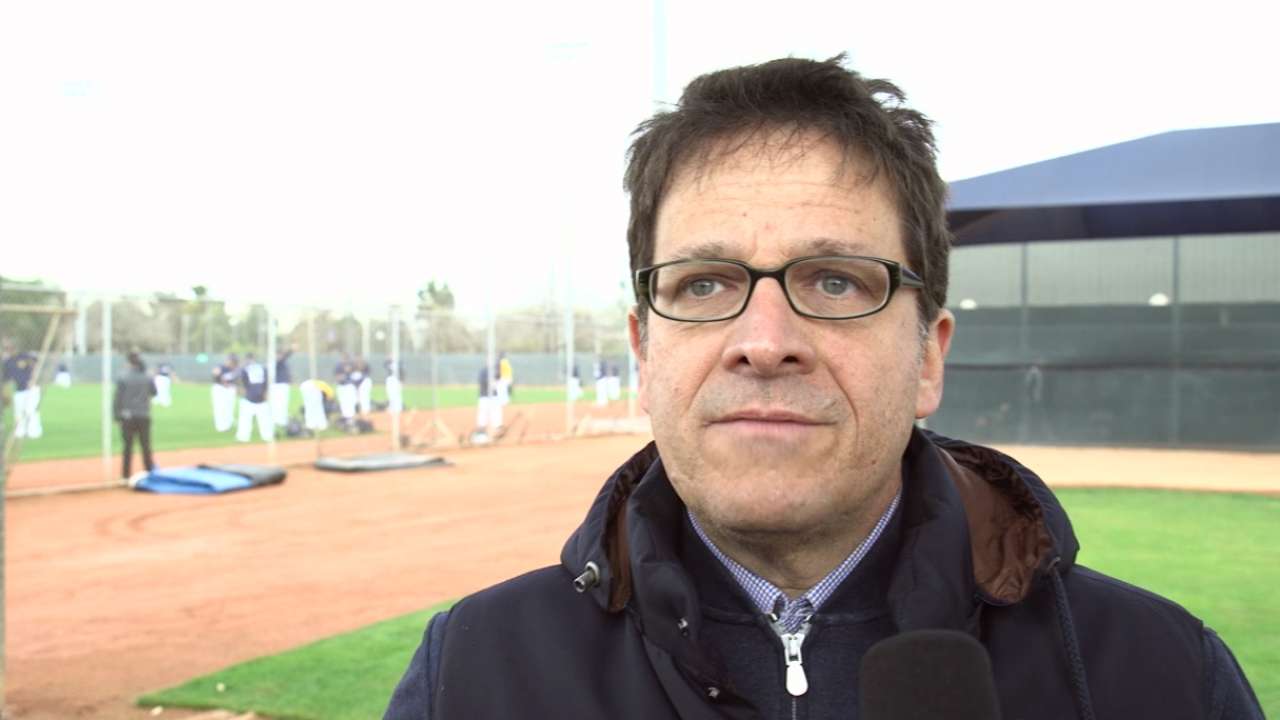 PHOENIX -- Brewers owner Mark Attanasio talked about family, community and opportunity in his address to the team before its first full-squad workout on Saturday. And for the first time in 13 years, he dropped a four-letter word.
"I usually talk about family and community in some way with the players. But for me, this year, the opportunity is unmistakable," Attanasio said afterward. "There's a group of guys who are going to be part of this next push and who are going to be part of the next playoff team, and that's exciting. So they have to seize it.
"For the first time in 13 years I may have dropped an F-bomb: 'Don't eff it up.'"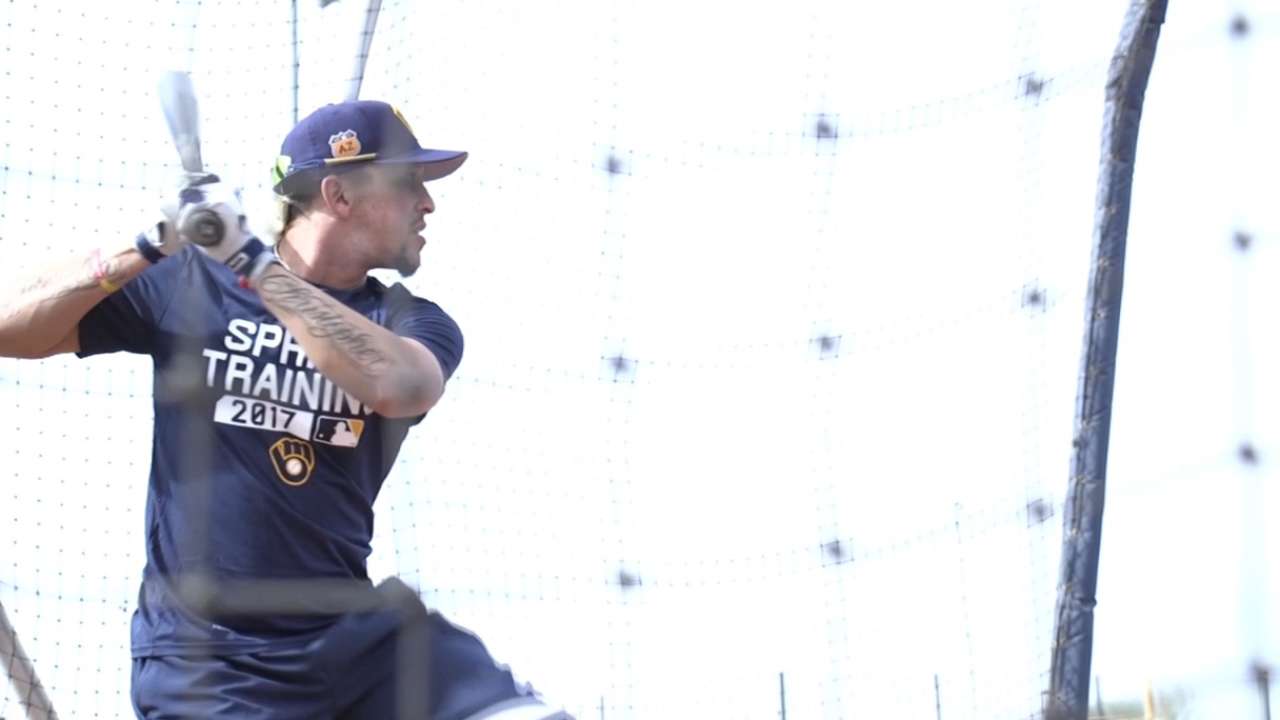 For emphasis, Attanasio asked Brewers first base coach Carlos Subero to translate that four-word phrase into Spanish.
• Brewers Spring Training: Schedule | Information | Tickets
It is going on three years since the Brewers hired Craig Counsell as manager and started trading players for prospects in an effort to infuse young talent into a Minor League system that had been raided over previous years to make "go-for-it" trades. That process continued in 2016 under baseball's youngest general manager, David Stearns.
Saturday marked the first opportunity for Attanasio, Stearns and Counsell -- who addressed players in that order -- to set a tone for 2017.
"This year will be the year that informs us the most about where we really are," Attanasio said. "We have not only David and Craig with a year under their belts, we have an entire coaching staff with another year under their belts, and a number of players who had real success, and a couple of other players who maybe took a step back who had previous success.
"This year will inform us as to where we are on the timeline for competing. The team will tell us where we are and where we're going, rather than me dictating it."
#Brewers Owner Mark Attanasio is in town to kick off camp. He met with the team and then the media this morning. #CactusCrew pic.twitter.com/b50sKh3awV

- Milwaukee Brewers (@Brewers) February 18, 2017
For Counsell, the message to players boiled down to this: Take the next step.
"I think it's different because, look, we have to continue to keep raising our standards of what we expect," Counsell said. "I give the players a lot of credit, because to me, they've set the standards. They're pushing the standards to a higher place.
"We're going to have high standards. I think we have to. And I don't think it's fair to put limits on any of this stuff. Why should you, man? Every season is sacred. Every season is special and new. I don't feel like that group deserves that at all; there's no limits on this."
Counsell's brief speech drew praise from the owner.
"Craig never lacked for confidence, but he's very comfortable now in his role leading the team," Attanasio said. "I think it was a very inspirational message, not setting limits and also how when you work together as a team you put less pressure on yourself.
"It was a noticeable step-up. Not that he wasn't always inspirational, but the calm and confidence with which he delivered the message was really cool."
Adam McCalvy has covered the Brewers for MLB.com since 2001. Follow him on Twitter @AdamMcCalvy, like him on Facebook and listen to his podcast. This story was not subject to the approval of Major League Baseball or its clubs.