Perez racks up 3 RBIs in return from Classic
Brewers utility man has big game after hurrying back from playing for Venezuela
SCOTTSDALE, Ariz. -- Hernan Perez loves playing baseball, so much so he hitched a ride overnight from San Diego to Phoenix to join the Brewers for their Sunday afternoon matchup with the Giants.
Perez had been away from the Brewers for more than a week, playing for Venezuela in the 2017 World Baseball Classic. Venezuela, eliminated from the tournament, played its final game in the second round Saturday afternoon, so Perez packed up his things and had his brother-in-law drive him from Petco Park to Arizona.
"I want to be ready for the season," said Perez, who started at second base Sunday and went 2-for-4 with a home run and three RBIs in Milwaukee's 6-4 win over San Francisco. "I want to play. I like to play. I like to compete. So that's why I came back here."
Brewers manager Craig Counsell was thrilled to have Perez back in the lineup.
"Hernan loves playing baseball; that's the big thing," Counsell said. "He loves playing and he wants to be ready and he's worked really hard to get to this spot and he's just a guy who likes to play."
Perez played sparingly for Venezuela, making one start and appearing in six of the team's seven games. He was 0-for-7 with four strikeouts and played first base and left field.
"It was amazing, a great experience," Perez said. "I think maybe going to be my first one, my only one, you never know. So I enjoyed it."
In his first game back with the Brewers, Perez played six innings of defense, cleanly fielding the four ground balls that came his way. He mashed a solo homer to left off Giants starter Jeff Samardzija leading off the fourth inning and added a two-run single in the fifth, which chased Samardzija.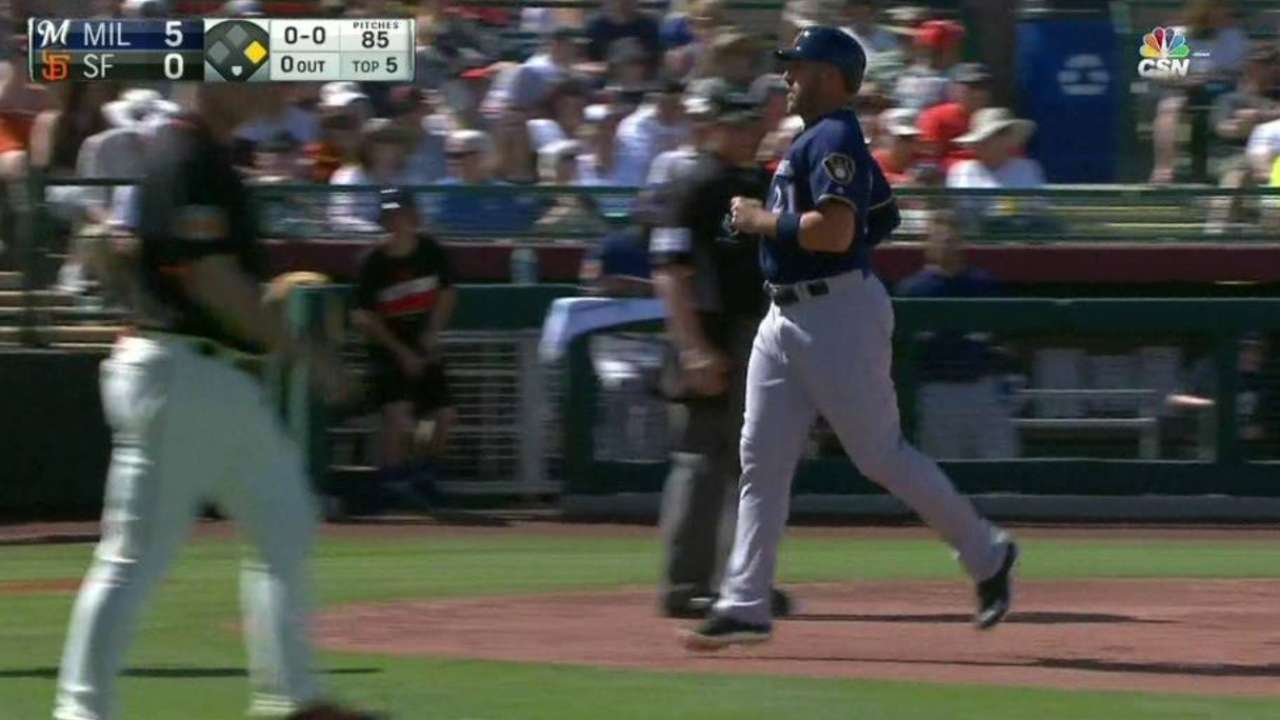 "I was trying to let the ball travel today a little bit," said Perez, who lined out to center in his final at-bat. "I put a good swing on those balls and got hits."
Said Counsell: "He had some good at-bats today. He squared up three balls."
Perez said he got a few hours' sleep during the car ride from San Diego and arrived in Phoenix around 11 p.m. local time.
Now that Perez is back from WBC '17, Counsell expects him to "play a significant amount the last two weeks" of Spring Training.
That's certainly fine with Perez.
"I love to play," he said. "If I'm in the lineup every day, I'm happy."
Austin Laymance is a reporter for MLB.com. This story was not subject to the approval of Major League Baseball or its clubs.