'Pure excitement' for Espino in Majors debut
Starter spent 11 seasons in Minor Leagues before callup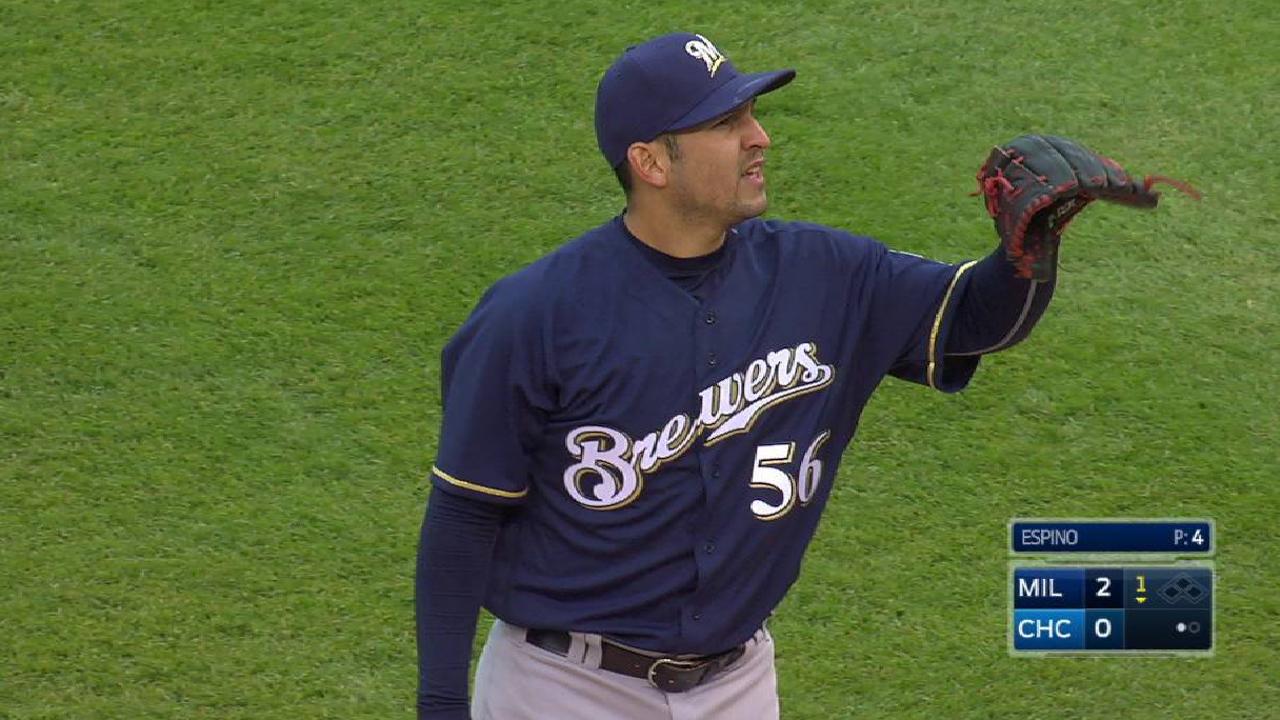 CHICAGO -- Alex Espino hurriedly packed a suitcase in Panama, then boarded a five-hour flight to Chicago. He was not going to miss his son, 30-year-old right-hander Paolo, make his Major League debut for the Brewers after toiling parts of 11 seasons in the Minors.
Upon arriving at Wrigley Field on Friday, Alex Espino realized he'd forgotten one thing: A warm jacket suitable for a 37 degree wind chill. A Brewers staffer -- Spanish language translator Carlos Brizuela, Espino's former high school teammate in Pendleton, Fla. -- delivered one with the team's name stitched across the chest.
"From the beginning, since I've been in Little Leagues, he's been following me, supporting me in everything," Espino said after the Brewers' 6-3 win over the Cubs. "He was as excited as I was."
A few things could have made the day better. Warmer and drier weather, for starters. And a victory for Espino, who instead settled for a no-decision after his effective start was cut short after 71 pitches and four innings when Brewers manager Craig Counsell opted for a pinch-hitter amid a rainy rally in Milwaukee's go-ahead fifth.
Also, a promise of more opportunities to start. With Opening Day starter Junior Guerra on track to return from the disabled list as soon as next week, the Brewers could offer Espino no such assurances on Friday.
Still, this was a good day.
"It was pure excitement," Espino said. "I've been waiting for this opportunity for so long."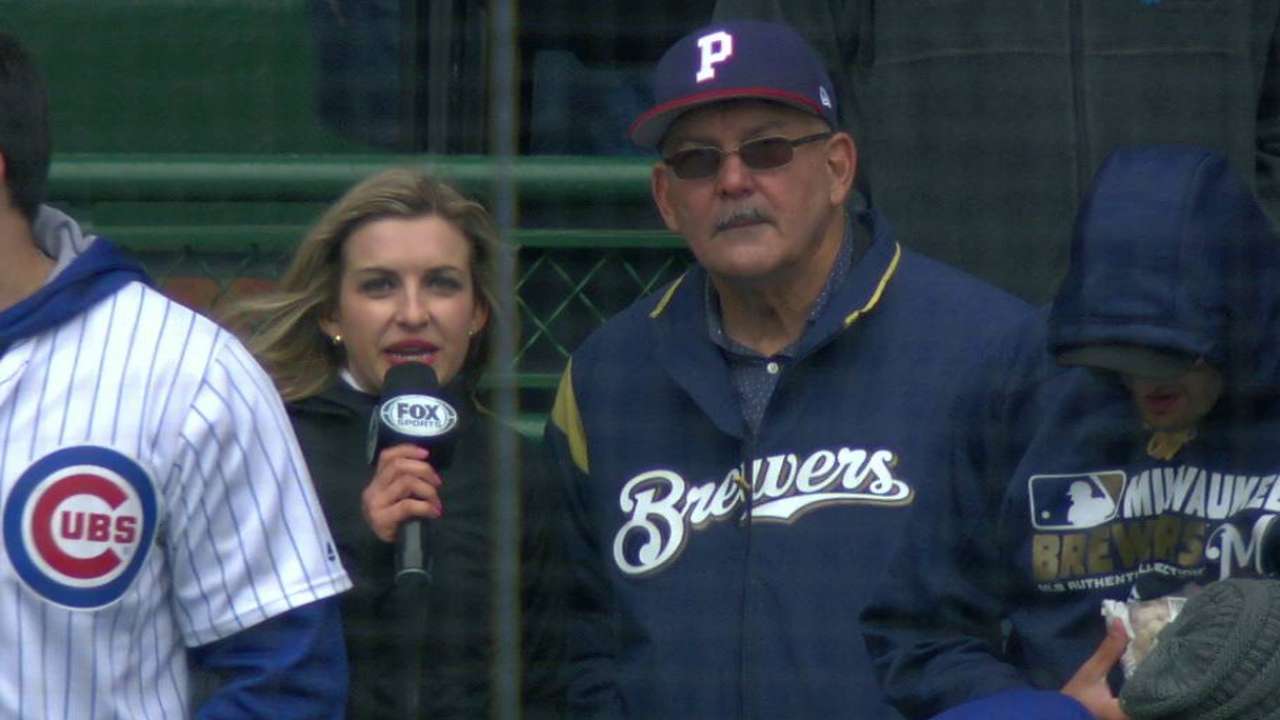 After 1,304 innings in 291 games over 11 seasons in the Minors, no rainstorm was going to dampen this particular Major League debut.
"Everyone roots for the guy who has put in all that time in the Minor Leagues," Counsell said. "At times, it feels like it's never going to happen. He keeps performing, and it still doesn't happen. To give a guy like that a shot -- I got a couple text messages from people who have come into contact with him or coached him through the years and are so happy for him.
"But he's earned it. That's the bottom line. He's pitched his way to have a shot like this."
It's the second straight year the Brewers have given a shot to a longtime Minor Leaguer, and while Guerra's journey covered more miles, Espino's spanned more years. Born in Panama, he was the Indians' 10th round Draft pick in 2006 and made it to Triple-A by the time he was 23.
That was 2010, the first of Espino's eight -- eight -- seasons in which he touched the Triple-A level for the Indians, Nationals and Brewers. He finessed his way to a respectable 3.54 ERA at the top level of the Minors, including a 2.54 ERA in seven starts this season in challenging conditions at Colorado Springs.
This week, at long last, came a call to the Majors.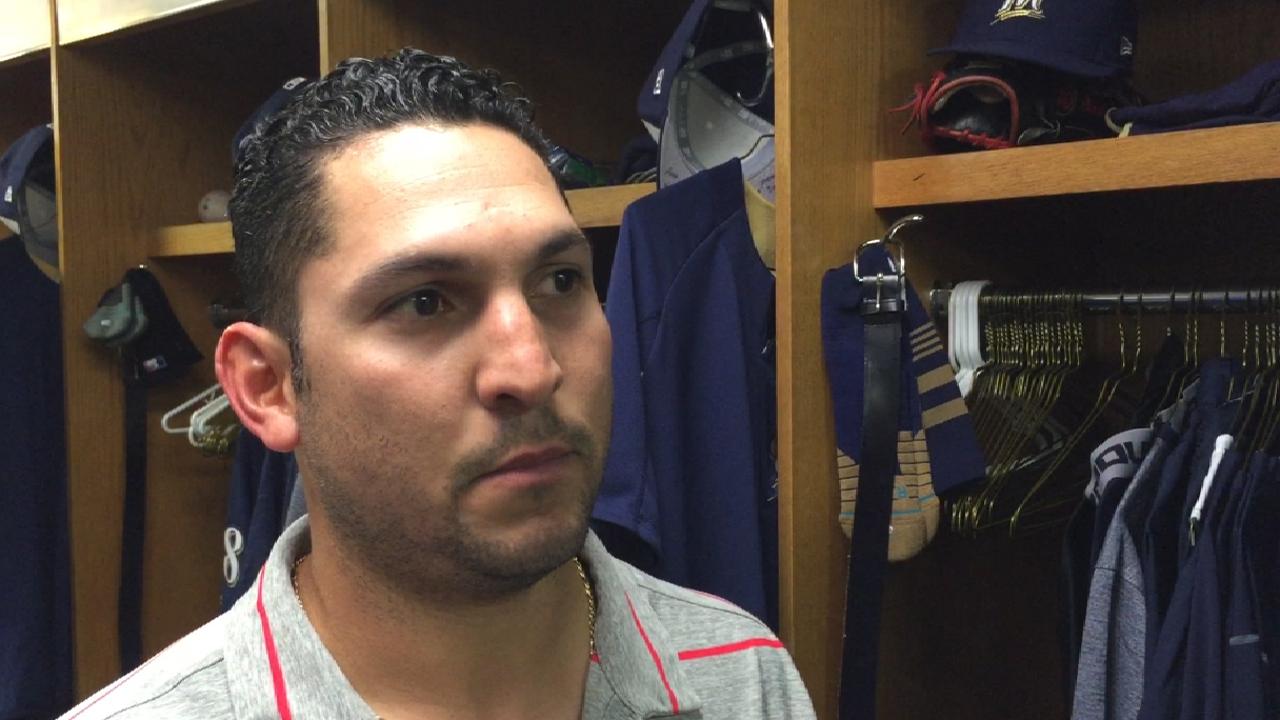 "He's earned it by the way he's pitched," GM David Stearns said. "We're not in the business of handing out opportunities for the sake of handing out opportunities. We're in the business of giving opportunities to people who we think can help us win baseball games."
Whether there is another opportunity for Espino remains to be seen. Guerra is scheduled for a second rehab start for Double-A Biloxi on Saturday, and may be ready to return to Milwaukee's rotation after that.
Asked whether he thought he would get another shot, Espino shrugged and said, "I hope so."
His father was not the only important family member on hand Friday. Espino's wife, Leslie, whom he met in 2009 during his ascent up the Indians' Minor League chain, faced delays traveling from Colorado Springs to Chicago with the couple's five-month-old daughter, Alana. They arrived in the third or fourth inning, just in time to see Paolo pitch.
"I never gave up," Paolo Espino said. "I have all the support, too, from my family, my friends. They have always been there. … It's awesome. That's the key, all these people supporting and helping me in my career. That's what helped me stick. Finally, the moment came. I'm happy, excited, and I will never forget it."
Adam McCalvy has covered the Brewers for MLB.com since 2001. Follow him on Twitter @AdamMcCalvy, like him on Facebook and listen to his podcast. This story was not subject to the approval of Major League Baseball or its clubs.