Braun's grand slam punctuates 8-run inning
Brewers slugger becomes franchise leader with 6 bases-loaded HRs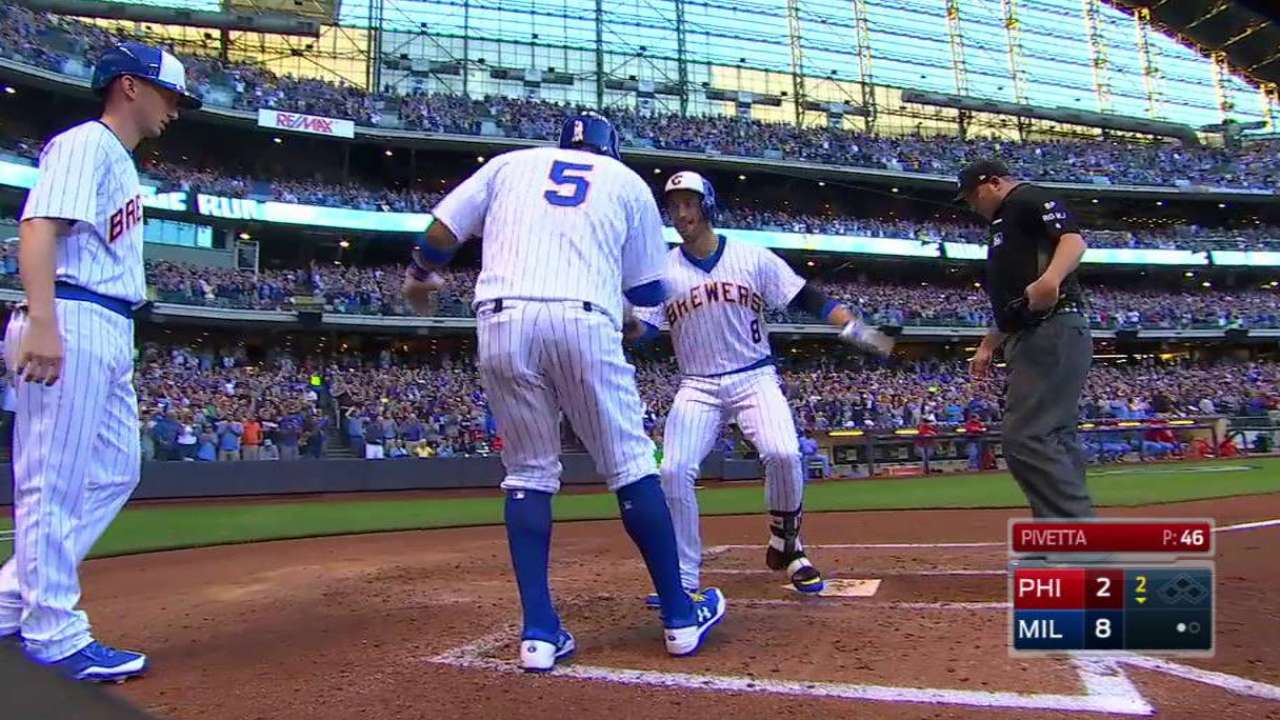 MILWAUKEE -- The Brewers started the second half of the season right where they finished the first: swinging for the fences.
The National League leaders in long balls added two more home runs in an eight-run second inning on the way to a 9-6 win over the Phillies on Friday at Miller Park. Orlando Arcia's three-run shot gave the Brewers a lead and Ryan Braun punctuated the rally with a first-pitch grand slam.
The slam was the sixth of Braun's career, making him the Brewers' all-time leader. It came on a hanging slider from Phillies right-hander Nick Pivetta, who struck out each of the first four Brewers hitters he faced, then surrendered eight runs before recording another out.
• Grand slams mean 40% off pizza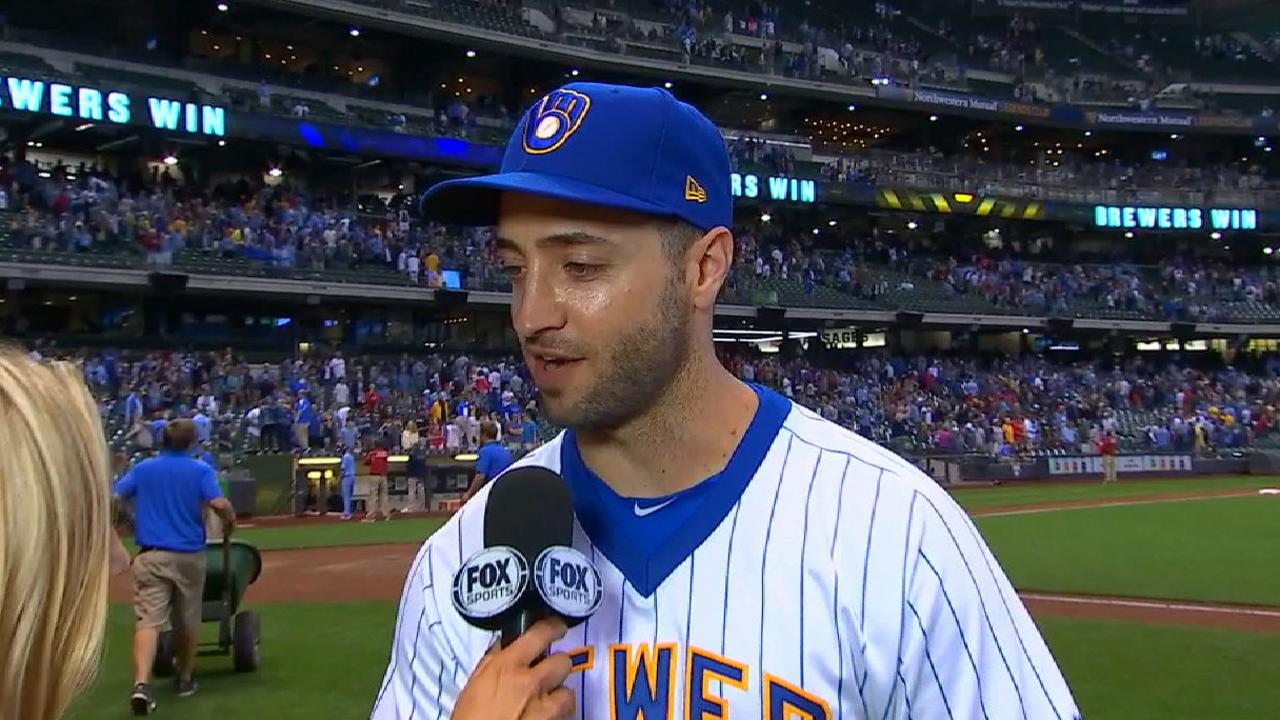 Starting with Domingo Santana's one-out double in the second inning, the Brewers went double, single, single, homer, walk, single, walk, homer for an eight-batter, eight-run rally that matched their biggest inning this season. The last hit belonged to Braun, who broke a tie with Jeromy Burnitz, Cecil Cooper and John Jaha to become the Brewers' all-time leader in grand slams.
"It is a huge spot," Brewers manager Craig Counsell said. "It was a high breaking ball -- it might have been a ball, actually. I knew Ryan was going to be aggressive that at-bat after [taking a called strike three in] his first at-bat. [Pivetta] threw him a bad pitch for a guy that was going to be aggressive."
What prompted the Brewers' sudden turnaround? Counsell pointed to Santana's double, which forced Pivetta to work from the stretch.
"After he struck out the side in the first, we knew we had to do something," said Arcia, who is hitting .323 with five home runs since the start of June. "Actually, [Jesus] Aguilar told us in the dugout that we'll get him before the third. That's actually what happened, and we were able to turn it around in the second."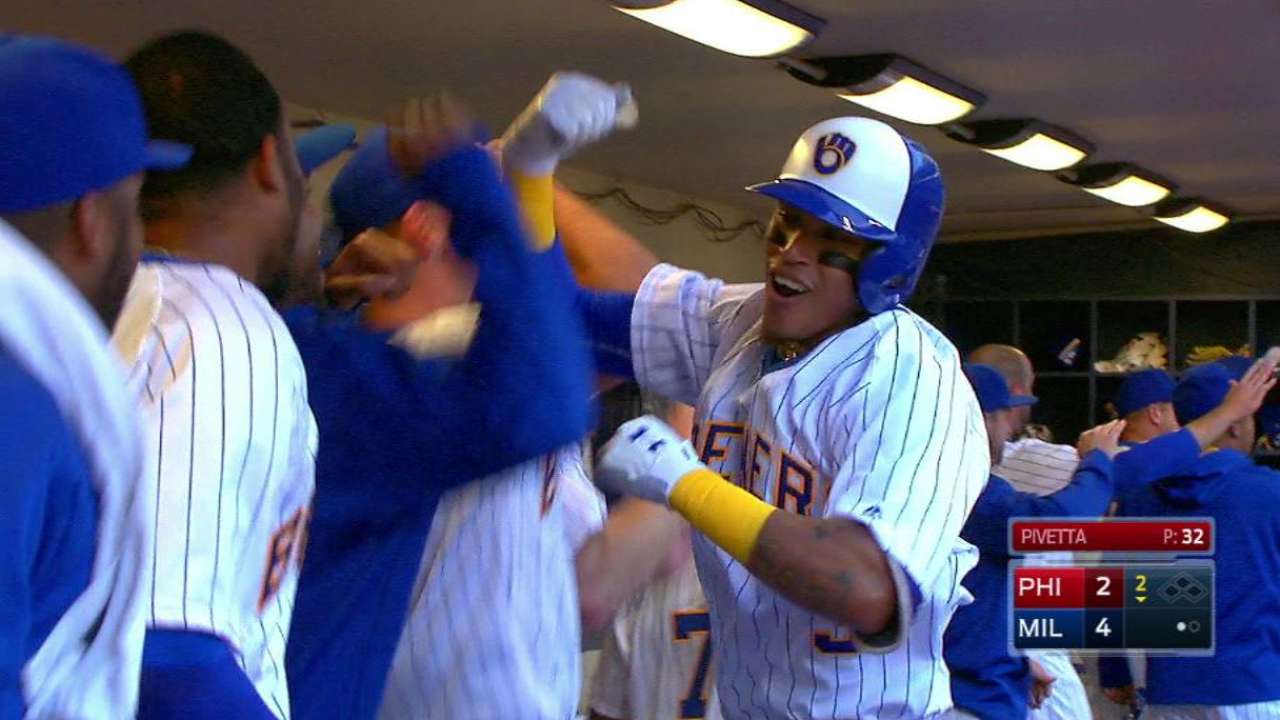 "He was like two different pitchers out there," Phillies manager Pete Mackanin said. "He struck out four in a row, then he just didn't locate any of his pitches. He hung every breaking ball he threw up there in that one span of eight hitters. And then he was a different pitcher after that. That did him in, the three-run homer and grand slam."
The slam was Braun's first Miller Park home run since April 28. He spent most of May and June on the disabled list with a left calf strain that flared up on Saturday at Yankee Stadium, prompting manager Craig Counsell to leave Braun out of the lineup for Sunday's first-half finale.
"He's had a calf injury this year that we're going to have to be careful with," Counsell said before the All-Star break. "It is probably going to limit his playing time. It's just the reality of the season. We've produced offensively without him. It's just how we're going to have to approach the [rest of] the season.
"If we get more than we expect, it's a bonus."
Friday represented an encouraging start. With their 10th win in 12 games, the Brewers moved 10 games over .500 (51-41) for the first time this season and maintained a 5 1/2-game lead over the Cubs in the NL Central.
"To have [Braun] involved in the fun that we're having, it brings everyone together and it's more fun," Arcia said. "It gives us all more hope, and it gives us all more energy, really."
The Brewers' NL-leading home run count is up to 140, a pace for 246 that would break the franchise record of 231 in 2007, the year Prince Fielder hit 50. Only the Astros (150) have hit more home runs this season.
Adam McCalvy has covered the Brewers for MLB.com since 2001. Follow him on Twitter @AdamMcCalvy, like him on Facebook and listen to his podcast. This story was not subject to the approval of Major League Baseball or its clubs.