Arcia ready to be 'El Niño' for Players Weekend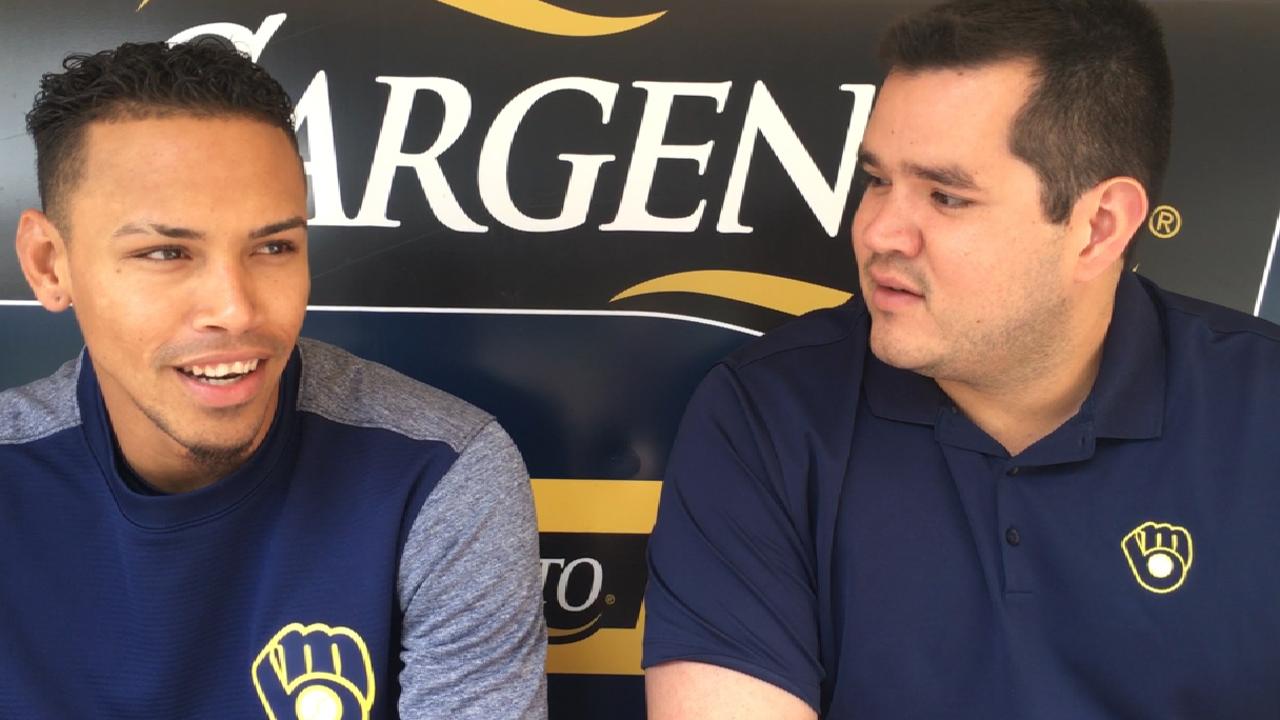 MILWAUKEE -- Shortstop Orlando Arcia didn't know his nickname already holds a special meaning in the Brewers' organization.
Arcia will don "El Niño" on the back of his jersey for the inaugural MLB Players Weekend from from Friday-Sunday, when all players will wear colorful, non-traditional uniforms featuring alternate designs. The words "El Niño" translate to "The Kid," the nickname held by Hall of Famer and former Brewers shortstop Robin Yount, who made his Major League debut at age 18.
"Now, it has to be me," joked Arcia, who made his debut last season when he was 21.
So, how did Arcia get the same nickname as a Brewers legend?
"The time I got here, [Manny] Pina, [Junior] Guerra and some of those guys started calling me 'El Niño,'" Arcia said. "I was the youngest one here, and they just started calling me 'El Niño.' Back home in Venezuela, a lot of people called me that, too. It just kind of stuck."
• Players Weekend gear available at MLBShop.com
During Players Weekend, players will have the opportunity to put a nickname on the back of their jerseys, made by Majestic Athletic, as well as to use uniquely colored and designed spikes, batting gloves, wristbands, compression sleeves, catcher's masks and bats. They will wear specially designed caps by New Era, and unique socks from Stance. During pregame workouts and postgame interviews, they will wear T-shirts highlighting a charity or cause of their choice.
Each player will also wear a special patch on his sleeve showing the progression of a child evolving into a Major Leaguer. Under that logo is white space, and every player will mark a name of a person who they are grateful to for helping them advance their careers, such as family or a coach.
Arcia, who is known for his energetic and jovial personality, said he is excited for Players Weekend because he likes seeing MLB place an emphasis on having fun.
"I think it's just another way to have fun out there, to have fun with the fans," Arcia said. "Fans get to see it and kids get to see it. I think that's important when kids are having fun."
• Players Weekend: Nicknames of the game
Of his teammates' nicknames, Arcia said he most frequently uses Jesus Aguilar's "Dino," which he received for his big, dinosaur-like stature. He thinks Carlos Torres' nickname, "The Butcher," is the funniest.
"We just saw it when the jerseys came out. We asked [Torres], and he said he just likes that name," Arcia said.
Game-worn, Players Weekend jerseys will be auctioned at MLB.com/auctions, with 100 percent of net proceeds donated to the MLB-MLBPA Youth Development Foundation, a joint effort established in July 2015 by MLB and the MLBPA with an initial commitment of $30 million focused on improving the caliber, effectiveness and availability of amateur baseball and softball programs across the U.S. and Canada.
The uniforms were first worn by the Pirates and Cardinals during the MLB Little League Classic played in Williamsport, Pa., last Sunday during the 2017 Little League World Series. That game took place at BB&T Ballpark at Historic Bowman Field, home of the Williamsport Crosscutters, a Phillies affiliate in the Class A Short-Season New York-Penn League.
Carson Mason is a reporter for MLB.com based in Milwaukee. This story was not subject to the approval of Major League Baseball or its clubs.