Crew stumbles in Cincy, ready to turn page
Despite being swept by Reds, Brewers unfazed as key series with Cubs approaches
CINCINNATI -- The Brewers came to the Queen City on a roll after winning three of four games at home against the postseason-bound Nationals. A week before that, they won two of three on the road against the Major League-leading Dodgers.
But the Reds spoiled whatever the Brewers were building toward their weekend showdown with the Cubs, completing a three-game sweep Wednesday with a 7-1 win at Great American Ball Park. It was the Reds' first three-game sweep of the Brewers since May 2013, a stunner considering both teams' places in the standings.
Did Milwaukee manager Craig Counsell think his team got caught looking past the Reds to the big weekend series at Wrigley Field?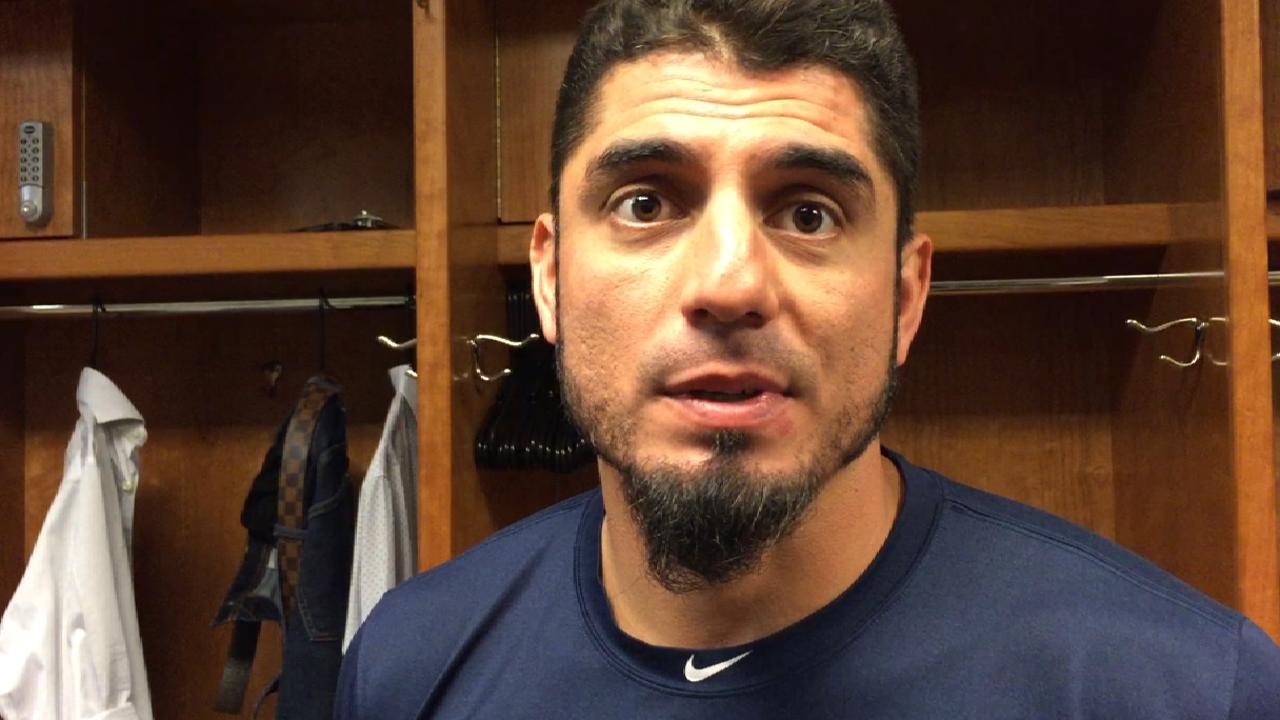 "No, I don't," Counsell said. "We didn't play a good series. I thought we had good energy every day before the game. We were pleased with it. It was something I was very aware of. I thought we just didn't hit enough against [Reds] pitching.
"And we've struggled holding this team down. This team has scored runs against us. We've pitched very well this season, but this is one of the teams we've struggled to hold down."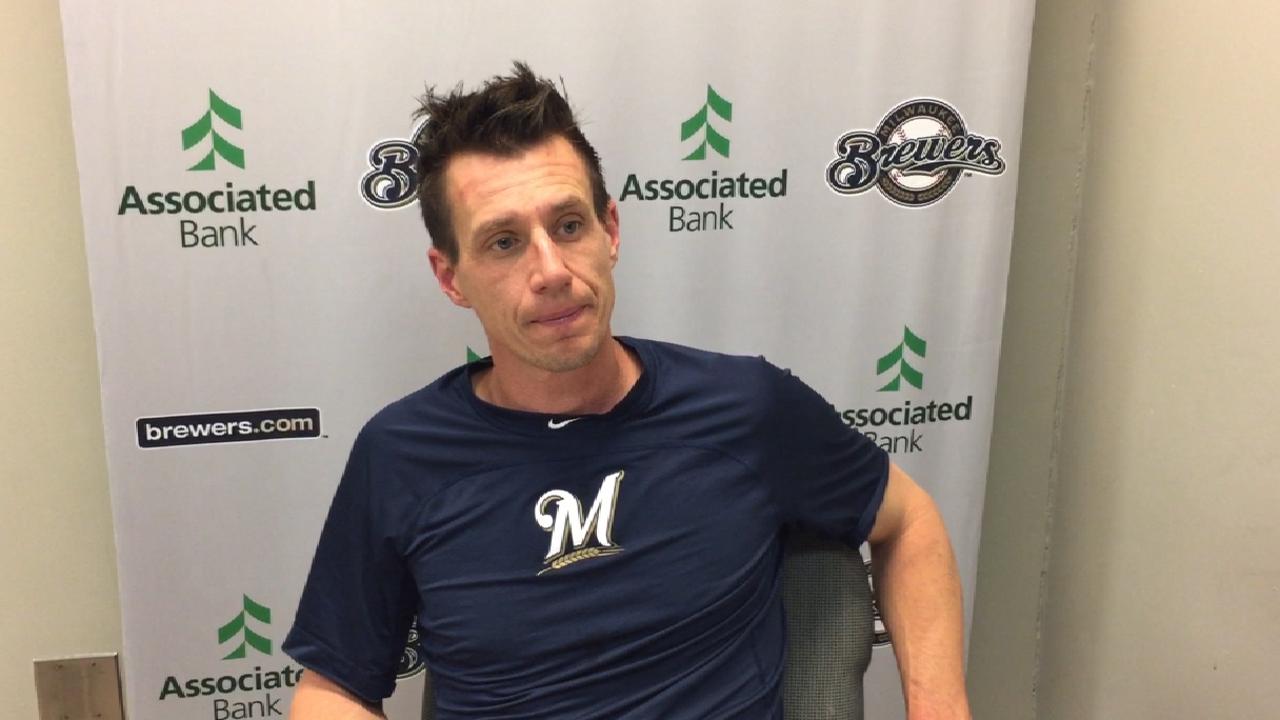 The Brewers were outscored by the Reds in the series, 21-8, and they have surrendered an average of 5.1 runs per game to the Reds in 16 matchups this season. The Reds hadn't swept a series since the first week of June.
"It's tough, but I think we're going to forget about it," said Brewers second baseman Hernan Perez. "The day off [Thursday] is going to help us this weekend to have good games. I think we're going to battle the three games in Chicago."
Counsell has his top three starting pitchers -- Jimmy Nelson, Chase Anderson and Zach Davies -- lined up for the Cubs series after bumping Nelson from what would have been his normal turn on Wednesday. In Nelson's place was Matt Garza, who surrendered five runs in the third inning as the Reds pulled away.
In his past six starts, Garza has surrendered 27 earned runs on 37 hits in 24 innings. He has walked more batters (18) than he has struck out (17), including a bases-loaded walk to Cincinnati's Scott Schebler on Wednesday that forced home the go-ahead run.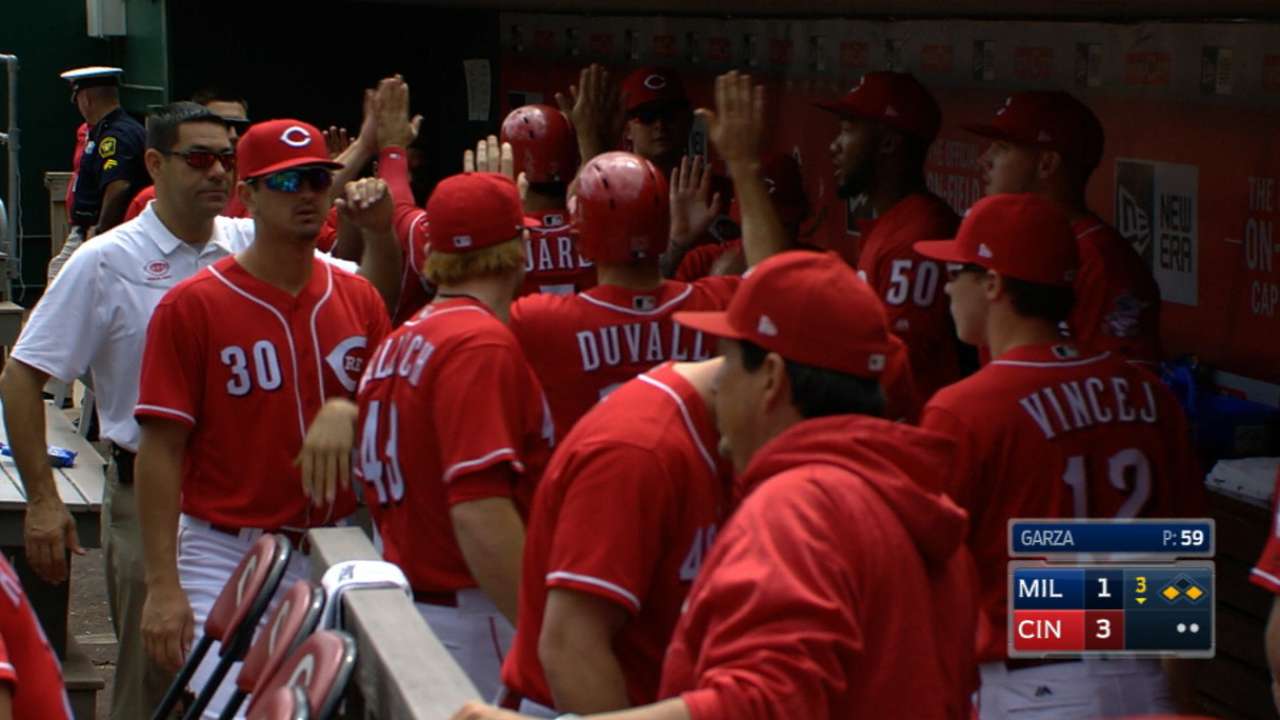 After pushing Garza from a scheduled start against the Nationals on Milwaukee's last homestand, did Counsell regret starting him Wednesday?
"I look at Matt's start -- he just had some bad luck, in my opinion," Counsell said. "I don't think Matt had too many pitches where he could say, 'Eh, I wish I could have that pitch back' or 'I didn't execute that pitch.' I talked to him, and the walk to Schebler was maybe the only at-bat. They got some jam shots, some balls off the end. … I thought he pitched OK, I really did."
But Counsell added, "The results have not been good lately."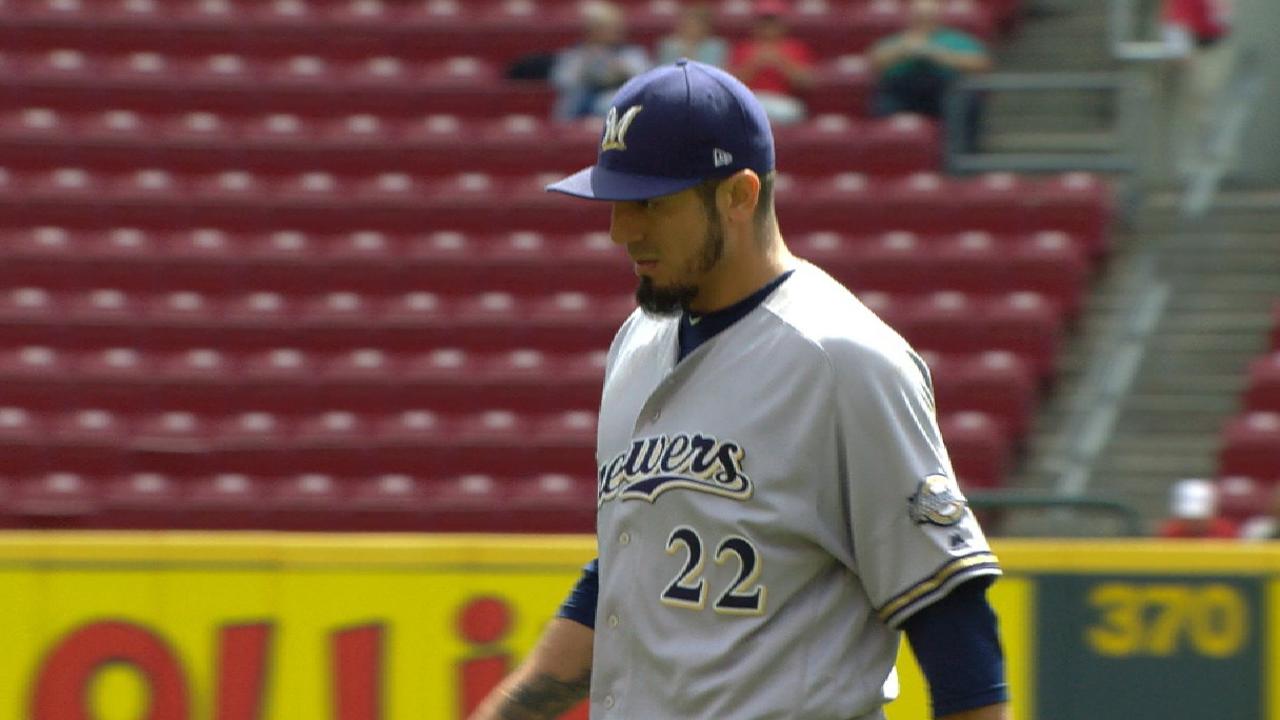 Will Garza, who is in the final guaranteed year of his contract, start for the Brewers again?
"Well, we're six days away from that," Counsell said. "We've got a lot of activity before then."
The Brewers need a fifth starter next on Tuesday in Pittsburgh.
"I'm going to keep going, keep prepping, keep staying ready and wait for my chance," Garza said. "We're in a stretch run. We're trying to get to the postseason. Whatever we have to do, and whatever I have to do to help, then we're going to do it. This is where I'm at."
Adam McCalvy has covered the Brewers for MLB.com since 2001. Follow him on Twitter @AdamMcCalvy and like him on Facebook. This story was not subject to the approval of Major League Baseball or its clubs.