Woodruff, Lackey up next in Crew-Cubs clash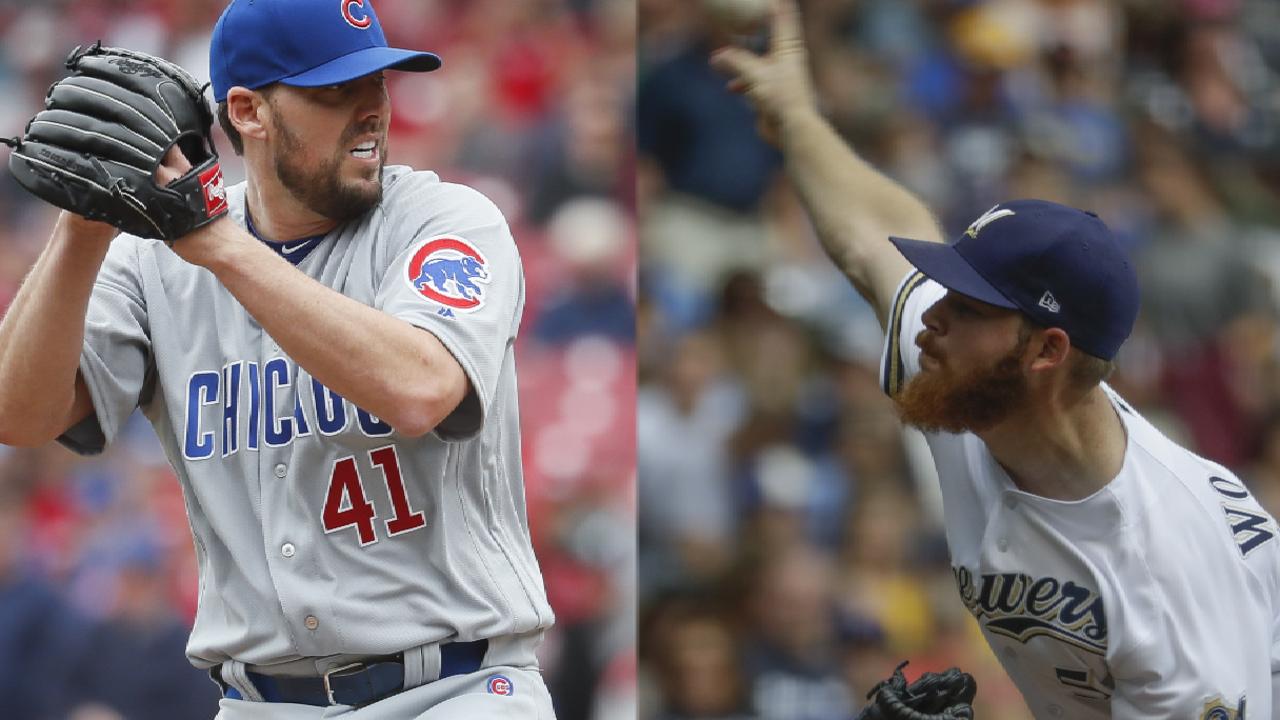 The winner of the National League Central could be determined in this four-game series between the Cubs and the Brewers, but both teams are trying to keep things in perspective.
"They're all the most important series," Cubs third baseman Kris Bryant said prior to Thursday's opener. "The most important game is the next one on the schedule. I think that's something good teams do is they treat every one the same. That's what we've done. No need to put any more emphasis on a certain game. We know what it means."
With a thrilling 10-inning win in the opener on Thursday night, the Cubs increased their NL Central lead over the Brewers to 4 1/2 games while lowering their magic number to six. Milwaukee is one game behind Colorado for the second NL Wild Card spot.
"There's one thing I really want to harp [on] and that's 'present tense,'" Cubs manager Joe Maddon said. "You don't look too far into the future. You only worry about Thursday night's game and that's it. When this is over, you worry about Friday night's game. You really have to stay focused in the moment."
On Friday at Miller Park, it'll be Cubs veteran John Lackey starting against Brewers rookie Brandon Woodruff, who will be making his seventh big league start. Lackey has made seven postseason starts in the last three years.
Woodruff, 24, most likely won't be intimidated. He already has had to face Bartolo Colon and Max Scherzer. When Lackey was 24 years old, he was in his second season in the big leagues with the Angels.
What's important is today. Maddon isn't the only one with that message to his players. Brewers manager Craig Counsell feels the same way.
"These are the games you want to play in," Counsell said. "You feel like you're playing for something. You've worked really hard to get to this point. You've been on a long journey and have earned the right to play in these games. But you feel like there's a lot ahead of you. More than anything, I think you feel like you've earned the right to play in these games and that's what makes it exciting. Everybody looks ahead a little bit, everybody knows what's at stake and what could happen. You should allow yourself to do that."
It's September baseball, and they all count.
"This is a fun time of year, September, it's getting late in the year," Chicago's Kyle Schwarber said. "To be able to have the kind of race we're in now, it's exciting and it's good for baseball, I think."
Things to know about this game
• According to Statcast, Woodruff has thrown his four-seam fastball about 62 percent of the time, ranking seventh among pitchers with at least 500 pitches in a starting role this season. In fact, Milwaukee's rotation as a whole has MLB's third-highest fastball rate (also counting two-seamers/sinkers) at nearly 59 percent.
• This will be Lackey's first start since he was ejected after arguing balls and strikes, pitching an abbreviated 4 2/3 innings against the Cardinals last Friday. He threw 74 pitches in that outing. So far this season, Lackey is 1-2 with a 3.79 ERA against the Brewers, with his only win on July 30 at Miller Park.
• The Cubs' bullpen may get Hector Rondon back for this game. He's been sidelined because of inflammation in his right elbow and hasn't pitched since Sept. 8. Over the last 10 games, Cubs relievers have been lights-out. Wade Davis, Pedro Strop and Carl Edwards Jr. have pitched 18 innings and not given up a run in that stretch.
Carrie Muskat has covered the Cubs since 1987, and for MLB.com since 2001. She writes a blog, Muskat Ramblings, and you can follow her on Twitter @CarrieMuskat. This story was not subject to the approval of Major League Baseball or its clubs.