Brewers' Harrison shows off range of tools in AFL win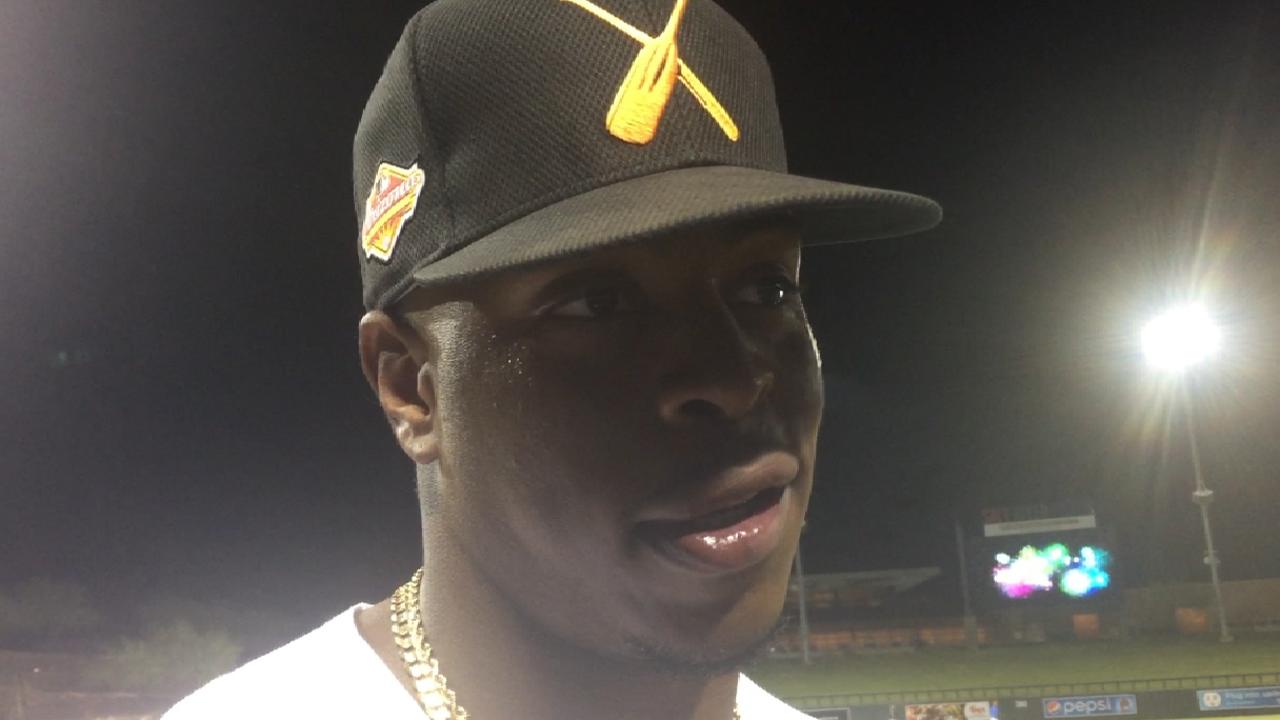 SCOTTSDALE, Ariz. -- After crushing a homer on his last swing of batting practice, Monte Harrison said that he hoped he could connect on one during the game as well.
In the fourth inning, he did just that.
The Brewers' No. 14 prospect hit a tape-measure homer as part of a 3-for-4 performance and showcased all of his tools as he led Salt River to a 3-2 win over Scottsdale on Tuesday night.
• Gameday
"I felt all right," Harrison said of his day at the plate. "I've definitely felt a lot better, but then again I didn't feel bad. Just trying to put the ball in play, get the bat on the ball and let my body do what it's capable of doing."
Harrison is coming off an impressive season in which he boasted a career-best slash line (.272/.350/.481) over 122 games with Class A Wisconsin and Class A Advanced Carolina.
The 22-year-old got off to a slow start in the AFL, going 1-for-11 over his first few games, but he has certainly found his rhythm, collecting hits in each of his next six games and boosting his average back up to .314.
Harrison, a 60-grade runner, showed off his speed in the first inning as he reached on an infield single and got to first base in 4.36 seconds, according to Statcast™. Harrison, who later stole a base as well, collected another infield single in 8th.
"It is [fun], just to showcase your speed and [having people] not realizing that a 6' 4" guy can run like that," Harrison said. "So [they] are impressed."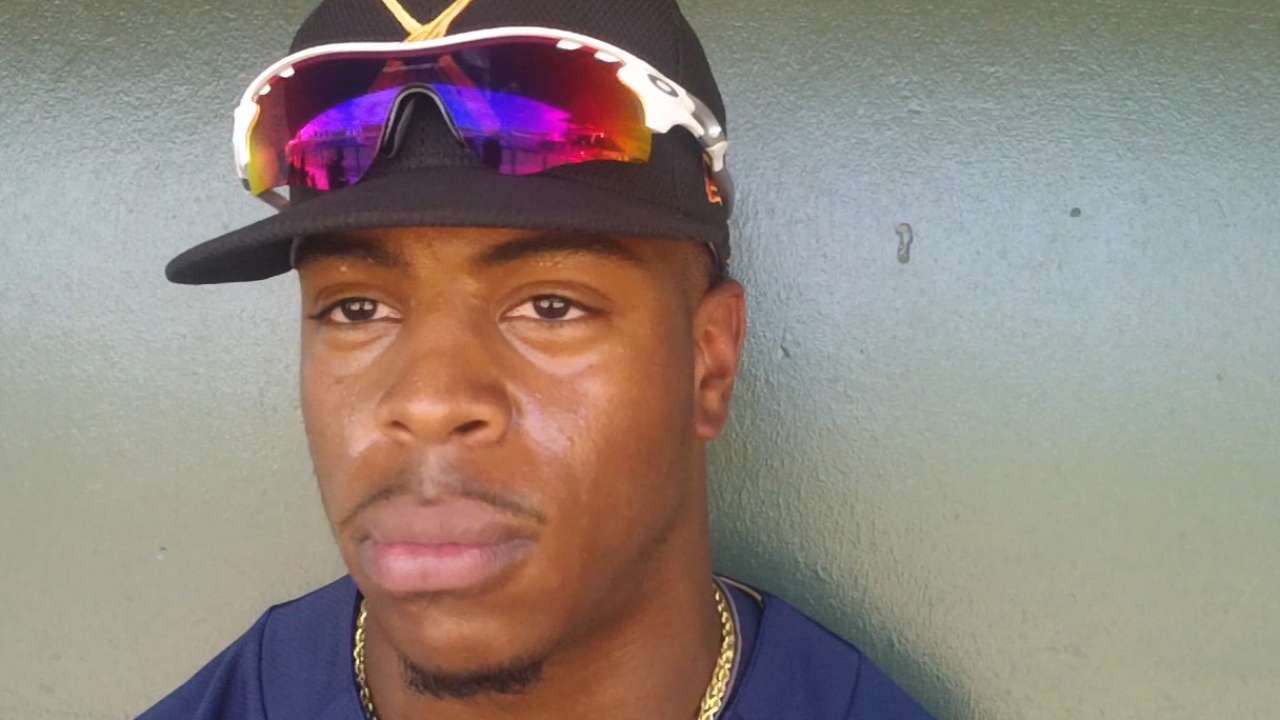 After showing off his wheels, Harrison, who hit a career-high 21 homers during the regular season, flashed his power in the fourth, driving in the game's first run.
Tyler Beede (Giants' No. 3) threw a 93 mph fastball to Harrison and the Brewers' prospect didn't miss it.
"Got a good pitch to hit," Harrison said. "Before that, I felt confident. … In BP I felt good. Just coming into the game, I took a couple good swings and I knew if he gave me a pitch to hit, I was going to put a good swing on it and it happened to leave the ballpark."
Harrison's fourth AFL homer didn't just leave the park, it left in a hurry. The 402-foot homer featured a 32-degree launch angle and an exit velocity of 112.3 mph, according to Statcast™.
But Harrison's big game wasn't limited to just his offensive prowess. Harrison got a chance to use his 70-grade arm as well as he caught a liner in right field and doubled up Estevan Florial (Yankees' No. 3, MLB No. 78) at first base with a 90.7-mph throw in the eighth inning. To put that in perspective, there were only 11 harder throws from the outfield to double up a runner in the big leagues in 2017.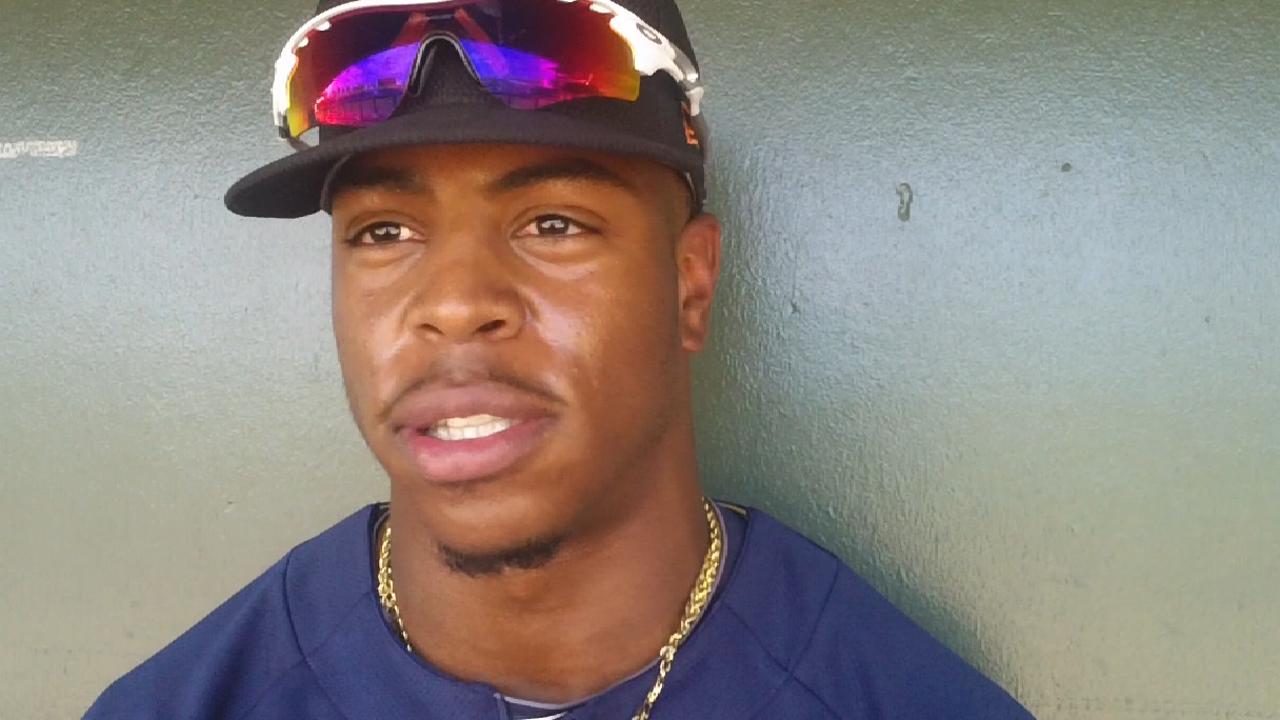 Marlins prospect James Needy also impressed for Salt River, turning in his best start of the fall. The right-hander got the Rafters off to a strong start as he cruised through four innings, throwing 41 of his 60 pitches for strikes. The 26-year-old gave up two hits, walked one and struck out nine, including four in a row in the third and fourth.
"He was pretty good," Harrison said. "He just went out there and was throwing strikes. That's what we want from pitchers, just go out there and throw strikes and if they can't hit it, they can't hit it."
William Boor is a reporter for MLBPipeline.com. Follow him on Twitter at @wboor. This story was not subject to the approval of Major League Baseball or its clubs.