Brewers to Schafer: Don't get discouraged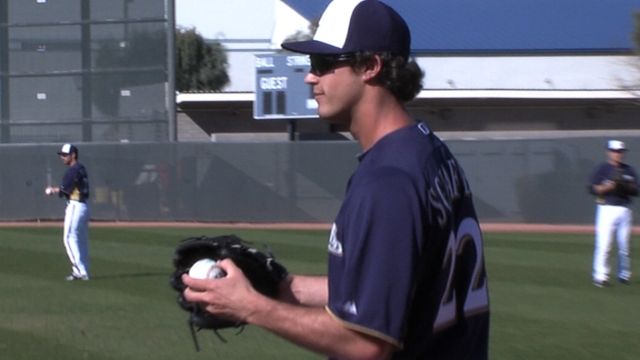 SCOTTSDALE, Ariz. -- Brewers outfielder Logan Schafer said he was happy for teammate Carlos Gomez, who signed a three-year contract extension on Wednesday that could block Schafer's road to regular playing time.
The Brewers' three starting outfielders -- Ryan Braun, Gomez and Norichika Aoki -- are all under club control through at least 2016, when Gomez's deal expires. Schafer, 26, projects as the Brewers' fourth outfielder this season.
"Doug [Melvin, Milwaukee's general manager,] talked to Logan, and I said a few things to Logan," manager Ron Roenicke said. "Things change so fast in this game, and if you're playing well, you're not held up too much anymore.
"Example: Aoki last year. His role was going to be he's a part-time player, he's a pinch-hitter. Next thing you know, he's our everyday right fielder. Coming into this season, he's our everyday right fielder. So, those things change in a hurry. Logan is a really good player. Somewhere along the line, he will get his chance to play every day.
"Until then, he's going to get a lot of playing [time] because he's very versatile in the outfield. Great defense. The guy can play -- he can square up a baseball. He's going to be used a lot off the bench. With the personnel we have right now on this team, I don't think he's going to be bored sitting on the bench. He's going to be very active."
Schafer is at the head of a class of Brewers outfield prospects that also includes Khris Davis, Caleb Gindl, Josh Prince and Kentrail Davis.
Adam McCalvy is a reporter for MLB.com. Read his blog, Brew Beat, and follow him on Twitter at @AdamMcCalvy. This story was not subject to the approval of Major League Baseball or its clubs.