Kintzler avoids world of pain with quick reaction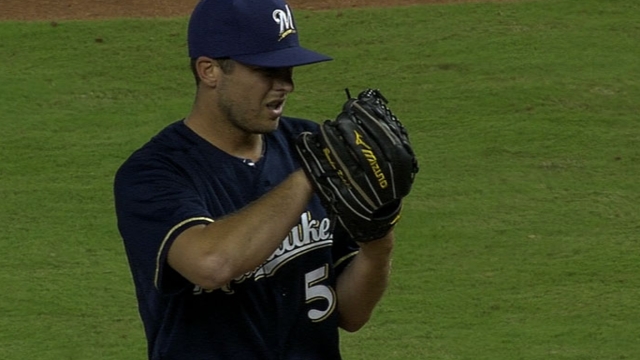 PHOENIX -- Thank goodness for Brewers reliever Brandon Kintzler's quick reflexes. Without them, he would have been in a world of pain on Wednesday night.
Pitching against the D-backs on Wednesday night, Kintzler reacted quickly enough on an A.J. Pollock comebacker to deflect it with the meaty, outside edge of his left hand and into Kintzler's stomach. Without that deflection, the baseball would have stuck Kintzler in a most unfortunate place.
Oh, and there's this:
"I don't wear a cup," Kintzler said. "The Padres had a rule to wear cups, and as soon as I left them I didn't want to wear them anymore. A know a lot of pitchers who don't wear cups; it gets in the way."
Kintzler does not remember much about the play. He hit the dirt, but recovered in time to throw out Pollock to end the inning. When he got to the clubhouse, he was surprised to see his elbow and knee were bleeding. He also thought his hand was broken.
"I don't know, I blacked out," Kintzler joked. "I was asking [Jim] Henderson, 'Did I fall to the ground?' But it's good -- it's just a bruise."
Adam McCalvy is a reporter for MLB.com. Read his blog, Brew Beat, and follow him on Twitter at @AdamMcCalvy. This story was not subject to the approval of Major League Baseball or its clubs.