Davis slugs way into Brewers' roster talks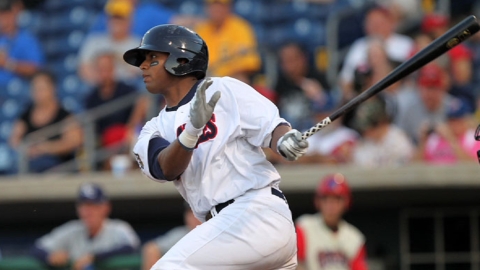 PHOENIX -- In his first spring on the Brewers' 40-man roster, Khris Davis reported to Maryvale Baseball Park with little chance for a spot on the Opening Day roster.
That has changed, manager Ron Roenicke said Saturday, after Davis hit two more home runs and drove in five runs in a 9-9 tie with the Reds.
"He's put us in a position where we're talking about him and how he fits on the bench, what we can do with our last two [or] three spots," Roenicke said. "If you need a right-handed hitter, right now he may be the best hitter we have."
Davis has hit six spring home runs, including one in an exhibition against Team Canada's World Baseball Classic club that did not count in the Cactus League statistics. Including Saturday, when Davis was 3-for-3 with three runs scored and five RBIs, he is batting .364 in official at-bats. He has played extensively with Ryan Braun representing the U.S. in the Classic.
The chief knock of Davis, ranked as the Brewers' No. 16 prospect by MLB.com, is his limited defense. His throwing arm will probably limit him to left field when he's a regular player, but the Brewers feel covered with Braun playing left field nearly every day in the regular season and Logan Schafer (a left-handed hitter) available to man that position when Braun needs a day off. They would keep Davis for his bat.
"What we need is somebody who can go to the outfield, but we need a hitter," Roenicke said. "If we have all left-handed pinch-hitters on the bench, it would be nice to have a right-handed hitter. It's a real tough job [for an inexperienced player], and that's why you get him while he's hot and then you see how he works into that job. If he can't do it, then you make a switch.
"He's worked himself into it, and it's not just Spring Training. It's the history. They've told me this guy has hit everywhere. I know there's been some injuries with him, but he can hit."
Adam McCalvy is a reporter for MLB.com. Read his blog, Brew Beat, and follow him on Twitter at @AdamMcCalvy. This story was not subject to the approval of Major League Baseball or its clubs.