Greinke still keeps up with Brewers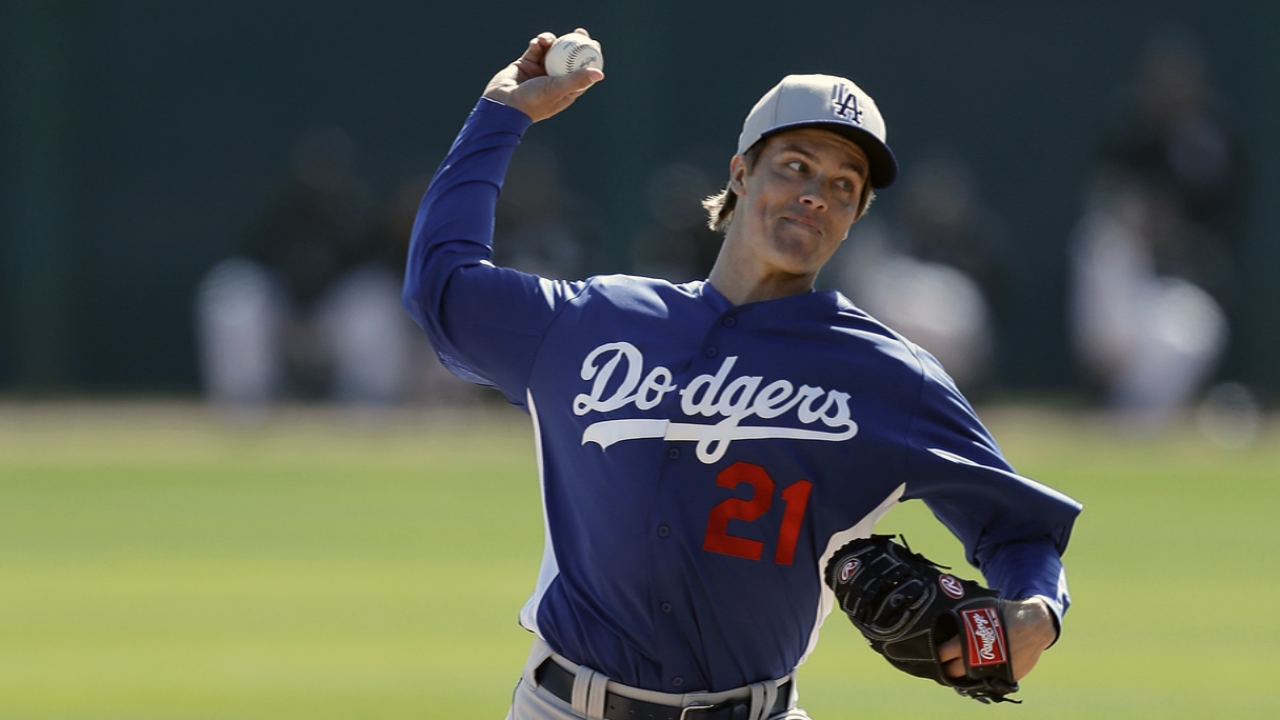 GLENDALE, Ariz. -- The first time Zack Greinke's new Dodgers club faced the Brewers since he was traded away last July, the former Cy Young Award winner and Brewers ace was scratched from a scheduled start with a sore elbow. That was last Monday, and with the Brewers visiting the Dodgers on Sunday, Greinke had his first bullpen session since the scratch, throwing 38 pitches.
Though he was reluctant to discuss his $147 million elbow, Greinke lit up when talking about his old teammates.
"They did really good last year," Greinke said of Wily Peralta, Marco Estrada, Mike Fiers, and Mark Rogers, the young arms vying to make the rotation behind Yovani Gallardo. "The one thing that's going to help them is they have Yo at the top. He could help them all out, and they can watch him. If they didn't have him at the top, it would be something maybe to worry about."
In a year and a half in Milwaukee, Greinke went 25-9 with a 3.67 ERA. He was 9-3 before the trade, and after a 44-54 start to their season, the Brewers finished up on a 39-25 tear after the trade.
"Rickie Weeks came back to form, and that's a huge difference," Greinke said of the club's improvement. "The pitching staff didn't miss a beat, it seemed like. And then the bullpen did better, too."
Greinke has tried to keep up with the Brewers, staying in touch with teammates and even dining once or twice with general manager Doug Melvin.
"I learned a lot from him," Greinke said. "He was a great general manager. I liked how they ran the front office and the coaching staff and the players. He did a good job. He treated me good."
The 29-year-old even chipped in on the Draft process, passing his evaluations along and observing the process as the picks were made.
"I didn't talk to the actual guy making the pick at all, I don't think," Greinke said. "I didn't have any influence, but it was fun. I talked to some of the guys about them, but not the people making the decisions. It's interesting to follow."
Greinke's player-evaluation chops were on display with his advice regarding center fielder Carlos Gomez, who was signed to a three-year, $24 million contract extension last week.
"Gomez is my favorite," Greinke said. "I've been telling them they should sign him ever since I got there. Give him a 10-year deal. I love Gomez. He's going to be a good player. They should have given him a six-year deal two years ago. It would have been cheaper."
Though he's only pitched five innings in the Cactus League so far, he's had a smooth transition from manager Ron Roenicke to Don Mattingly, calling them both "laid back, players-manager-type guys." But the transition from Milwaukee to L.A. has not been seamless.
"The only thing I can complain about, I guess, is I have to talk about my injury every single day, where with my rib [injury in the 2011 Brewers spring camp], I probably just talked about it one time."
Owen Perkins is a contributor to MLB.com. This story was not subject to the approval of Major League Baseball or its clubs.