Brewers release Crosby from Minor League deal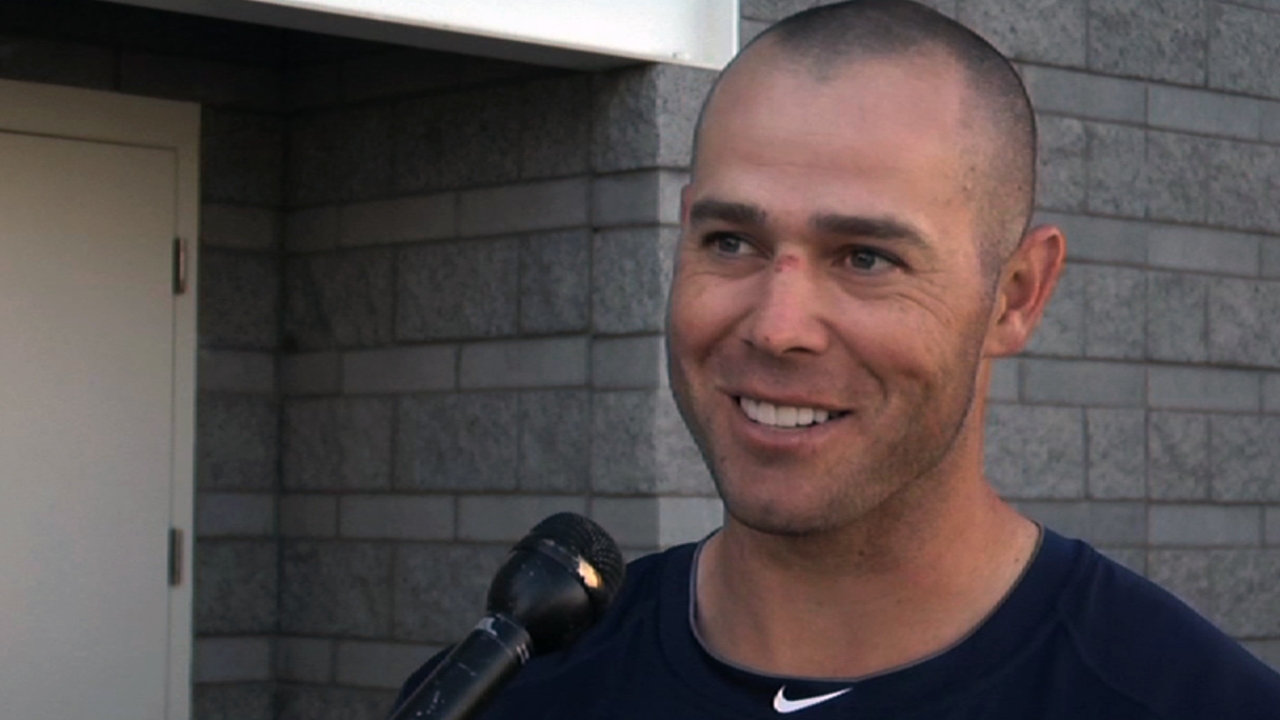 GOODYEAR, Ariz. -- The Brewers released Bobby Crosby from his Minor League contract on Monday, ending Crosby's bid for a comeback after two years out of baseball.
Crosby, 33, got a late start because of a thigh injury and then struggled to knock off the rust. He appeared at first base, third base and shortstop but batted .188 with no home runs or RBIs in seven Cactus League games.
"We wanted to let him know ahead of time that his chances of making the club were slim at this point," general manager Doug Melvin said. "Then he talked to his agent and we talked about Triple-A or whatever, but in the end he decided to take his release. He may try to pursue [a deal] with other clubs.
"It's hard to come back from two years [away], but he was OK. He could have still continued to play, but all this comes down to timing. We've got 11 games left, so our [regular] guys are going to be playing more."
Crosby's agent, Paul Cohen, said Crosby hoped to continue his comeback with another club, and appreciated the Brewers making their call on Crosby before the end of camp.
Brewers manager Ron Roenicke believes Crosby could benefit from some regular playing time in Triple-A.
"It's going to take him playing somewhere all the time to get back his whole game," Roenicke said. "I still have a lot of confidence when the ball is hit to him, he's got good hands and is going to make the throw over there. He's a very smart guy. Great on a team. But I think he needs a lot of at-bats to get the [offensive] part back again."
Neither of the Brewers' comeback candidates worked out. They also extended a non-roster invitation to right-hander Kelvim Escobar, who has made only one Major League appearance since 2007. But the Brewers were troubled by Escobar's shoulder and released him March 10.
Crosby was not the only Brewers' bench contender enduring an unproductive spring. Fellow non-roster veteran Donnie Murphy entered Monday batting .219 with two extra-base hits in 32 at-bats. Taylor Green was hitting .121. Jeff Bianchi has been limited to one game since March 2 by groin and hip flexor injuries.
If Bianchi can get healthy and Green can start hitting, they would have good chances to make the Opening Day cut because both are on the 40-man roster. Green is a two-time Brewers Minor League Player of the Year.
Until those players get going, the Brewers are considering other players in camp like non-roster catcher Blake Lalli, who also plays first base and could take a left-handed bench job away from Green. Lalli had two more hits Monday including a double off the center-field fence and is batting .387.
"He's impressing a lot of people," Roenicke said. "And not just what he's doing [at the plate], but this guy is really sharp. He can call a great game if we have him behind the plate. Really smart guy. … It would be pretty nice to have a third catcher, and we can use whomever's not catching that night as a pinch-hitter."
Of Green's spring slump, Roenicke said, "That's hitting. Sometimes you struggle for a while and it's hard to get out of it. He was in a role with us that he just started to swing well before he went to the [World Baseball Classic], and I think in one game in the [Classic] he hit well, but he came back here and wasn't swinging like he did before he left. He's pressing to make the team, like everybody is. Hopefully, he starts swinging it like we know he can, and he'll be one of those guys at the end we have to make a decision on."
The same goes for Bianchi, who had to withdraw from Italy's World Baseball Classic entry because of a groin strain that sidelined him two weeks. He returned for two at-bats against the Reds on Saturday before Roenicke revealed a new injury to Bianchi's hip.
"We're hoping to get him back on the field and get him enough at-bats here to be able to make a decision on him before we start [the season]," Roenicke said. "Hopefully, he will be a guy we're talking about those last couple of days."
Adam McCalvy is a reporter for MLB.com. Read his blog, Brew Beat, and follow him on Twitter at @AdamMcCalvy. This story was not subject to the approval of Major League Baseball or its clubs.