Peralta delivers solid performance vs. Angels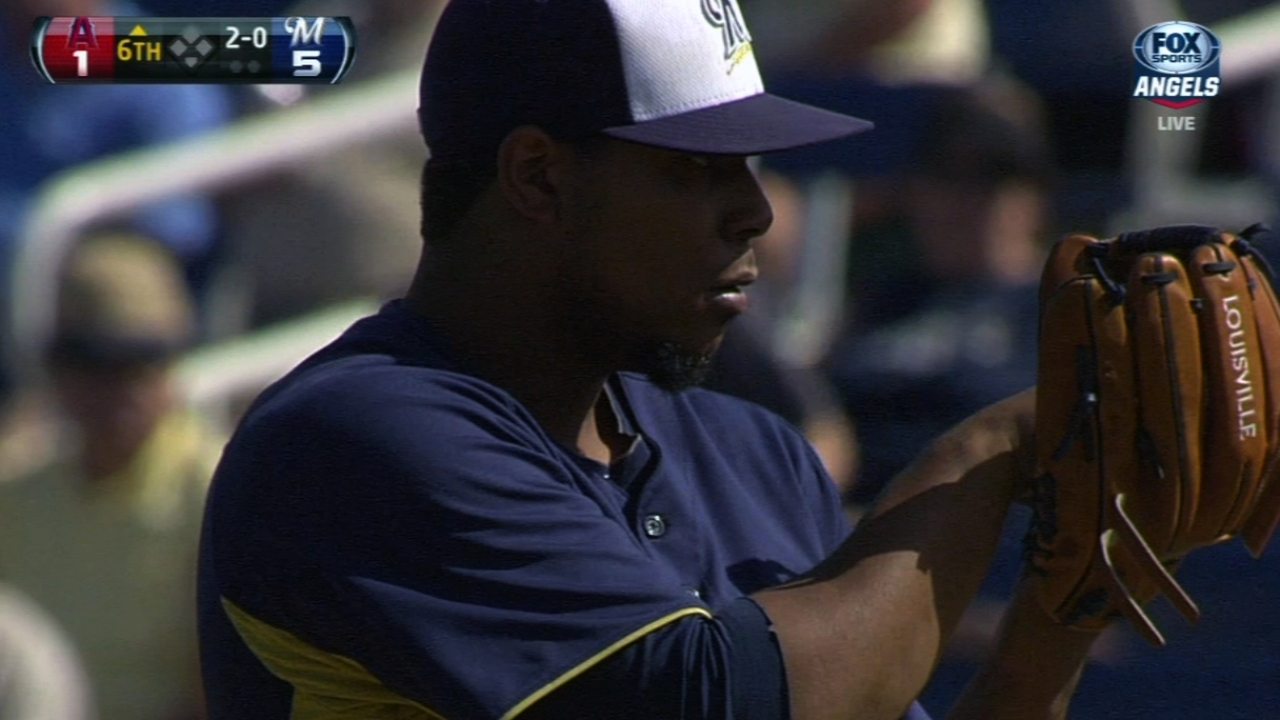 PHOENIX -- With Mark Rogers out of the mix for the starting rotation, the Brewers are banking on another young power pitching prospect finding a groove in the two weeks that remain before his scheduled season debut.
On Tuesday afternoon against the Angels, Wily Peralta appeared to find it.
Peralta, MLB.com's top Brewers prospect, held Mike Trout, Albert Pujols, Josh Hamilton and the Angels to a run on six hits over six sharp innings of the Brewers' 6-1 win at Maryvale Baseball Park. It was his best start by far this spring, the sort of performance manager Ron Roenicke is hoping to see when Peralta opens the season as the Brewers' No. 3 starter.
He is lined up to face the Rockies on April 3 at Miller Park.
"Wily was really good," Roenicke said. "It was that nasty, low, 95 [mph] -- I don't know what the readings were -- but he was consistently down with it and threw some nice sliders. He had better rhythm."
Roenicke had a different tone in the hours before the game. There was a degree of concern about Peralta's uneven performances so far in camp.
"He's been inconsistent," Roenicke said before the game. "At times, I see him great, like he was last year, and then all of a sudden he'll come out and lose that. He's got two outings [after Tuesday], so for him, he needs to really pitch well somewhere in here, because going into the season, we can't have him with any thoughts of, 'Man, what's going on with my stuff.'
"He needs to be positive and confident like he was last year. When he came up to us last year, just the conversation I would have with him, he was a very confident guy."
Peralta has a history of Spring Training struggles. In 2011, after Zack Greinke cracked a rib playing basketball, the Brewers gave Peralta a chance to win a job in the starting rotation and he failed to get out of the first inning of his next game against the Rockies. Peralta allowed 10 earned runs, 15 hits and 10 walks in 10 Cactus League innings that year. In 2012, Peralta surrendered six earned runs on seven hits and four walks in 6 1/3 Cactus League innings.
Yet he went on to respectable regular seasons. In 2012, Peralta was 7-11 with a 4.66 ERA in 28 starts for Triple-A Nashville, including 6-3 with a 3.32 ERA over his final 15 starts. He was then 2-1 with a 2.55 ERA in five September starts for the Brewers.
Tuesday marked a positive step, he said.
"I had my rhythm coming back, finally," Peralta said. "It feels good."
Adam McCalvy is a reporter for MLB.com. Read his blog, Brew Beat, and follow him on Twitter at @AdamMcCalvy. This story was not subject to the approval of Major League Baseball or its clubs.