Outfield prospect Davis prepared for bench role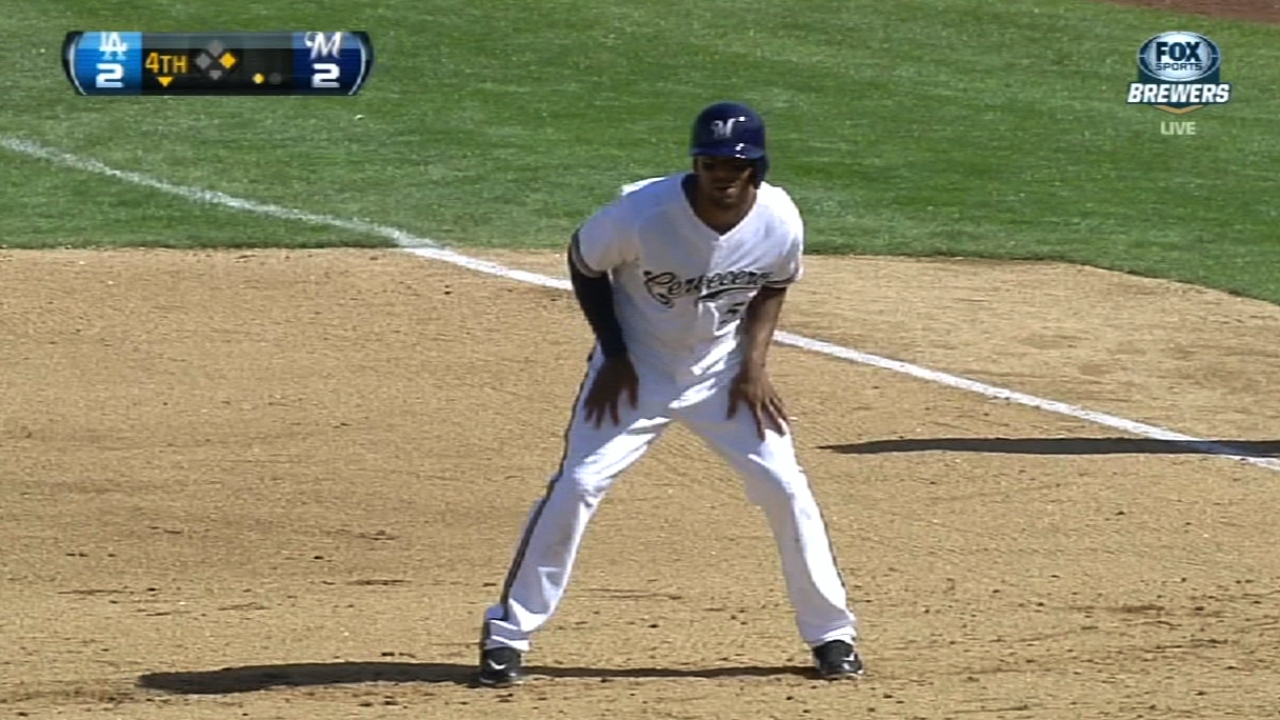 PHOENIX -- The Brewers are considering outfield prospect Khris Davis for one of the final spots on their bench, but wonder whether his power would translate to receiving sporadic at-bats.
But Davis points out that he has done it before. He played off the Cal State-Fullerton bench as a sophomore in 2008, and was 7-for-13 with three home runs as a pinch-hitter and 9-for-21 with 12 RBIs in a non-starting capacity.
"This is the Major Leagues, the best of the best, but if that's my role, I accept the challenge," Davis said. "I enjoy that. There's not a doubt in my mind that I can handle it, as long as I stay positive and work hard."
How did Davis, who is Milwaukee's 16th-best prospect according to MLB.com, wind up on the Cal State-Fullerton bench? In '08, the Titans' starting outfielders included Gary Brown, Josh Fellhauer, Erik Komatsu and Jeff Newman -- three of whom are in the professional ranks today. Komatsu was the Brewers' eighth-round Draft pick in 2008 and Milwaukee's Minor League player of the year in 2010. Fellhauer was a seventh-round Draft pick of the Reds in 2009, and Brown was a first-round Draft pick of the Giants in 2010.
Davis was drafted by the Brewers after his junior season, a seventh-round pick in 2009.
"I had some success coming off the bench, pinch-hitting and knocking a couple out of the park," Davis said. "So, I've got confidence in that area. It's not unfamiliar to me."
Davis reported to his first big league camp with the Brewers ticketed for Triple-A Nashville, but slugged his way into consideration by hitting .361 with five home runs and 13 RBIs in his first 17 Cactus League games. He was used as a pinch-hitter on Monday against the Indians and worked a walk.
Even if Davis starts the season in the Minor Leagues, he has made an impression on manager Ron Roenicke and the Major League coaches.
"This is my heaven," Davis said. "I've been waiting for this since I was a kid. I decided at an early age that I wanted to do this, and it's here. I'm just thankful that I'm having success."
Adam McCalvy is a reporter for MLB.com. Read his blog, Brew Beat, and follow him on Twitter at @AdamMcCalvy. This story was not subject to the approval of Major League Baseball or its clubs.