Narveson takes biggest step in return from surgery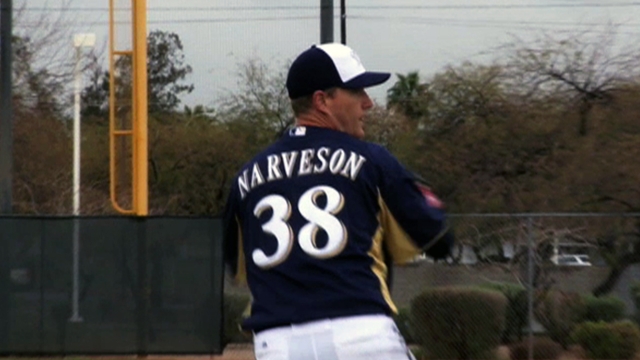 SCOTTSDALE, Ariz. -- Just how sharp was Brewers left-hander Chris Narveson on Wednesday? He worked six innings against the Giants, yet fell far short of his allotment of pitches.
So Narveson made 15 more throws in the bullpen, supplementing his 62-pitch, one-hit, six-inning gem at Scottsdale Stadium in a game that ended after 10 innings in a scoreless tie.
"It was a good step in the right direction for me," Narveson said.
Narveson has taken many steps in the right direction this spring. He had surgery last May for a torn labrum and rotator cuff and missed the rest of the season, but he is healthy again and lined up to begin 2013 as the Brewers' No. 4 starter.
Wednesday was his best step yet. Narveson retired the first 14 hitters he faced before right fielder Francisco Peguero hit a low changeup to left field, and that marked San Francisco's only baserunner in Narveson's six innings. He struck out four and dueled with Giants starter Ryan Vogelsong, who struck out seven in six innings.
"Just like Wily [Peralta] yesterday, they're huge confidence-boosters when you're getting close to the season and you know you need to start up," Brewers manager Ron Roenicke said.
Narveson credited his batterymate. Catcher Martin Maldonado returned to Phoenix earlier in the day after playing for Puerto Rico in the World Baseball Classic.
"It was nice to have Maldy [catcher Martin Maldonado] back there, just because he knows your stuff," Narveson said. "He's somebody you feel comfortable with because he knows you, you know him. He calls a pitch and there's not much second-guessing, because you know he knows you can execute it. Overall, it was a good day."
Adam McCalvy is a reporter for MLB.com. Read his blog, Brew Beat, and follow him on Twitter at @AdamMcCalvy. This story was not subject to the approval of Major League Baseball or its clubs.