Murphy exercises patience as roster takes shape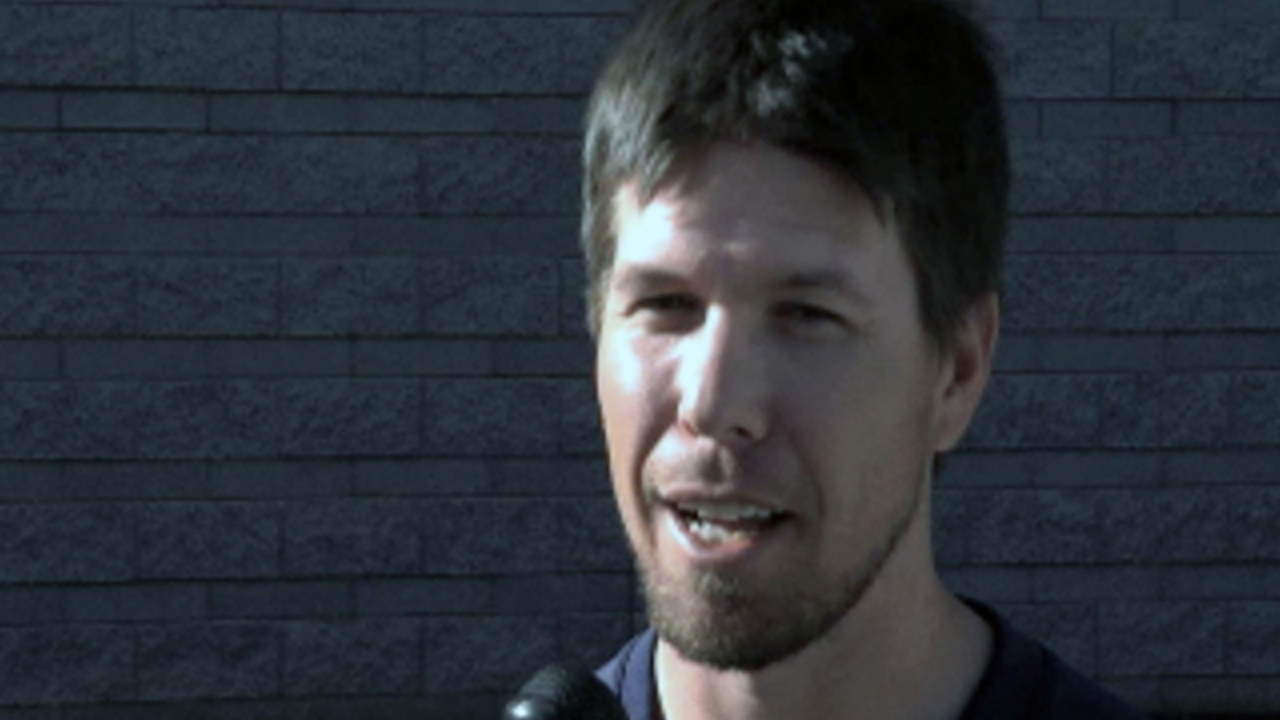 PHOENIX -- Donnie Murphy is a non-roster invitee fighting for a spot with the Brewers who figures the next eight days will be more stressful for his wife than for himself. Paige Murphy cares for the couple's 2-year-old son, Liam, and will pack next week for a pair of exhibition games at Miller Park, potentially unsure whether the family will stay in Milwaukee for Opening Day, or head to Triple-A Nashville.
"The burden is on her because it's going to be a last-second kind of thing," Donnie Murphy said. "When things aren't guaranteed, it's tough. But at the same time, when you look at it that way, it's going to make things more difficult. You're not the one making the decision, so you just have to do what you can do, and see what happens."
Murphy is aiming for a job as a utility man and has appeared this spring at second base, third base and shortstop.
The Murphys have been in this position before. In 2010, Donnie was coming off a knee injury and had a strong Spring Training, but was beat out by Brian Barden. The following season, Murphy similarly had to win a job, and this time was successful.
Brewers manager Ron Roenicke knows the feeling. Asked how many times he entered the final week of Spring Training unsure of his roster status, Roenicke replied, "Every year."
"It's not a comfortable feeling," Roenicke said. "Any time you're unsure of things and you're trying to impress people to try to make a team, it's uncomfortable."
Has Murphy been impressing?
"He's done a nice job for us defensively," Roenicke said. "I know he'd like to swing the bat batter, and we feel like we will."
Murphy had his best game of the spring on Thursday, when he doubled and homered in a loss to the White Sox. He entered Friday's start against the Cubs batting .237 with four extra-base hits in 38 at-bats.
"Obviously, this is not exactly the way I wanted to go about it, but that's how Spring Training works sometimes," Murphy said. "Defensively, I think I've done well. I'm starting to feel much better hitting now, so that's always a good thing going into the season. That's what you want, even if the results aren't there."
His Opening Day destination remains up in the air, though Murphy's chances improve every day that Jeff Bianchi and Taylor Green remain sidelined by hip injuries.
"If I'm in Milwaukee, awesome," Murphy said. "If it's Nashville, that's just going to make me work harder."
Adam McCalvy is a reporter for MLB.com. Read his blog, Brew Beat, and follow him on Twitter at @AdamMcCalvy. Carrie Muskat is a reporter for MLB.com. This story was not subject to the approval of Major League Baseball or its clubs.