Brewers' bench becoming clear with week to go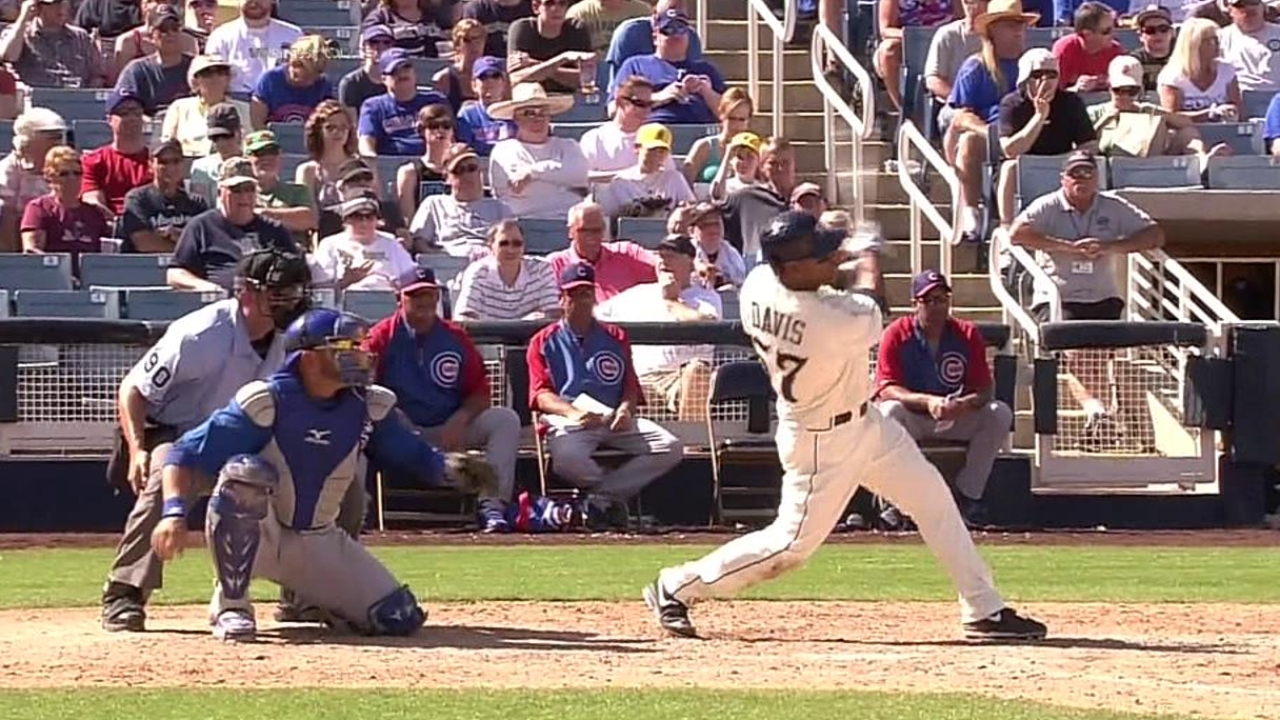 TEMPE, Ariz. -- There were still some big "ifs" in play Saturday, but the Brewers' bench was coming into focus with more than a week remaining before Opening Day.
If infielders Jeff Bianchi and Taylor Green remain sidelined by hip injuries through the final week of camp, if the Brewers stick with their plan to start the season with 13 position players and 12 pitchers, and if they don't find any intriguing options on the waiver wire -- club officials have a close eye on that -- then there would be room for outfielder Khris Davis, catcher/first baseman Blake Lalli and middle infielder Donnie Murphy to all make the team.
That trio would join outfielder Logan Schafer and backup catcher Martin Maldonado on the bench.
Schafer is a sensational defender and a left-handed hitter. Lalli also hits left-handed and would give the Brewers extra coverage at catcher, freeing Maldonado to be used as a right-handed pinch-hitter earlier in games. Both Lalli and Maldonado could back up first baseman Alex Gonzalez while Corey Hart recovers from knee surgery. Murphy would give the club coverage all over the infield.
And Davis would give the Brewers right-handed pop. He hit his sixth Cactus League home run in Friday's loss to the Cubs.
"I think his chances are pretty good," manager Ron Roenicke said of Davis. "He's a guy that has made us definitely consider him on the 25 [man roster] if the role fits, if what he does, which is a left fielder and right-handed hitter, if that fits in with the five bench guys we're going to carry."
Another outfielder, Caleb Gindl, also remains active in big league camp and has a chance to make the team. But like Schafer, Gindl bats left-handed.
The wild card is that waiver wire, which will be filled with players this week as teams make their final roster decisions. The Brewers have had success with waiver acquisitions during general manager Doug Melvin's tenure, from outfielders Brady Clark and Scott Podsednik early in Melvin's tenure to third baseman Casey McGehee more recently.
Roenicke indicated the team was open-minded about its targets at this time.
"Is it better than what we're looking at here?" he said. "Is it a better utility man? Is it a better swing man between first base and outfielder? Is it a better veteran off the bench? Because when you're asking a guy like Davis to come off the bench, I have no idea if he can hit off the bench. He can hit when you're playing him and he's getting a lot of at-bats, which he is [now]. That's what puts us in a position where if we can get something that fits better as far as being versatile, we'll look at it."
Roster considerations could come into play. The Brewers have 39 players on their 40-man roster, and Lalli, Murphy and bullpen candidate Alfredo Figaro would all have to be added if they make the cut.
Adam McCalvy is a reporter for MLB.com. Read his blog, Brew Beat, and follow him on Twitter at @AdamMcCalvy. This story was not subject to the approval of Major League Baseball or its clubs.