Olmsted optioned as Brewers mull bullpen options
Quartet of right-handers competing for two openings as camp winds down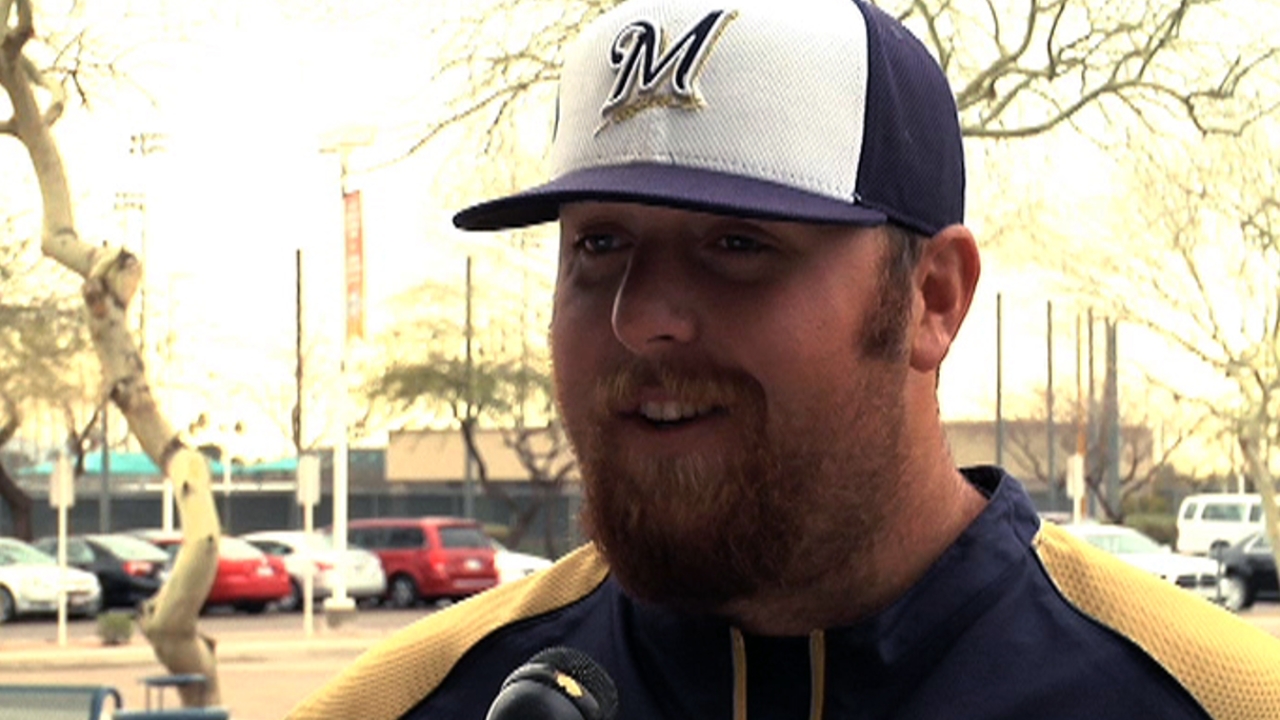 TEMPE, Ariz. -- The Brewers' bullpen race was down to four pitchers for two spots Saturday when the team optioned hard-throwing right-hander Michael Olmsted to Triple-A Nashville.
With Olmsted out of the mix, it left a quartet of right-handers vying for two jobs: Donovan Hand, Alfredo Figaro, Brandon Kintzler and Mark Rogers.
"We're trying to figure who that last spot's going to be, and there's a couple other guys that we feel right now are ahead of [Olmsted]," Brewers manager Ron Roenicke said.
The Brewers plan to begin the season with a standard seven-man bullpen, and five spots are spoken for by closer John Axford, left-handers Michael Gonzalez and Tom Gorzelanny and right-handers Burke Badenhop and Jim Henderson.
The picture for the remaining jobs could become clearer when Rogers starts a split-squad game on Sunday against the Rockies at Maryvale Baseball Park. Roenicke will attend that game, and is looking for Rogers to display the sort of mid-90-mph velocity he showed the Brewers last July and August, when Rogers was 3-1 with a 3.92 ERA in seven starts.
The zip on his fastball has been missing this spring, costing Rogers a chance for a spot in the rotation. He is out of Minor League options, so Rogers will either have to make the team, be placed on the Opening Day disabled list or be exposed to the waiver wire if Milwaukee tries to slip him through to the Minors.
"I think it's important to see exactly where he is [and how that impacts] our next decisions," Roenicke said.
The Brewers have been puzzled by Rogers' spring struggles, Roenicke said, and have been unable to find any medical explanation.
"I don't want to say it's health, but we need to get the velocity back," Roenicke said. "Whether that's health or whether that's building up arm strength, I can't answer that exactly. But we need to get the velocity back."
Kintzler (4.91 ERA in nine games) is already on the 40-man roster and has an option remaining. Hand (eight scoreless appearances this spring spanning 11 innings) and Figaro (2.08 ERA, .178 opponents' average) are non-roster invitees and would have to be added to the 40-man.
Adam McCalvy is a reporter for MLB.com. Read his blog, Brew Beat, and follow him on Twitter at @AdamMcCalvy. This story was not subject to the approval of Major League Baseball or its clubs.