Opening Day roster still unclear for Brewers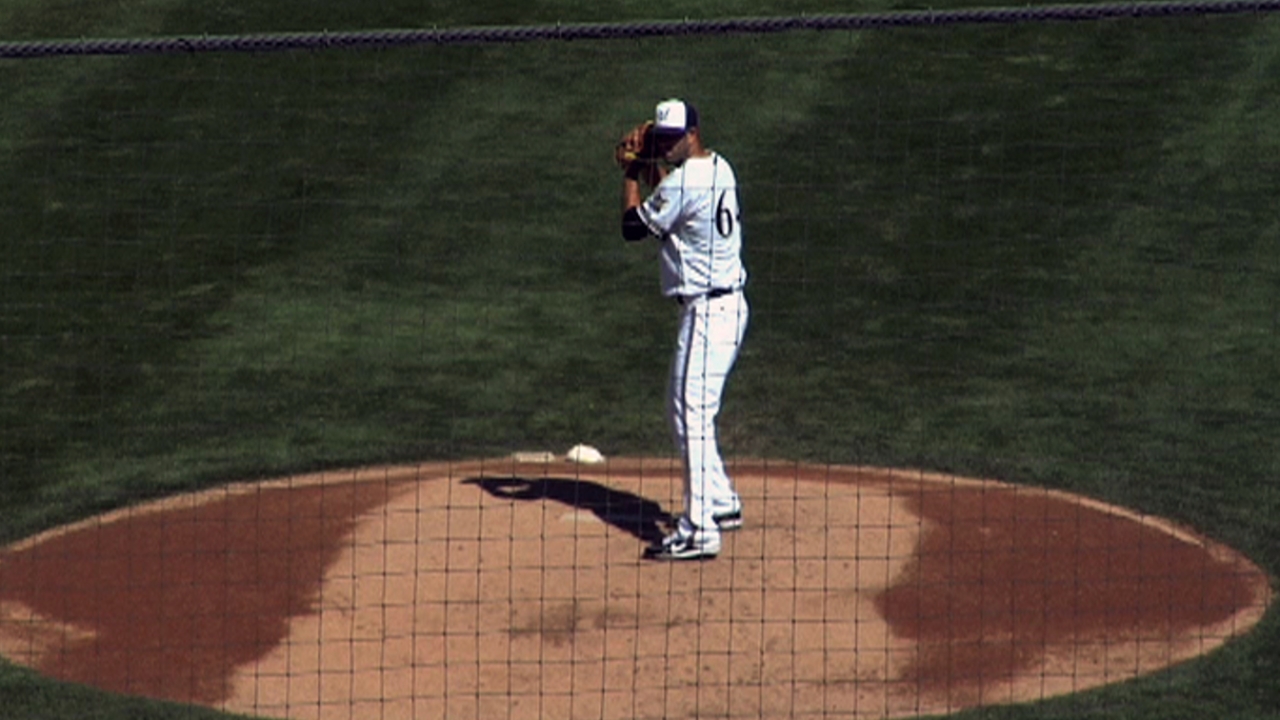 PHOENIX -- Anyone who expected the addition of Kyle Lohse to clarify the final spots on the Brewers' Opening Day roster was mistaken. Five days before the season opener, club officials were still mulling some fundamental decisions:
When will Lohse, who just signed Monday, be ready to slide into the starting rotation? Considering his accelerated timetable, should they temporarily carry an extra pitcher in the bullpen? If they do start the season with 13 pitchers, how does that affect the decision on the fourth and final bench spot? If they add a non-roster invitee or two, where will they find space on the full 40-man roster?
Manager Ron Roenicke said the official answers probably will not come until the weekend in Milwaukee, when the Brewers will finalize the roster ahead of Monday's Opening Day matchup with the Rockies.
"It is complicated," Roenicke said. "It's complicated because there are certain guys you want to keep on your team, and you guys know how I feel -- I like a five-man bench. It's very difficult to maneuver when we have four, but I realize where we are in our rotation and now with Kyle being added. To think we could go with 12 [pitchers], I don't know if that is realistic. The last two years were smoother."
One player whose fate hinges on those decisions is right-hander Mike Fiers, who could be the odd man out in the starting rotation with the arrival of Lohse. He has had an inconsistent spring, but was sharp, according to pitching coach Rick Kranitz, in a 6 1/3-innings start in a Minor League game Tuesday.
As of Wednesday morning, Fiers was unsure of his status.
"Whatever is best for the team, that's what they're going to do," Fiers said. "It's the same as last year -- I started in [Triple-A] Nashville last year, and they gave me the opportunity and I was grateful for that. If I start this year in Nashville, it won't be the worst thing."
Fiers could also begin the season in the bullpen as a long reliever. He would make a seven-man relief corps with closer John Axford, left-handers Tom Gorzelanny and Michael Gonzalez and right-handers Jim Henderson, Burke Badenhop and Brandon Kintzler. If the Brewers carry an eighth reliever, it would come down to non-roster invitees Donovan Hand or Alfredo Figaro, both of whom remain active in camp and have been impressive.
On the bench, the Brewers already have three spots set with catcher Martin Maldonado, outfielder Logan Schafer and recently-signed infielder Yuniesky Betancourt. A 13-man pitching staff would leave room for only one of outfielder Khris Davis or catcher/first baseman Blake Lalli. Davis is on the 40-man roster; Lalli is not, but remains a solid candidate.
"We've talked about him a lot," Roenicke said.
Whatever decisions are made this weekend, Roenicke said more changes could come a week or two into the season as the pitching picture becomes clearer.
Adam McCalvy is a reporter for MLB.com. Read his blog, Brew Beat, and follow him on Twitter at @AdamMcCalvy. This story was not subject to the approval of Major League Baseball or its clubs.