Lohse looks to work his way into starting rotation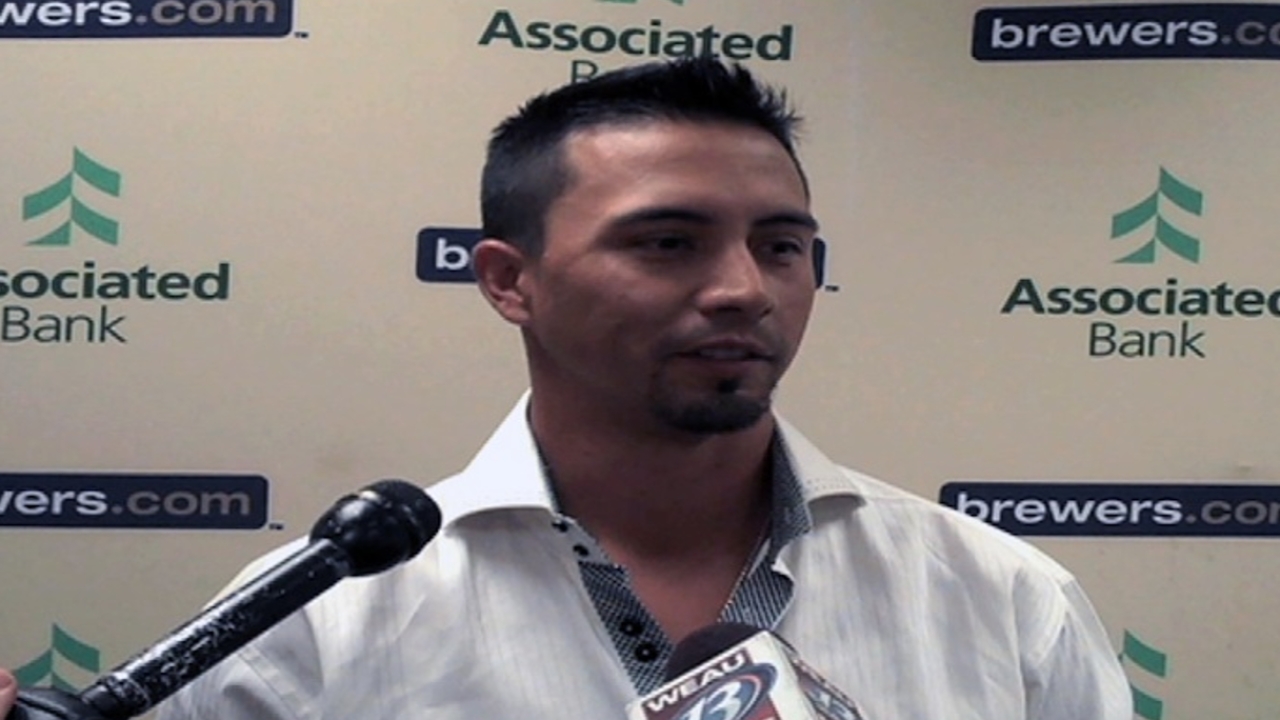 PHOENIX -- Kyle Lohse was immediately popular in his new clubhouse. Brewers pitchers went out to dinner Tuesday at Scottsdale's City Hall Steakhouse, and Lohse picked up the tab.
"It's been a crazy two, three days," said Lohse, the veteran right-hander who signed a three-year, $33 million contract on Monday. "You're talking about family stuff, too, finding a place to live. … But I got to know some of the guys last night and paid my dues for being late."
By that time, he had already gone to work for his new employer. Lohse said a Tuesday bullpen went well, that he was eager to face Major League hitters for the first time on Thursday against the Rockies and that he is hoping to be in the Brewers' five-man pitching rotation right from the start of the season. That's a possibility, according to both manager Ron Roenicke and pitching coach Rick Kranitz.
The plan will hinge on whether Lohse looks ready against the Rockies. He reached 95 pitches in a simulated game before signing with the Brewers, but he will probably be limited to 50-60 pitches on Thursday.
For now, the Brewers still plan to start Yovani Gallardo, Marco Estrada and Wily Peralta in the season-opening series, which is also against the Rockies at Miller Park. That could change, Roenicke said, but Lohse spoke Wednesday about sliding into the rotation during the next series, also at home, against Arizona.
Roenicke said the team had mapped out several options, but he declined to offer specifics.
"The worst thing that we can do is to overextend him, and then you're constantly fighting an uphill battle to get him back in his regular rhythm," Kranitz said. "We have to be smart about this. It's all going to depend on [Thursday] and how he feels, how he throws, and, even moreso, how he bounces back the days after."
Lohse understood the club exercising caution, but he has an aggressive timetable in mind.
"Until they see it, I have to gain that confidence," Lohse said. "My plan is to be in that first time through. I know they can get by without that, but in all honesty, I'm ready. I'm going to enjoy getting out there [Thursday] and facing the big league guys rather than the college guys I had been facing."
The Brewers did not scout Lohse's most recent outing against Scottsdale Community College, so they got their first look on Tuesday. Kranitz liked what he saw.
"He was as advertised," Kranitz said. "Strikes with four pitches, moves the ball around, has an idea what he's doing. Now, we'll see."
Adam McCalvy is a reporter for MLB.com. Read his blog, Brew Beat, and follow him on Twitter at @AdamMcCalvy. This story was not subject to the approval of Major League Baseball or its clubs.