Schafer to serve as Brewers' emergency catcher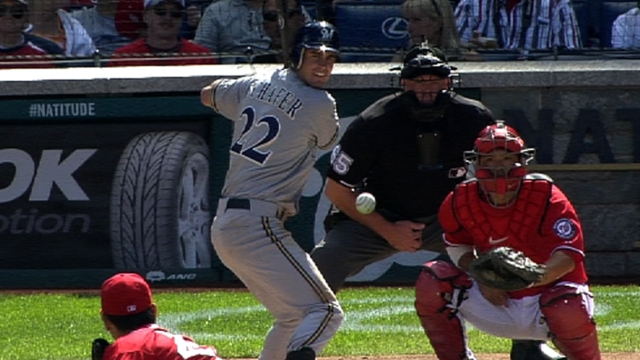 MILWAUKEE -- With Blake Lalli out of the Brewers' Opening Day picture, someone else will have to serve as the emergency, third catcher. The pick comes as something of a surprise.
"I'm making a call to have my left-handed catcher's glove sent out," manager Ron Roenicke joked.
That's because Logan Schafer, an outfielder who bats and throws left-handed, is the Brewers' pick. He told Roenicke that he had experience catching.
Left-handed throwers rarely catch, but Roenicke did it in Little League when he wasn't pitching. He's puzzled why more lefties don't do it.
"You can still throw down [to second base], and if you're throwing to third, you have to step behind the runner anyway," Roenicke said. "You certainly throw to first base better. When you're going out to field a bunt or something, you don't have to spin; you just throw to first base.
"I don't know why it started. Now if you do it, I think pitchers freak out a little bit. I would catch some bullpens, even in the Major Leagues sometimes, and some pitchers look in there and freak out. They see the glove on the other hand, and they don't like it. Some of it is probably that."
But in a pinch, Schafer would do, Roenicke said. Last year, the emergency catcher was Taylor Green, and before that it was Casey McGehee. Neither was called into duty.
Adam McCalvy is a reporter for MLB.com. Read his blog, Brew Beat, and follow him on Twitter at @AdamMcCalvy. This story was not subject to the approval of Major League Baseball or its clubs.