Narveson content with move to bullpen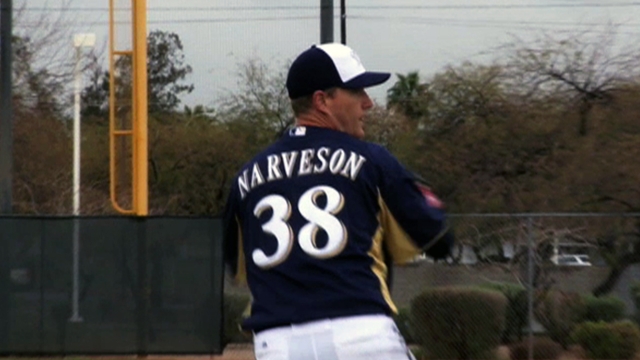 MILWAUKEE -- Comparing his situation to the Braves' Kris Medlen in 2012, Brewers left-hander Chris Narveson said he was on board with going to the bullpen to begin the season.
The addition of free-agent veteran Kyle Lohse on Monday gave the Brewers the luxury of moving one of their projected starters to long relief. They chose Narveson, allowing the 31-year-old to ease into pitching after missing the final five months of last season following shoulder surgery.
"It kind of gives you a little bit of a break between [Spring Training] and cranking things up," Narveson said. "Considering it's 162 games, I'd rather be strong come August, September than be strong at the beginning and then all of a sudden you fade out to the end."
He referenced Medlen, the Braves right-hander who underwent Tommy John surgery late in 2010 and pitched only two games in 2011. When he came back healthy for 2012, the Braves used him in relief for the first four months of the season. After he shifted to the rotation beginning July 31, Medlen went 9-0 with a 0.97 ERA in 12 starts, then started the Braves' Wild Card game against the Cardinals.
Medlen is four years younger and a completely different pitcher, but his name did come up when Narveson discussed his role with Brewers officials.
"It was a collective [decision]," he said. "It's a team game, and we know we have to have 25 guys pulling one way. You don't read too much into it -- obviously, starting off in the rotation is always nice, but you're going to need more than five starters. You're going to need more help down the road, so just make yourself ready.
"I looked at what Medlen did last year, kind of the same thing, coming off an injury. They kind of took it easy with him at the start, and then all of a sudden, when it comes down to crunch time and he's 'the guy.'"
Narveson stressed that he was healthy and could have easily began the season in the rotation. The addition of Lohse just offered an alternate option.
"Let's look at this logistically in a smart way," Narveson said. "If we can do this, why not take advantage of it?"
Adam McCalvy is a reporter for MLB.com. Read his blog, Brew Beat, and follow him on Twitter at @AdamMcCalvy. This story was not subject to the approval of Major League Baseball or its clubs.