Velocity dip doesn't worry Gallardo after one game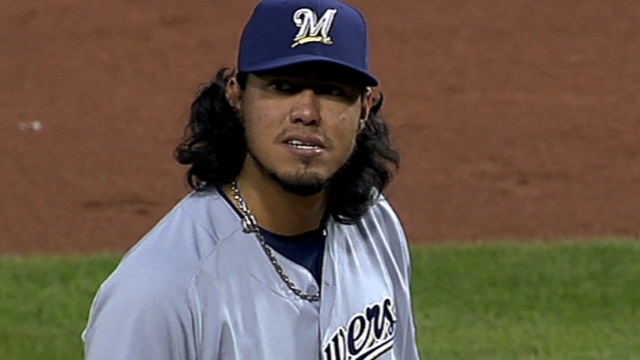 MILWAUKEE -- Brewers ace Yovani Gallardo insisted he wasn't worried about the slightly diminished radar gun readings during his Opening Day start against the Rockies. The scoreboard showed 90s and 91s where Gallardo routinely produces 93s and 94s.
"I know it went down as the game went on," Gallardo said. "I could feel it, more than anything, by the way the slider and everything else was coming out. It was my first time going close to 100 pitches; that could have something to do with it.
"It will be there. It felt like my velocities were normal when the game started and then went down from there. It will get there."
On Monday, Gallardo's top fastball registered 91.6 mph, according to Pitch f/x data from BrooksBaseball.net. His four-seam fastball averaged 90.19. That's 2 mph below his career average, per FanGraphs.com.
Manager Ron Roenicke noticed the dip, and said Gallardo also worked with slightly less zip on his fastball during his final Cactus League outings. Those games capped a strange Spring Training in which Gallardo ramped up early to be ready for the World Baseball Classic, nearly missed the event because of a groin injury, pitched one game for Mexico and then returned to the Brewers to quickly prepare for the regular season.
"We saw pretty good velocity in the World Baseball Classic, and then the last couple of outings, we haven't seen it, but he's had such good command I wasn't too concerned about it because I know it will come back," Roenicke said. "I think we've seen, since the two years I've been here, he goes through stretches where he loses some velocity. I don't know if that's a dead-arm period. Maybe things got 'moved around' a little bit with how hard he had to go in the Classic."
Gallardo predicted better results in his next start against the D-backs on Sunday. The Brewers will host a big crowd that afternoon for Norichika Aoki bobblehead day.
"I don't want to say I'm behind schedule, but that injury with the groin kind of backed me up a week and a half," Gallardo said. "Instead of going 50 pitches [in the Classic], I should have been going 65. Those are extra pitches that might have made a difference. But everything is fine. No issues. I feel good.
"Going that many pitches is like anything else -- you do it the first time and you get a little fatigued, a little tired. Then you do it again and things get back to normal."
Adam McCalvy is a reporter for MLB.com. Read his blog, Brew Beat, and follow him on Twitter at @AdamMcCalvy. This story was not subject to the approval of Major League Baseball or its clubs.