Fiers eager to contribute in Brewers' rotation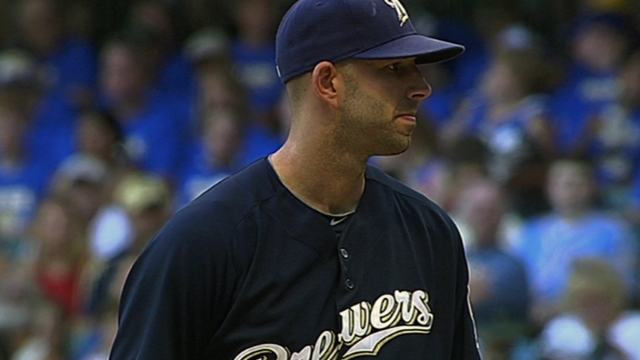 MILWAUKEE -- Right-hander Mike Fiers will make his season debut Saturday when he starts opposite D-backs lefty Patrick Corbin. Fiers learned of the assignment just like you may have -- via Twitter.
Fiers had remained in Arizona to start an intrasquad game and was still unsure whether he'd have a spot on Milwaukee's Opening Day roster. When he checked Twitter on Saturday he learned of the Brewers' plan: Chris Narveson would start the season in long relief and Fiers in the starting rotation.
"I just wanted to have a spot on the team, no matter where I was," Fiers said."Wherever they thought I could help the team out the best was fine, and I think I can help out the team the best in the rotation. I'm glad they gave me another chance."
Fiers was 9-10 with a 3.74 ERA in 22 starts and one relief appearance last season, including 8-6 with a 2.88 ERA in his first 16 starts.
But he is coming off what he characterized as a "terrible" Spring Training. Fiers had a 6.98 ERA in six Cactus League games, five starts, and allowed a .333 opponents' batting average.
"Giving 'Narvy' a little bit of a break went into it, but I also think Michael Fiers didn't have a good spring last year, either," manager Ron Roenicke said. "I saw what he did when he got into the season, and we all know the high side of him is really good. For two months [in 2012], we saw a guy who every outing went out there and I expected him to give up none or one run. Those type guys, you don't find a lot of. If we can get him on the right track, I think his upside is pretty good."
Adam McCalvy is a reporter for MLB.com. Read his blog, Brew Beat, and follow him on Twitter at @AdamMcCalvy. This story was not subject to the approval of Major League Baseball or its clubs.