Axford not concerned with early dip in velocity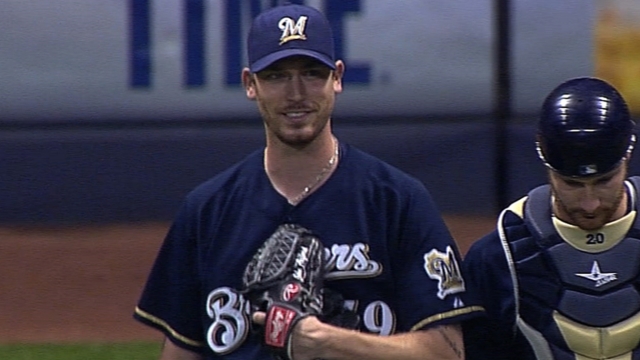 MILWAUKEE -- Viewing video of his outing yielded no answers for Brewers closer John Axford, who on Friday brushed aside concerns about his diminished velocity in a rough outing against the Rockies two days earlier.
"I did look back at it. Everything looks fine, everything looks normal," Axford said. "Maybe it was just one of those times. Honestly, nothing looks different. Mechanics are the same, arm slot's the same, even going back over the years. Going back to 2011, it's the same leg lift, same separation, same arm path, front and back side. Everything's the same. Same release point."
In other words, there was no mechanical explanation for Axford averaging 92.44 mph with his four-seam fastball while allowing three runs on five hits, including a pair of home runs, and recording two ninth-inning outs Wednesday, turning a 4-3 Brewers deficit into a 7-3 loss.
Compare that to last season, when Axford's four-seamer averaged 96.91 mph, according to BrooksBaseball.net. In the World Baseball Classic last month, Axford topped out at 98 mph in an outing for Canada against Team USA.
Which begged the question: If it's not mechanical, what else could explain a 4-6 mph drop?
"I really don't know," Axford said. "I can't ask my body. My body doesn't know right now either. When you're a relief pitcher you feel stiffness and soreness on a usual basis, but nothing out of the ordinary.
"Even on [Opening Day], I wasn't throwing 98 mph. I was throwing 94-95, so, [Wednesday] was only a couple miles an hour different from that. It's not anything too different from where I've been before. I know last year my velocity was up a little bit more but at the beginning of the year I think it was maybe more 94-95 mph. As the year progresses, that's where my velocity generally starts coming in. I started hitting those 98s around May."
He wasn't sure if his participation in the Classic played a role. Even in his final Spring Training appearances, Axford said, he saw charts that showed he was throwing 92-95 mph.
"I wasn't worried about it then, because I would give up a hit and then get three outs," he said. "Two days ago, if I get three outs and I'm throwing 91-92, it's like, 'Oh, your velocity was down but it looked like it worked out for you.' Maybe then people would say, 'That's what you need to do. You need to throw slower.'
"I feel physically fine, so let's just see what happens."
Manager Ron Roenicke was content to do so.
"If something went on for a lot of outings in a row, I would be concerned about it," Roenicke said. "Right now, we're just starting out. The mental part of this and getting into your rhythm at the start of a season, there's so much that comes up that I don't want to look too far into it."
Adam McCalvy is a reporter for MLB.com. Read his blog, Brew Beat, and follow him on Twitter at @AdamMcCalvy. This story was not subject to the approval of Major League Baseball or its clubs.