With Braun still ailing, Roenicke shakes up lineup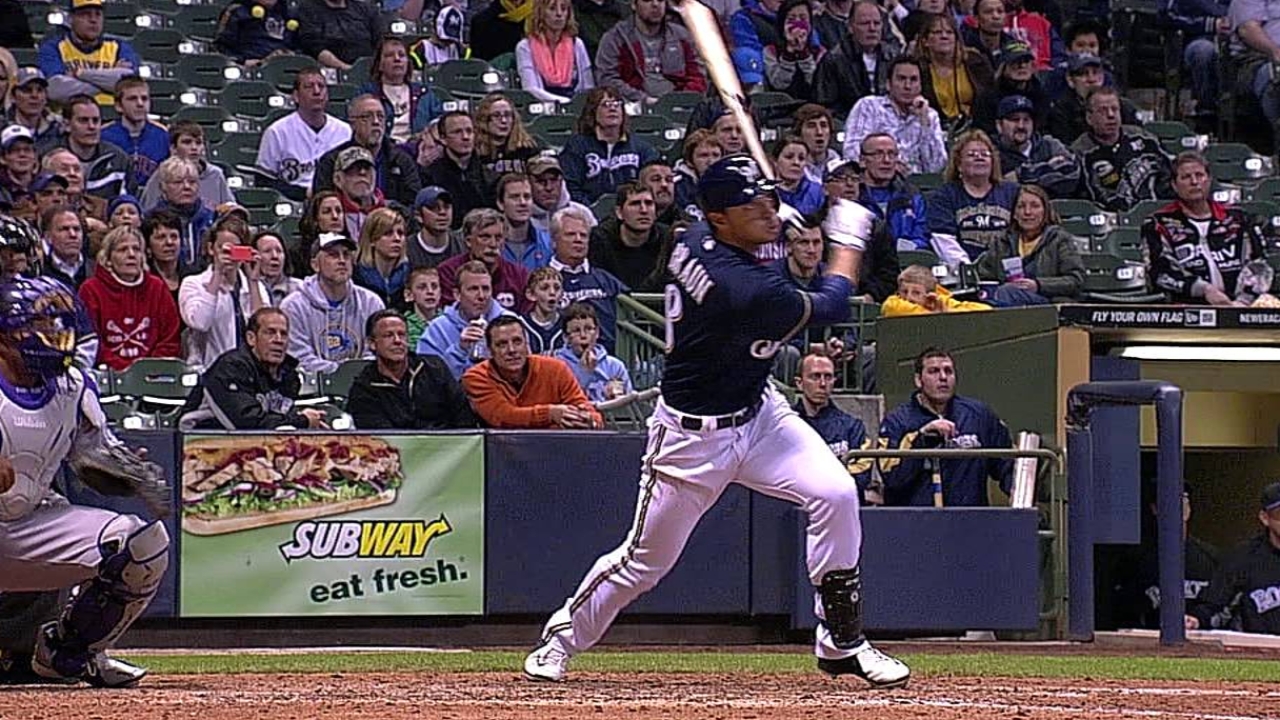 MILWAUKEE -- The bottom line for the Brewers on Sunday was that Ryan Braun's neck was still too stiff to start against Arizona. He missed a third straight game and was growing weary of the constant questions.
"I don't want to do status updates every day," Braun said. "As soon as I'm able to get to a point where I have any chance to contribute and play, I'll be playing. It's a little bit better today than yesterday, which is a good thing. Other than that, as soon as I can play, as soon as I have any chance to contribute, I'm playing."
Braun was not playing Sunday, so manager Ron Roenicke employed another new left fielder (Logan Schafer) and another new lineup, this one with second-year shortstop Jean Segura batting in Braun's three-hole and second baseman Rickie Weeks hitting cleanup for the first time in his Major League career.
With Braun sidelined and third baseman Aramis Ramirez on the disabled list with a sprained knee, Segura (9-for-18 through five games) and Weeks (8-for-19) were the only two healthy Brewers regulars batting better than .286 as of Sunday morning.
Brewers catchers Jonathan Lucroy and Martin Maldonado entered Sunday a combined 2-for-22. First baseman-turned-third baseman Alex Gonzalez was 1-for-16. Center fielder Carlos Gomez was 2-for-19.
"We need to score some runs -- well, we need to pitch better first, though," manager Ron Roenicke said. "If we pitch better, we'll scratch out some runs."
He reiterated later on that the Brewers' equally slow start on the mound was his chief concern at the moment. In their first turn through the five-man rotation, the Brewers produced only one quality start. Opponents entered Sunday batting .333 against Brewers pitchers, second-worst in the Majors to Yankees' pitchers' .339.
"There's a lot of other things going on on the mound than worrying about how many runs we're going to score," Roenicke said. "We need to find out what we're doing, pitching-wise, and getting ahead of people and not throwing so many balls down the middle for these guys to hit."
At some point in the near future, Roenicke wants to return to the standard 12-pitcher, 13-position-player alignment. That would give him a five-man bench and a seven-man bullpen.
"We've talked about it," he said. "Right now, we're not looking at doing that. We've talked about a game plan of about where we think we need to be in trying to get back to a five-man bench. But there's too many other things going on to worry about a five-man bench right now, with just trying to put together a lineup like this and get Brauny back and get some kind of lineup where we feel that we can be consistent with."
Amid those issues, sitting has not been easy, Braun said.
"I feel like I've been out for a week," he said, "and it's been less than 48 hours since I did it. Hopefully it gets better sooner rather than later. Like I said the other day, there's never a good time for it, it's never easy. But it's just much more challenging to watch when you have other guys hurt and we're not off to a great start. It's not fun for me to sit here and watch, that's for sure."
Adam McCalvy is a reporter for MLB.com. Read his blog, Brew Beat, and follow him on Twitter at @AdamMcCalvy. This story was not subject to the approval of Major League Baseball or its clubs.