Narveson to DL pushes Hart to 60-day; Lalli brought up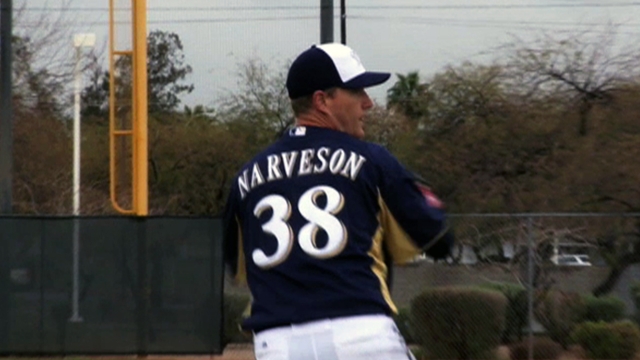 CHICAGO -- The Brewers on Monday placed left-hander Chris Narveson on the 15-day disabled list with a sprained middle finger on his pitching hand and purchased the contract of catcher/first baseman Blake Lalli from Triple-A Nashville.
Lalli, however, is not on the 40-man roster, so Milwaukee will transfer Corey Hart to the 60-day DL, retroactive to March 31, to make room. As a result, Hart cannot be activated until May 30.
Because the team plans to use a series of upcoming off-days to skip No. 5 starter Mike Fiers, the Brewers chose a position player to take Narveson's spot on the 25-man roster. The move re-balances a roster that included 13 pitchers and 12 hitters on Opening Day, leaving manager Ron Roenicke extremely short on the bench after a spate of injuries.
The DL is the last place Narveson wanted to land. He made only two starts in 2012 before undergoing season-ending shoulder surgery.
"It's tough for him," Roenicke said. "You go through what he went through last year and all of a sudden you come back and get some, really a freak injury."
Narveson had been easing back into duty in a relief role. He took to Twitter on Monday night to describe the finger injury as a roadblock. "Unfortunately I sprained my middle finger while warming up my last outing on Saturday," Narveson tweeted. "Will come back stronger though."
Adam McCalvy is a reporter for MLB.com. Read his blog, Brew Beat, and follow him on Twitter at @AdamMcCalvy. This story was not subject to the approval of Major League Baseball or its clubs.