Narveson to miss 4-6 weeks with sprained finger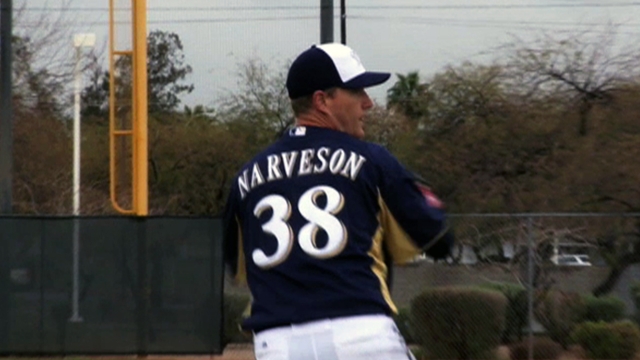 CHICAGO -- Brewers left-hander Chris Narveson expects to miss four to six weeks with the sprained middle finger that sent him to the disabled list Monday.
He was injured throwing a curveball in the bullpen before a one-inning outing against the Rockies on Saturday. Narveson got through that inning, but his finger swelled up afterward.
"I felt a pop, just like a knuckle pop," he said. "It started stiffening up, and I couldn't really grip anything that whole inning. The last inning I pitched I was sitting there like, 'This isn't right.' So I got back, said something to the trainers, and they thought maybe it was just inflammation."
An MRI scan Monday morning revealed the sprain -- technically a slight tear to a ligament in Narveson's finger.
"It's one of those freak things," Narveson said. "I guess they find it a lot in rock climbers."
They also found it in Ben Sheets' right middle finger back in 2007. He exited a July 14 game against the Rockies saying he was unable to grip the baseball and did not return until the next Aug. 29.
The injury represents tough luck for Narveson, who made only two starts last season before sustaining a season-ending shoulder injury. He had a procedure last May 1 to repair a torn labrum and torn rotator cuff and was healthy this spring. The Brewers opted to put him in a long relief role to begin the season so he could ease the shoulder back into action.
"That was the thing, it was just getting to the point where you're getting comfortable, getting ramped up," Narveson said. "And the next thing you know, something like that happens. Who knows? Maybe it's a blessing in disguise. It kind of gives you a little bit of a rest."
Adam McCalvy is a reporter for MLB.com. Read his blog, Brew Beat, and follow him on Twitter at @AdamMcCalvy. This story was not subject to the approval of Major League Baseball or its clubs.