Brewers bring back K-Rod on Minors deal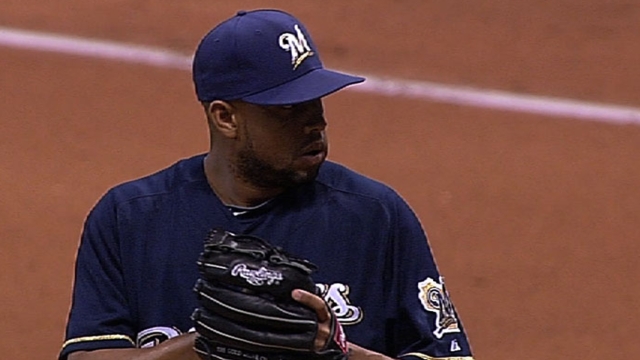 MILWAUKEE -- The Brewers re-signed veteran reliever Francisco Rodriguez to a Minor League contract Wednesday that gives the team 30 days to evaluate Rodriguez and decide whether to add him to the big league bullpen. If the team decides he is not a fit, Rodriguez can return to free agency.
General manager Doug Melvin declined to reveal the financial terms of the agreement, though MLB Network's Jon Heyman reported it could pay $2 million or more in the Majors. The deal was sealed after Rodriguez reported to the Brewers' extended spring training camp at Maryvale Baseball Park for a physical exam.
"Over the course of the year we've always talked about having guys in line in case you have injuries or other things happen," Melvin said. "This gives us an option to go to if we want to and need to, and if he pitches well enough. It's low-risk on our side."
It was unclear when and where -- or if -- the Brewers would assign Rodriguez to a Minor League affiliate. He will need to secure a work visa first.
If he throws well, the 31-year-old Rodriguez could provide another late-inning option for the Brewers' bullpen, which entered Wednesday ranked 21st in the Majors with a 4.65 ERA this season and has already made a change at closer. But Melvin downplayed the role John Axford's temporary demotion played in principal owner Mark Attanasio's interest in bringing back Rodriguez.
Rodriguez's agent is Scott Boras, who also represents Kyle Lohse, the right-handed starter who signed a three-year, $33 million deal with the Brewers a week before Opening Day.
Rodriguez spent the last two years with the Brewers after collecting at least 20 saves in seven straight seasons with the Angels and Mets. He struck out 72 batters in 72 innings last year with a 4.38 ERA, but faltered when offered an opportunity to close games in mid-July. The Brewers let Rodriguez depart via free agency after the season.
Melvin conceded that there will be a contingent of fans and non-fans alike who are unhappy about Rodriguez's return. Rodriguez was arrested in suburban Milwaukee in mid-September and charged with misdemeanor domestic battery after an incident involving his girlfriend, charges that were dropped by Waukesha County District Attorney Brad Schimel in November after Rodriguez and the woman returned to Venezuela.
Melvin said he spoke to a prosecutor involved in the case before re-signing Rodriguez to ensure that Rodriguez's legal troubles were closed.
Adam McCalvy is a reporter for MLB.com. Read his blog, Brew Beat, and follow him on Twitter at @AdamMcCalvy. This story was not subject to the approval of Major League Baseball or its clubs.