Roenicke: Axford could soon return to closing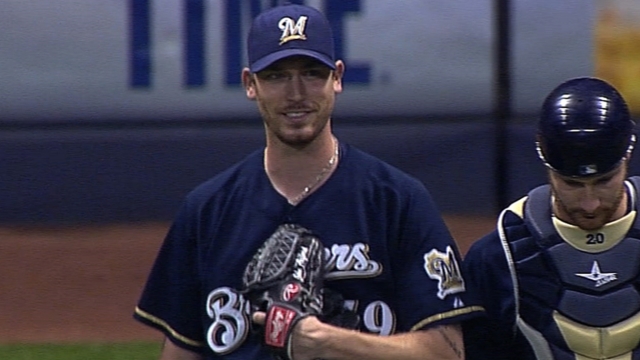 SAN DIEGO -- These days, it seems like every Brewers reliever has fallen into the same routine: Enter the game, put up a zero, pass the baton to the next guy, so he can do the same.
With a combined four runs allowed in their last 33 1/3 innings pitched, the Brewers' bullpen has been as lights-out as any in baseball during the past two weeks.
Manager Ron Roenicke doesn't plan on tinkering with his current game plan of John Axford setting up closer Jim Henderson just yet. But he said a return to the ninth inning could be on the horizon for Axford.
"That's nothing against Henderson, he's done a great job for us, pitching there," Roenicke said. "But I think with Ax, because of his breaking ball and when he's throwing it well, I think Ax has a chance to repeat that season that he had two years ago."
Two years ago, Axford converted 46 consecutive save opportunities en route to a ninth-place finish in the National League Cy Young Award voting. To start the season this year, Axford allowed nine earned runs in 3 1/3 innings, but has since looked like his old self with six consecutive scoreless outings.
The biggest key to Axford's success has been the location of his hard slider, in spots that make it almost unhittable. He also made a minor adjustment to his throwing motion.
"It was just something small and mechanical that you carry over into playing catch, and it's something I've continued to do to make sure it feels natural on the mound," Axford. "Right now, everything feels smooth."
Axford isn't alone in his success. Each night it's a different hero out of the 'pen. On Tuesday, it was Tom Gorzelanny striking out San Diego's Yonder Alonso on three straight sliders with the bases loaded in a 6-3 game.
"We've become a good group," Gorzelanny said. "We're starting to get close, and there's a good energy out there. Guys are pretty loose when they come in. Nobody's stressed and worried."
Henderson, who is 2-0 with a 0.90 ERA in 10 games this year, echoed Gorzelanny's sentiment.
"It's hard to explain," Henderson said. "But if somebody falters, we just know the next guy will pick them up."
AJ Cassavell is a reporter for MLB.com. Follow him on Twitter @ajcassavell. This story was not subject to the approval of Major League Baseball or its clubs.