Axford endorses Henderson as Crew closer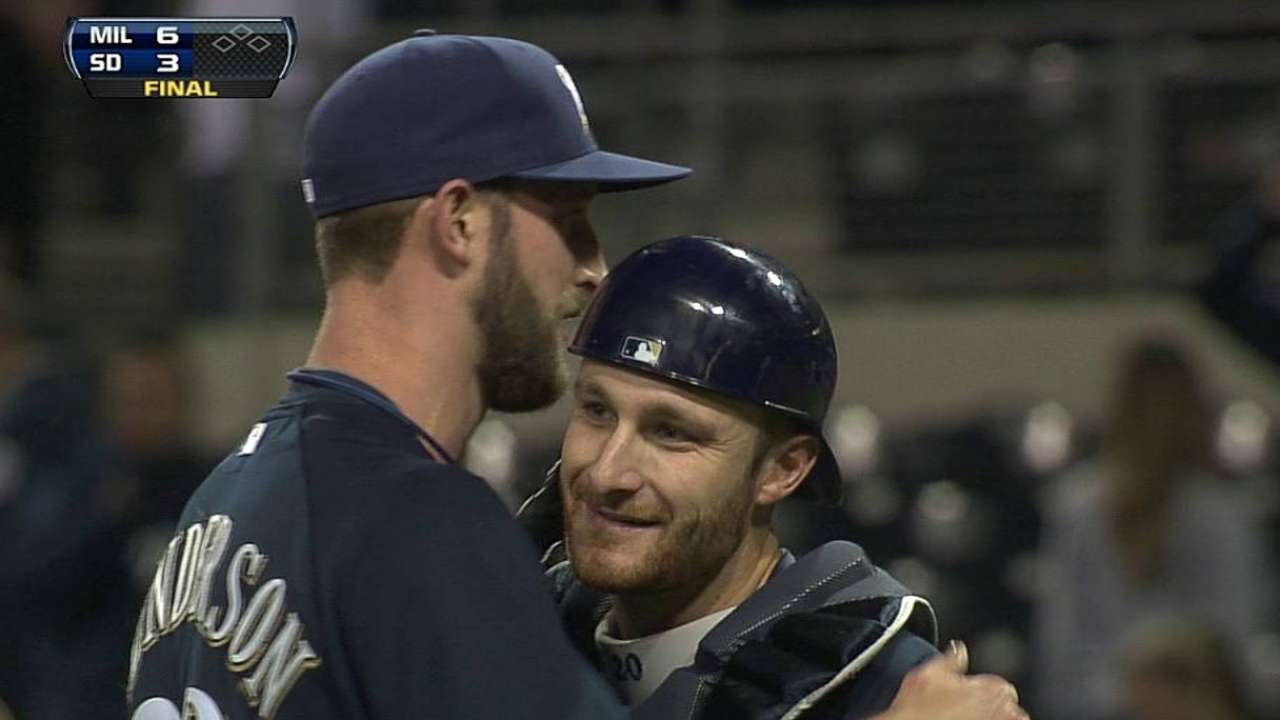 LOS ANGELES -- Turns out, John Axford falls into the "if it ain't broke, don't fix it" school of thought as it relates to the Brewers' closer conundrum.
Two and a half weeks after he was removed from the closer role, Axford entered Friday's series opener against the Dodgers back in top form, having worked six straight scoreless appearances after allowing a run in his first four, and a home run in his first three. Opponents went 2-for-17 (.118) in those six games, with no walks and six strikeouts.
But the good friend who replaced him in the ninth inning, Jim Henderson, entered the Dodgers series pitching just as well, with five saves in as many opportunities. Henderson did not allow a run in nine of his first 10 games this season.
So what is manager Ron Roenicke to do?
Nothing for now, Axford suggested.
"You want to keep with what's going well. I think that's the biggest thing," Axford said. "Things are going good right now, winning nine in a row. Losing that tough one [on Wednesday] in San Diego, we had a shot of winning that one at the end, too. You really want to keep with what's strong and what's working, I think."
In other words, he's just fine serving as setup man to Henderson.
"You don't want to fix anything that's not broken right now, that's for sure," Axford said.
Brewers relievers struggled in the team's opening homestand, but entered Friday with a 15 1/3-inning scoreless streak and a 1.03 ERA over the team's last 12 games.
This is the second straight season that Henderson has come to the bullpen's rescue. Last year, his July 26 promotion to the Major Leagues -- after parts of 10 years in the Minors -- roughly coincided with the Brewers' late-season surge. It was only a few weeks later that Axford was reinstated as the closer after being removed from the role.
"I think he made me kind of realize again that it's about perseverance," Axford said. "You want to keep going through the troubles of this game. He was there in the Minor Leagues for 10 years, and he fought and clawed his way up, and he was doing a fantastic job. It was a reminder to me, 'You had to fight to get here, too, so keep doing it.'"
As far as fixing his own struggles this year, Axford credited pitching coach Rick Kranitz for identifying a minor mechanical flaw after Axford surrendered three runs on two walks and a hit in Chicago on April 9, the day after he was removed from the closer role. Kranitz had noticed Axford was too upright in his delivery.
The result has been a better arm slot, an uptick in velocity and better command of his breaking pitches.
"It was a small adjustment of literally being more athletic, the way Lee told me to do it in the first place in 2009," Axford said, referring to Lee Tunnell, the Brewers bullpen coach who was key to Axford's rise. "I was getting too upright on the mound, and now I'm making sure I'm more athletic and over my body. It's a very subtle change."
Adam McCalvy is a reporter for MLB.com. Read his blog, Brew Beat, and follow him on Twitter at @AdamMcCalvy. This story was not subject to the approval of Major League Baseball or its clubs.