Narveson begins rehab process by playing catch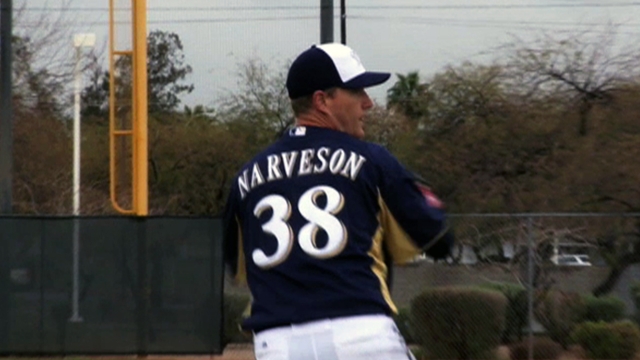 LOS ANGELES -- Left-hander Chris Narveson played catch Saturday for the first time since he sprained a ligament in his left middle finger, the first step in what will be a relatively long rehabilitation.
It was the first time he'd thrown a baseball since April 6, when he felt discomfort warming up for a relief outing against Arizona. Narveson threw Saturday with his middle and ring fingers taped together, but eventually will shed the tape, then advance to long toss, then to the mound. It will beat least two weeks before Narveson gets to the mound, and he will then have to rebuild a pitch count.
"Nice and easy," Narveson said of Saturday's session. "The intensity will go up as we go along. Small steps."
He is used to being patient. On Wednesday, Narveson will be one year removed from a major shoulder surgery that ended his 2012 season. He was part of Milwaukee's Opening Day bullpen before suffering the finger injury.
Adam McCalvy is a reporter for MLB.com. Read his blog, Brew Beat, and follow him on Twitter at @AdamMcCalvy. This story was not subject to the approval of Major League Baseball or its clubs.