Brewers to debate best move for Davis, Prince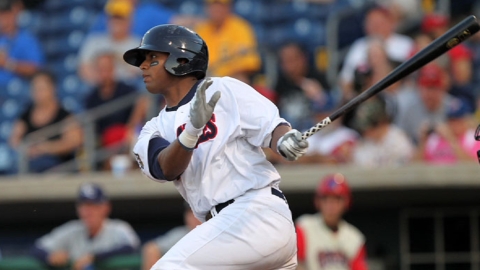 LOS ANGELES -- Would Brewers prospects Khris Davis and Josh Prince be better served playing every day at Triple-A Nashville instead of sitting mostly idle on the Major League bench?
Club officials will meet Monday to have that debate.
"Well, they're still happy to be here because it's their first time in the big leagues, and you want to play, but it's really fun to be in the big leagues," manager Ron Roenicke said. "They're still [here], but it's not just me, it's Doug [Melvin, the general manager] and the rest of the coaching staff, we've talked about what we need to do with a couple of those guys.
"Khris Davis [No. 15 prospect] is definitely a guy we think is going to be a big plus offensively, and to sit him here and not play him at all, I don't know if that's the right thing to do with him. Certainly, if he was helping us a lot and we needed him, it would be different. We'll talk about it when we get back Monday, and see if we need to move a couple of pieces, whether it's [Davis] or Josh, or somebody. ... Maybe send them down for 10 days and get them hot and then bring them back."
The question is who the Brewers would promote in either player's place.
One possible candidate, infielder Jeff Bianchi, is not yet ready to return from a Minor League rehabilitation assignment, Roenicke said. Bianchi has been on the disabled list since the start of the season with a left hip injury.
"He's still shy of being 100 percent, from what I hear," Roenicke said.
Adam McCalvy is a reporter for MLB.com. Read his blog, Brew Beat, and follow him on Twitter at @AdamMcCalvy. This story was not subject to the approval of Major League Baseball or its clubs.