Betancourt takes his turn as Brewers' cleanup man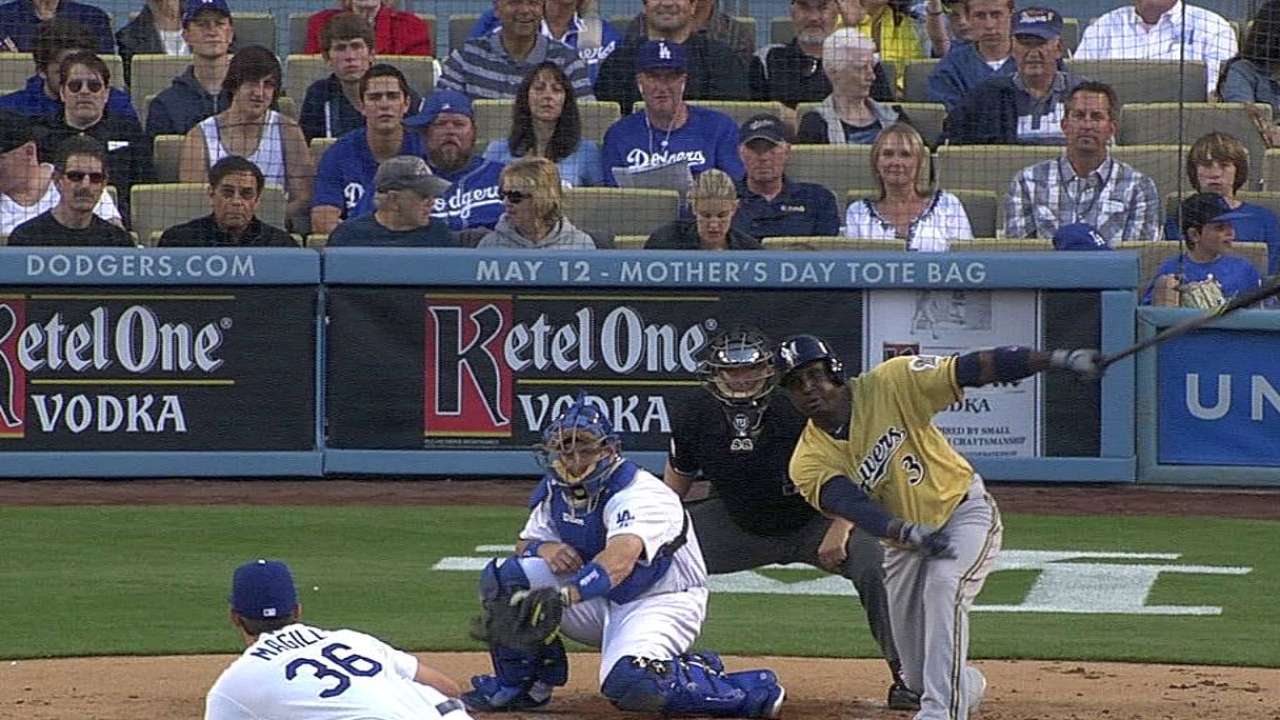 LOS ANGELES -- The Brewers were only a few miles from the Price Is Right studio on Saturday, so we'll put it like this: Yuniesky Betancourt, come on down. You're the next contestant to bat cleanup for the Milwaukee Brewers.
Betancourt was so surprised when he arrived at Dodger Stadium on Saturday and saw the lineup card, he asked hitting coach Johnny Narron if it was for real.
"This is my first time fourth in the lineup," said Betancourt, who had started games at every other spot in the batting order during a nine-year Major League career. "I was surprised. I asked the hitting coach, 'Hey, is everything OK here?' It feels good. I'm not going to change my approach at the plate. I'm trying to keep everything the same -- see the ball and hit it."
That famously simple aggressive approach has Betancourt off to a solid start at the plate (second on the team with four home runs and 17 RBIs) and made him the latest name penciled into the troublesome cleanup spot by manager Ron Roenicke.
Betancourt went 2-for-5 and opened the scoring in Saturday's 6-4 win with an RBI single in the third inning.
Since third baseman Aramis Ramirez went down with a left knee injury, Roenicke has tried second baseman Rickie Weeks (4-for-48, two RBIs in 11 starts batting cleanup) and catcher Jonathan Lucroy (4-for-21, two RBIs in five starts) with little success.
With Weeks stuck in a wicked slump and Lucroy getting Saturday off, it was Betancourt's turn.
"He's really been playing well," Roenicke said. "Defensively, he's been outstanding, and he's been getting some big hits for us. … You think about, what would we do with the infield if we didn't have Yuni in there all the time?"
Saturday marked the one-month anniversary of Betancourt's surprise return to the Brewers, for whom he manned shortstop in 2011 when the team reached the National League Championship Series. He was brought back to be a bench player, but has instead been starting at first base and third base because of Ramirez's injury.
"I'm glad I'm playing every day. I'm having fun with the game," Betancourt said. "I'm feeling good. I feel like a young guy again."
Weeks, who has five hits in his last 62 at-bats, was still in the lineup, but was hitting fifth.
"Some of it is pressure off Rick, and some of it is wanting a guy hitting fourth who's going to drive in some runs for us," Roenicke said. "The bad thing I don't like with Rick is, I don't want to move him around all the time."
Adam McCalvy is a reporter for MLB.com. Read his blog, Brew Beat, and follow him on Twitter at @AdamMcCalvy. This story was not subject to the approval of Major League Baseball or its clubs.