Weeks hoping to gain momentum after strong game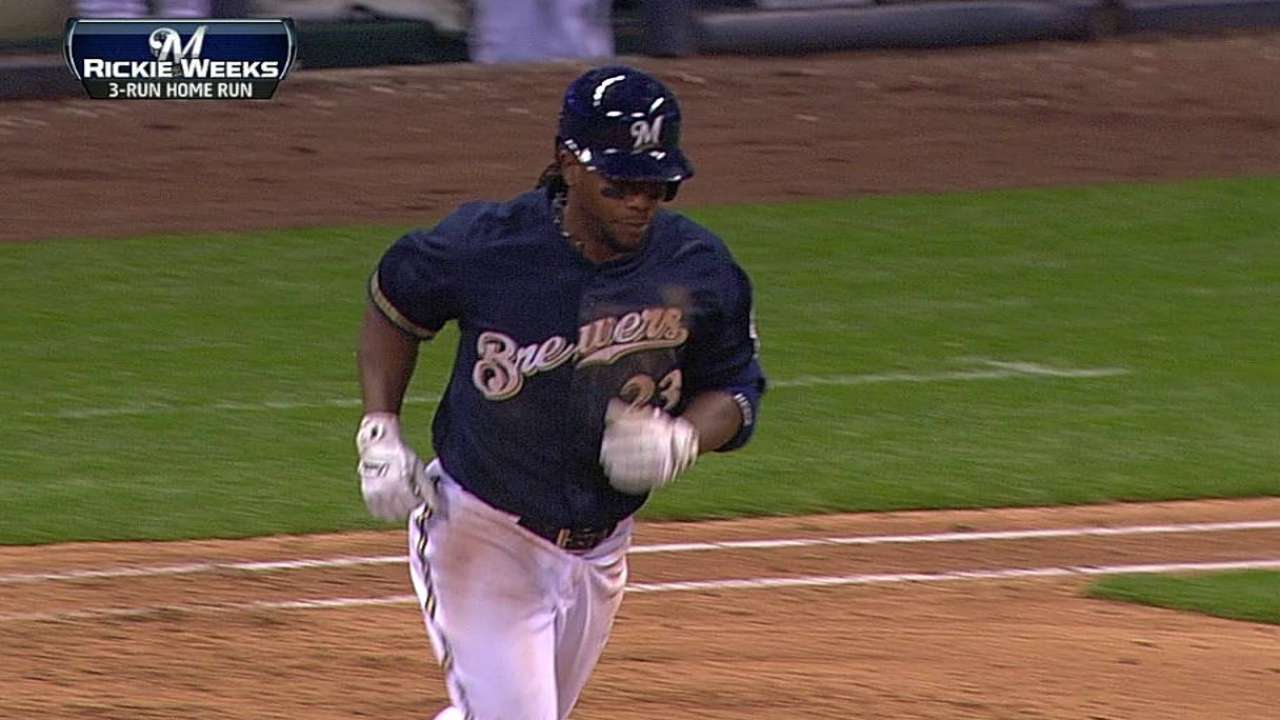 MILWAUKEE -- They were the three hits -- and a walk -- heard 'round Wisconsin, the first signs, the Brewers hope, of second baseman Rickie Weeks snapping out of his ugly early-season slump.
Weeks' three hits produced a career-high five RBIs in the Brewers' 12-8 win over the Pirates on Tuesday night, one more RBI than he'd amassed in the team's first 24 games. In one game, he had nearly half as many hits as he'd collected in his previous 82 plate appearances over 20 games (7-for-72).
And it all started six and a half hours before the game, when Weeks called Brewers hitting coach Johnny Narron to the batting cage.
"I wanted to kill myself in the cage, basically," Weeks said.
Weeks, who went 0-for-3 with a walk on Wednesday, will take early batting practice from time to time, but this, he said, was different. A player famous for his even keel made the very rare admission Tuesday night that he'd been feeling frustrated by his poor results at the plate.
Weeks said he had been seeing the ball just fine, but was struggling because of poor timing. So he hit the cage with Narron to swing, swing and swing some more.
"I wanted to punish myself, really," Weeks said. "I guess it worked. … When your timing is off, things speed up and you get overanxious. I think the biggest thing for me was just going out there and play my game.
"I was frustrated, obviously. You don't want to be in a position like that, but it wasn't to the point where I was going to go out there and do anything drastic. You have to stay within yourself. It's real early. You have to find an even keel and try to go out there and do your job."
He walked and scored against Pirates starter James McDonald in the Brewers' three-run second inning, doubled and scored a go-ahead run in the third, singled home two more runs with two outs in the fourth and then extended the Brewers' late lead by belting a three-run opposite-field home run off Tony Watson in the eighth.
Now, the question is whether Weeks can sustain that success. He downplayed the notion that one game represented the end of his early-season struggles, but said it sure beat the alternative.
"You're always going to have your ups and downs. I hope I don't go through a stretch like I did, but you are going to have a stretch like that -- hopefully a smaller stretch," he said. "Just for me, I think the sky's the limit now. I need to keep working hard, that's all I can say."
He added: "I feel pretty good about myself going forward."
Adam McCalvy is a reporter for MLB.com. Read his blog, Brew Beat, and follow him on Twitter at @AdamMcCalvy. This story was not subject to the approval of Major League Baseball or its clubs.