Roenicke: No plans to send Axford to Minors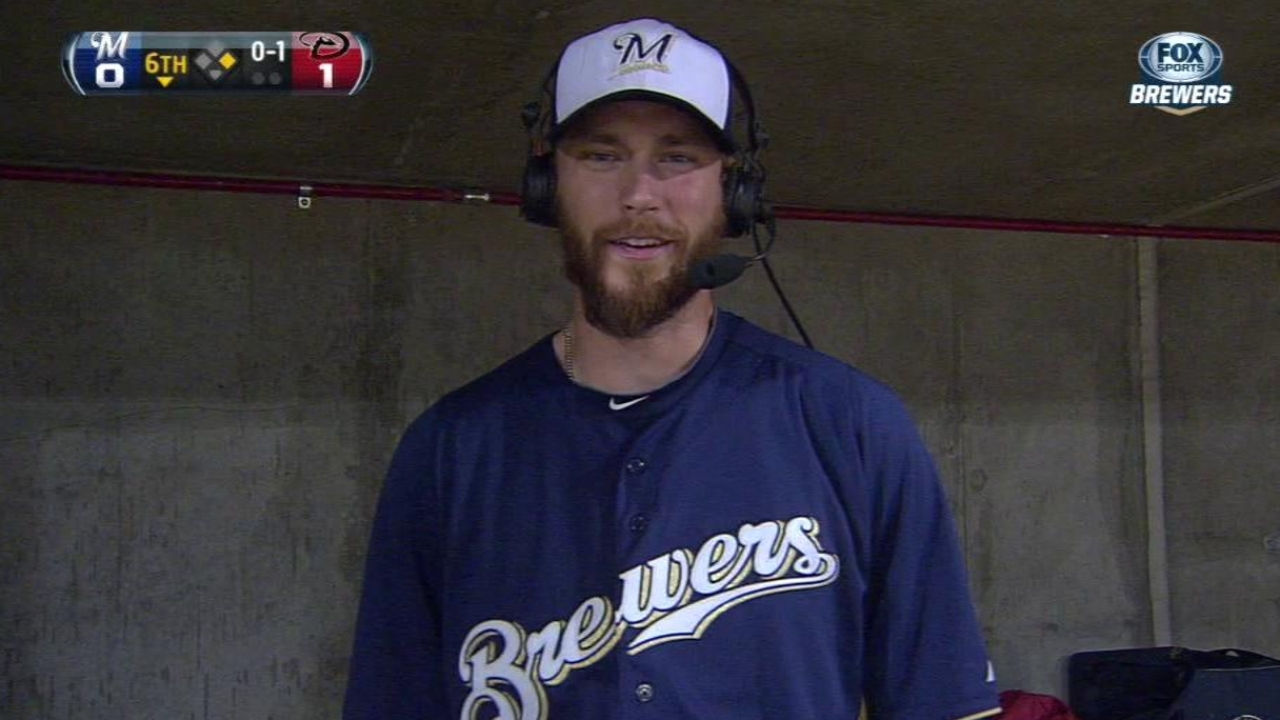 MILWAUKEE -- The fans made their voices heard again Sunday, but Brewers manager Ron Roenicke was adamant: There has been no talk of sending reliever John Axford to the Minors to iron things out.
After an eight-game stretch in which it appeared he had moved past his early-season struggles, Axford heard boos as he left the mound Sunday for the second straight outing. He'd just surrendered a run on two hits and two walks while recording one out in a 10-1 loss to the Cardinals.
The appearance boosted his ERA to 9.95 and his walks plus hits per inning pitched to 2.76 over 12 2/3 innings.
"Today was the first time that I felt off since that outing in Chicago," Axford said, referring to an April 9 loss to the Cubs. "Every time after that, I felt good. Mechanically, the ball felt good coming out. Today was one of those days where I just didn't physically feel like myself."
Axford does have Minor League options remaining, but Roenicke indicated that was not a consideration at the moment.
"No, it's not [under discussion]," Roenicke said. "We feel he can get it back together. We saw him do it last year, and still feel that he can do it. … It's the same thing that he was in [last season], whether it's confidence, whether it's mechanical. If it's mechanical, Rick [Kranitz, the pitching coach] and Lee [Tunnell, the bullpen coach] will figure it out.
"I don't think it is mechanical, as far as not putting him in a spot where he can make good pitches. But I don't know that it's all mental, either. I think Ax, he goes through things like this. Even when he was really good two years ago, he still gets in full counts a lot. He's not a guy that just commands the ball great and is a strike-thrower all the time. But working with the delivery and upstairs with the confidence, he's got to get both of them back."
Catcher Jonathan Lucroy also weighed in.
"He just has to get comfortable again," Lucroy said. "He's way too good to be doing this for long. He's throwing 96, 97 mph, and if he can just get his off-speed over early for strikes, there's not a lot of people who are going to have a chance. In 2011 when he was really, really good, that's what we did -- we got ahead early and put people away."
Axford's popularity soared at the time, because he was the key cog of a shutdown bullpen that helped the Brewers reach the 2011 National League Championship Series. But he struggled in the middle of 2012 and briefly lost the closer's job, then lost the job again after three outings this year.
He was asked whether the boos are contributing to his trouble.
"No, because when I'm on the mound I'm locked into what I'm intending to do on the next pitch," Axford said. "I never hear anything when I'm out there."
What about when he is coming off the mound?
"Coming off, you hear more things," Axford said. "If I could erase those first four outings where things weren't there mechanically, when the velocity wasn't there -- if I could get rid of those games, then maybe things are a little bit different. Maybe I feel different. Maybe the crowd feels different, too. But it's tough to get rid of those outings, tough to forget about them.
"So, I understand where [fans] are at. It is what it is. It's difficult."
Adam McCalvy is a reporter for MLB.com. Read his blog, Brew Beat, and follow him on Twitter at @AdamMcCalvy. This story was not subject to the approval of Major League Baseball or its clubs.