Weeks dropped to seventh in Brewers' lineup
Roenicke hopeful second baseman can swing his way out of slump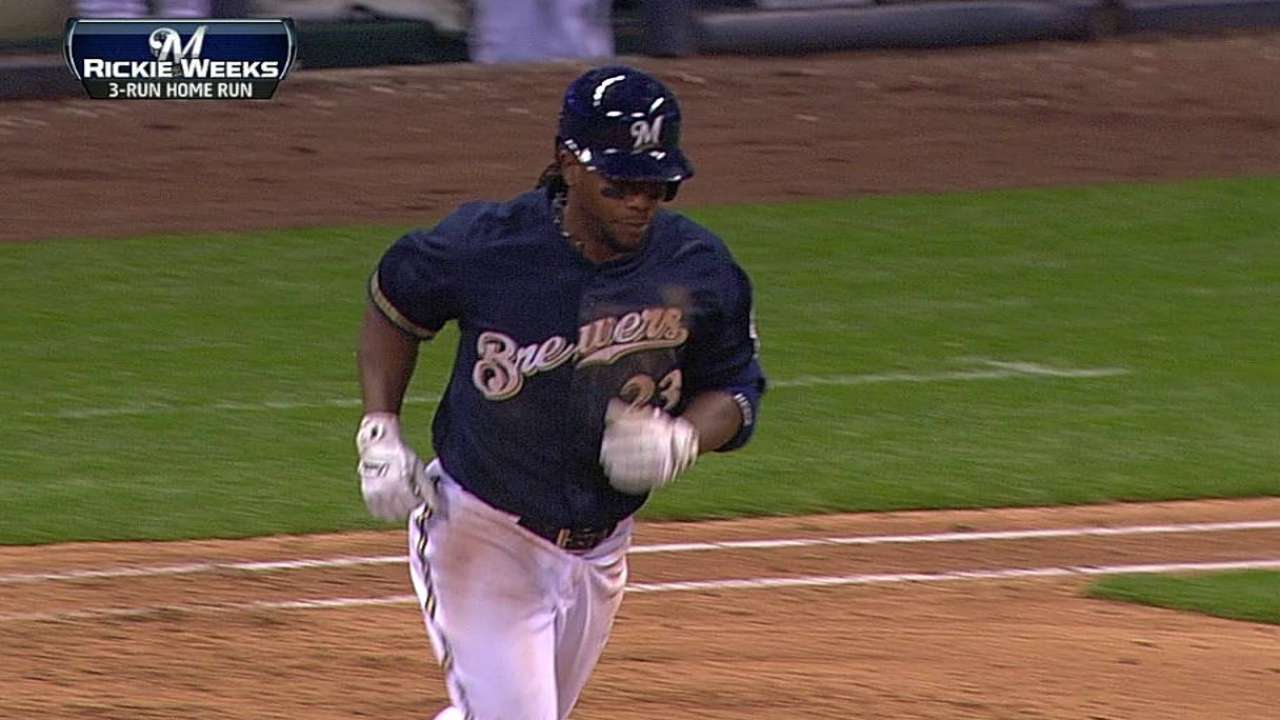 MILWAUKEE -- Rickie Weeks' new spot in the batting order was no friendlier than the others.
Weeks, who started the season batting second, then fourth before falling to fifth, dropped on Wednesday to the seven-hole. He went 0-for-3 against the Rangers and stranded four runners on base before exiting in a seventh-inning double switch, leaving Weeks with a .188 batting average, a .301 on-base percentage and a .291 slugging percentage.
Brewers manager Ron Roenicke was asked before and after a 4-1 loss to the Rangers: How long can the team stick with its slumping second baseman?
"We'll see," Roenicke said. "That's a question that every year or every couple of years you have to answer that with a player who's not producing like they normally do. There's some really good hitters in the league that are hitting under .200, and they're in the same predicament we are. How long do you stay with guys to get them hitting?
"If you think rest is the answer, then you rest him. We need this guy to hit, and he's always proven that he is a good hitter. It's our decision to figure out, do we keep playing him or do we rest him a little bit?"
So far, the Brewers have been playing Weeks every day. On the team's previous homestand, Roenicke intended to give Weeks a day off but the player talked him out of it.
In Roenicke's estimation, Weeks is the type of player who needs to swing his way out of a slump.
"When he's sitting on the bench, he's not a guy that's like, 'Whew, man, am I glad I have a night off,'" Roencike said. "That's not him. He's thinking, 'If I'm in there right now, maybe I would get it going.' You have to know the personalities.
"Not that I'm always going to be right about what I do. But, thinking about him and his personality, that's what I'm thinking right now. That may change in a couple of days. I may see something else and decide to give him a day. I don't know."
Weeks had two big chances to break through on Wednesday, but he struck out with two runners on base in a 2-0 game in the third inning and grounded out meekly to second base with a runner at third and the Brewers trailing, 3-1, to end the sixth.
After the groundout, fans gave Weeks some rare boos.
Weeks was not in the Brewers' clubhouse immediately after the game, but catcher Jonathan Lucroy offered up a defense.
"I think people need to understand that he grinds it out, he works hard, he doesn't complain and he hustles out every ball," Lucroy said. "I really think they need to cut him a little bit of slack. I think he's a great leader to follow, a guy who sets a great example of going out and playing every day and really battling through things."
When Weeks came out of the game in the seventh -- Roenicke was clear that the move was not punitive -- television cameras showed him gathering his equipment and going to the clubhouse. But he returned to the bench minutes later and watched the rest of the game alongside injured first baseman Corey Hart.
"Baseball fans, they want things to happen. It's tough," Hart said of the boos. "But Rickie is really confident that he's close. That's what he told me."
Added Lucroy: "I'll take him to battle with me any day. The guy has some of the best power and bat speed I've seen, ever, playing this game."
Weeks is in the third season of a four-year contract extension he signed during 2011 Spring Training. He is earning $10 million this season and $11 million in 2013, with an $11.5 million vesting option for 2015 that becomes guaranteed if Weeks is healthy at end of 2014 after making at least 600 plate appearances that season, or if he accumulates 1,200 plate appearances between 2013 and 2014.
One of the Brewers' top prospects happens to be a second baseman, Scooter Gennett. He was 0-for-3 Wednesday but walked to extend his streak of reaching base safely in all of Triple-A Nashville's 26 games this season.
Weeks entered the night with 114 at-bats, and Roenicke was asked to define the line between a slow start and something more concerning.
"I don't know," he said. "It depends on who the player is. Aramis [Ramirez] got off to a slow start last year."
Indeed, after 114 at-bats last year Ramirez was batting .219 with two home runs, a .266 OBP and a .386 slugging percentage. He finished the year batting .300 with 27 home runs, 105 RBIs, .360 on-base percentage and .540 slugging percentage.
"We knew Aramis was going to hit, so I think you stick with a guy longer who has a history of doing well," Roenicke said.
Adam McCalvy is a reporter for MLB.com. Read his blog, Brew Beat, and follow him on Twitter at @AdamMcCalvy. This story was not subject to the approval of Major League Baseball or its clubs.