Estrada starts Monday as Crew aligns rotation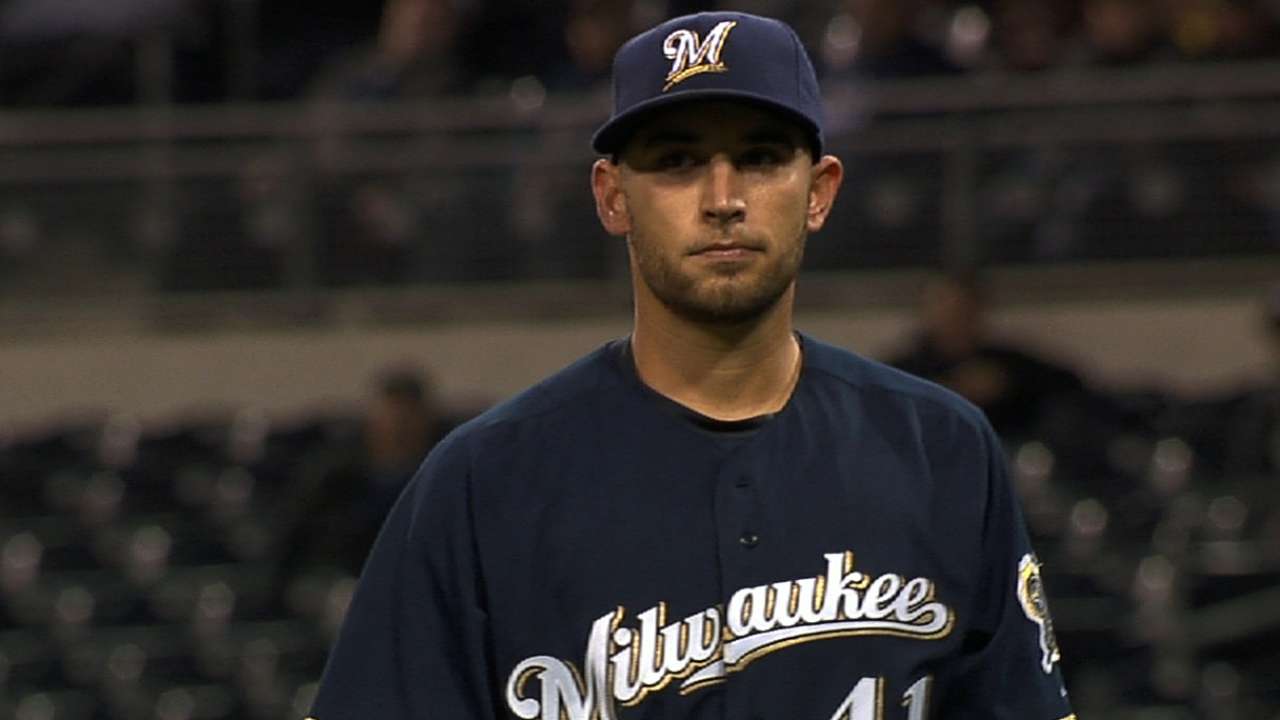 CINCINNATI -- The Brewers re-aligned their pitching rotation for the start of a long road trip, slotting Hiram Burgos back into the mix for Saturday's game against the Reds and bumping Marco Estrada two days -- from Saturday in Cincinnati to Monday in Pittsburgh.
This was mostly about Estrada, who has surrendered 13 earned runs and four home runs in 8 1/3 innings over his last two starts, including a rough outing against the Cardinals last Sunday in which he issued a career-high five walks and surrendered nearly as many earned runs (eight) as he recorded outs (10). Estrada said after that game he felt "lost" on the mound.
"I would say if it could have worked out where we could have completely missed a start with him, we would have thought about doing that," manager Ron Roenicke said. "Where we can just try to regroup and see if we can get some things back, a couple of bullpens with [pitching coach Rick Kranitz]. We're just trying to figure how to best get him back the way he was."
The schedule did not allow the Brewers to skip Estrada. Friday marked the first of 13 consecutive game days.
Did they consider bringing in another starter to give Estrada a break?
"No, we didn't talk about that, and hopefully it doesn't get to that," Roenicke said. "We all know what he's like when he's pitching well. All of us would like to see, somehow, how he we get him back to that point. He feels fine."
Asked for his thoughts, Estrada said simply, "They just thought it would be best to give me two extra days."
As a result of the move, Estrada will make four consecutive starts against the Pirates and Cardinals, but will miss the Reds and cozy Great American Ball Park. Instead, his next start will be at spacious PNC Park, where Estrada has allowed only two runs on 10 hits in 14 innings in two previous starts.
But Estrada will then have to pitch against the Cardinals, whom he would have missed in the original alignment. He is 0-4 with a 6.59 ERA against St. Louis, with a .311 opponents' average.
As for Burgos, who had been skipped in the rotation because of two team off-days in the span of four days, he will take the mound on Saturday having gone nine days between starts. He reported to Miller Park at about 2 p.m. CT on Thursday to throw a bullpen session, and said the long layoff would be no big deal.
"I had to do it because the team needed it, and I was fine with that," Burgos said. "I stayed in the bullpen for the series with the Texas Rangers, and yesterday on the day off I threw a bullpen. I was still on the mound. I did my workouts. My arm feels good. Whenever I get the chance to pitch, I have to do my job."
Dealing with the abnormal schedule, Burgos said, "is more mental. I'm ready to pitch. Like I always say, I want the ball."
Adam McCalvy is a reporter for MLB.com. Read his blog, Brew Beat, and follow him on Twitter at @AdamMcCalvy. This story was not subject to the approval of Major League Baseball or its clubs.