Brewers wonder what's wrong with Gallardo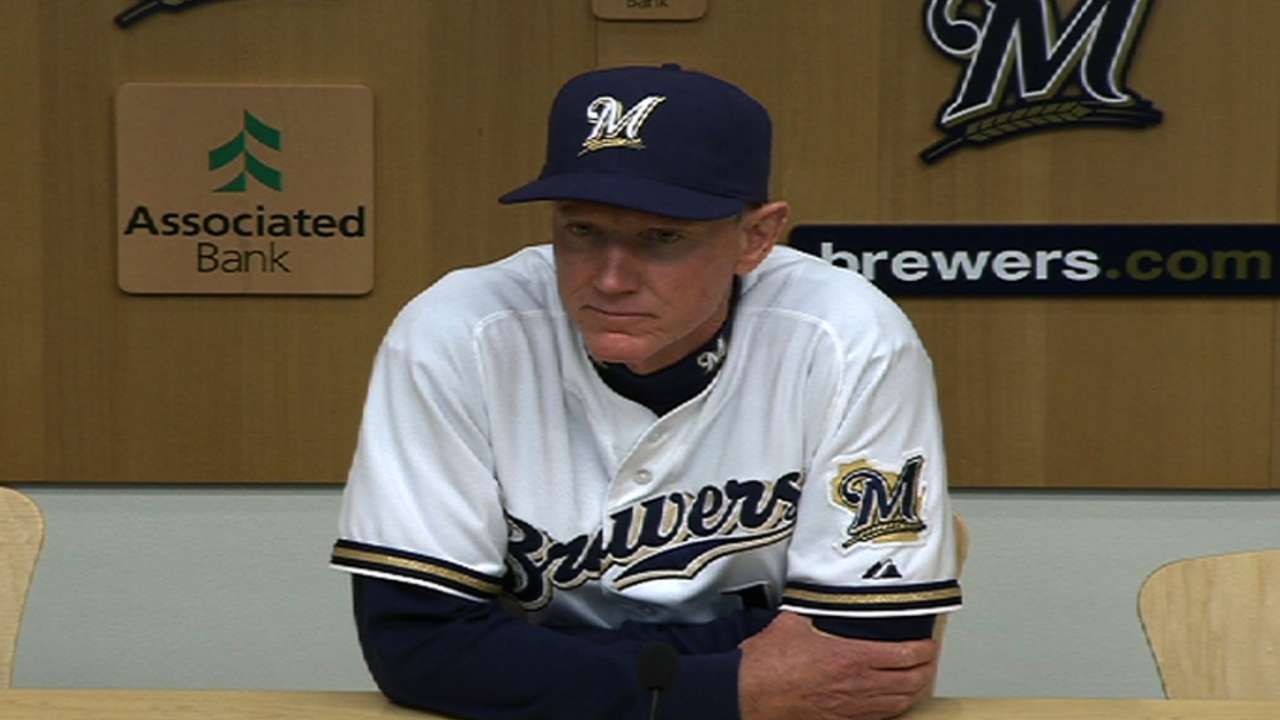 CINCINNATI -- Behind closed doors, the Brewers are tackling a tough question: What -- if anything -- is wrong with Yovani Gallardo?
Gallardo needed 100 pitches for four innings of Friday's loss to the Reds, and while he has not exactly pitched poorly (he is 3-2 with a 4.70 ERA), he has also not exactly carved through opposing lineups. The right-hander's velocity is down for the second year in a row, and his strikeouts are way down, from at least nine per nine innings in each of the past four seasons to 6.1 this year.
"We'll see what happens, but this is too long of a period for him, because he's been so good for so many years, to see him scuffle at times," manager Ron Roenicke said. "So we're trying to figure out some things with him."
Roenicke declined to elaborate, only saying, "We'll get it figured out."
One answer could be working with Gallardo's approach in response to a diminished four-seam fastball. It averaged at least 92.3 mph from 2009-11, but dropped to 91.8 last year and has averaged 90.6 mph in 2013.
One result is that Gallardo's strikeouts are way down, but his workload is not. He has thrown 17 pitches per inning so far in 2013, seventh most in the National League. He was fourth in the league last year with 17.1 pitches per nine inning after ranking sixth with 16.7 in '11 and tied (with teammate Chris Narveson) for first with 17.3 pitches per inning in '10.
Some wonder whether that grind helps explain why, at age 27, Gallardo lost some zip on his fastball. Gallardo, for his part, dismissed a question about velocity after Friday's loss, saying the issue was purely command.
Roenicke and pitching coach Rick Kranitz have been discussing what, if anything, to do.
"Consistency is what I'm used to in Yovani," Roenicke said. "That's what I thought he'd give us this year. With our young guys, we needed it."
Gallardo's next start is Wednesday against the Pirates, a team he beat April 29 by allowing only one run and three hits in seven innings. He's 10-2 with a 2.49 ERA against Pittsburgh in his career.
Adam McCalvy is a reporter for MLB.com. Read his blog, Brew Beat, and follow him on Twitter at @AdamMcCalvy. This story was not subject to the approval of Major League Baseball or its clubs.