Brewers place Gorzelanny on DL, recall Fiers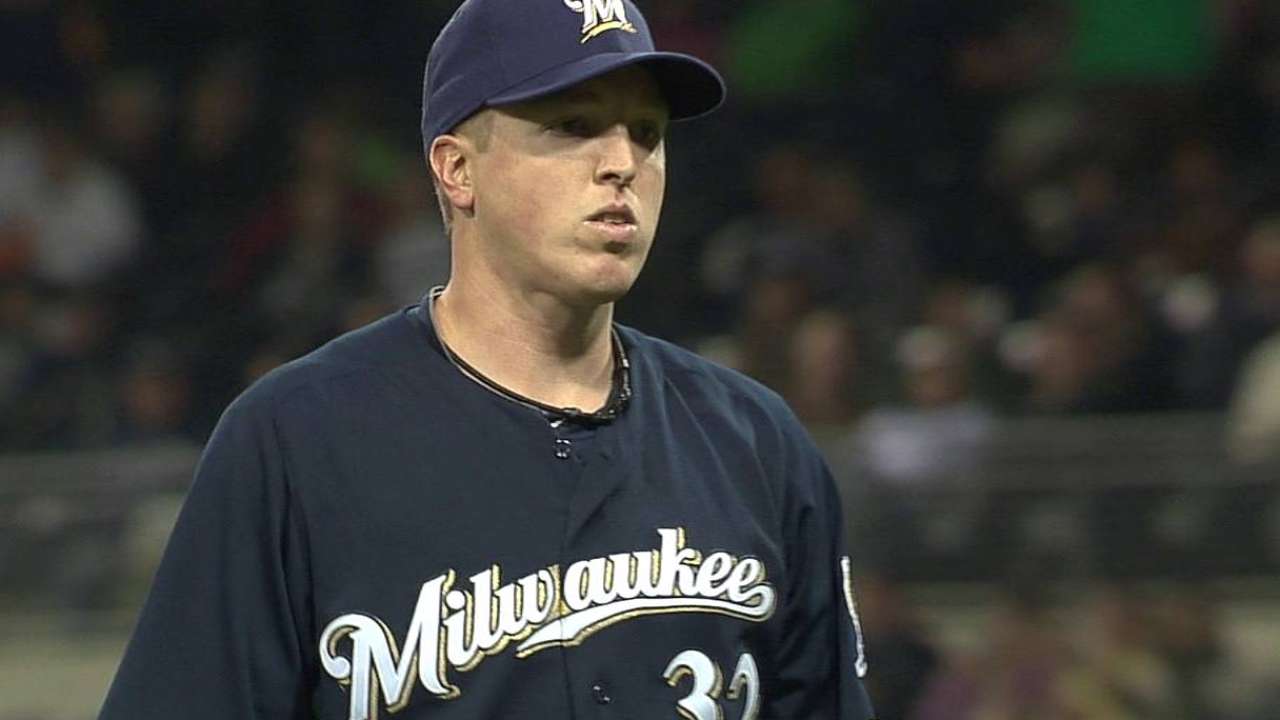 CINCINNATI -- Brewers left-hander Tom Gorzelanny could not get loose for a relief outing against the Reds on Friday, and by the close of business on Saturday, he was on the 15-day disabled list.
The Brewers placed Gorzelanny on the DL with left shoulder tendinitis and recalled right-hander Mike Fiers from Class A Brevard County. The Brewers are hopeful that Fiers, who began the season in the Brewers' starting rotation, will make it to Cincinnati before the start of Sunday's series finale against the Reds.
Fiers' stay might not be long. He had been pitching at Triple-A Nashville, but was sent to Brevard County to be closer to a family medical emergency that was ongoing as of Saturday evening, according to manager Ron Roenicke.
"He's been talking to Gord [Ash, the Brewers' assistant general manager], and they've been trying to figure out what to do with the situation at home, and [Fiers] is not sure what to do there," Roenicke said. "We tried to help him out by sending him to Florida, and now we need him."
Fiers last pitched Wednesday. He will be a much-needed arm in a bullpen that has already covered nine innings in two games against the Reds, a heavy workload at the start of a stretch of 13 games in as many days.
Gorzelanny, who is in the first season of a two-year contract, said the problem began on the Brewers' homestand.
"We're trying to take the smart route and just take a few days," he said. "Hopefully, I'll only need the 15 days. A few days before, it started bothering me, and I was able to pitch through it and get loose after. But [Friday], I couldn't get loose. Every pitcher has had that problem before. I probably could have easily pitched through it, but it wouldn't have been very good or felt very good, and there's no point in doing it this early in the season."
With Gorzelanny unavailable Saturday, the Brewers had only four available relievers behind rookie starter Hiram Burgos, who allowed 12 runs -- 10 earned -- in three innings.
Had those four relievers been unable to get through the game, Roenicke would have used utilityman Blake Lalli to pitch. Lalli was a third baseman and closer at Gardner-Webb University, and has pitched in 18 games in the Minor Leagues with a 3.21 ERA. He said when he was pitching regularly, he threw an 89-90-mph fastball with a curveball and changeup.
Adam McCalvy is a reporter for MLB.com. Read his blog, Brew Beat, and follow him on Twitter at @AdamMcCalvy. This story was not subject to the approval of Major League Baseball or its clubs.