Brewers must decide about K-Rod, now in Triple-A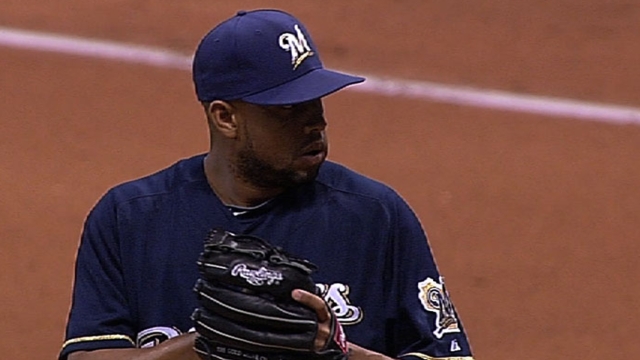 CINCINNATI -- Right on schedule, the Brewers promoted reliever Francisco Rodriguez to Triple-A Nashville on Saturday night and will decide this week whether to offer him a job in the Majors or a ticket back to free agency.
Under the terms of K-Rod's Minor League contract, the Brewers had 30 days to evaluate his stuff and decide whether he fit their bullpen plans. Rodriguez made two appearances for Class A Brevard County, then threw a simulated inning on a covered mound Saturday when their game was rained out.
Rodriguez is scheduled to pitch back-to-back Triple-A games on Monday and Tuesday with Brewers general manager Doug Melvin in attendance. The team's decision-making window closes Thursday, according to assistant general manager Gord Ash, who declined to say how the club was leaning.
"I don't think you can draw any conclusions to this point because it's been 'A' ball," Ash said.
To make room for Rodriguez in Nashville, the Sounds placed first-base prospect Hunter Morris on the seven-day disabled list with what Ash characterized as a mild concussion suffered in a collision on the basepaths.
"Just to be cautious," Ash said.
Morris will go through the standard array of impact testing to ensure he is healthy before he plays again.
Adam McCalvy is a reporter for MLB.com. Read his blog, Brew Beat, and follow him on Twitter at @AdamMcCalvy. This story was not subject to the approval of Major League Baseball or its clubs.