Report: Crew offers Segura a long-term deal
Acquired from Halos last season, shortstop leads NL in average, hits and steals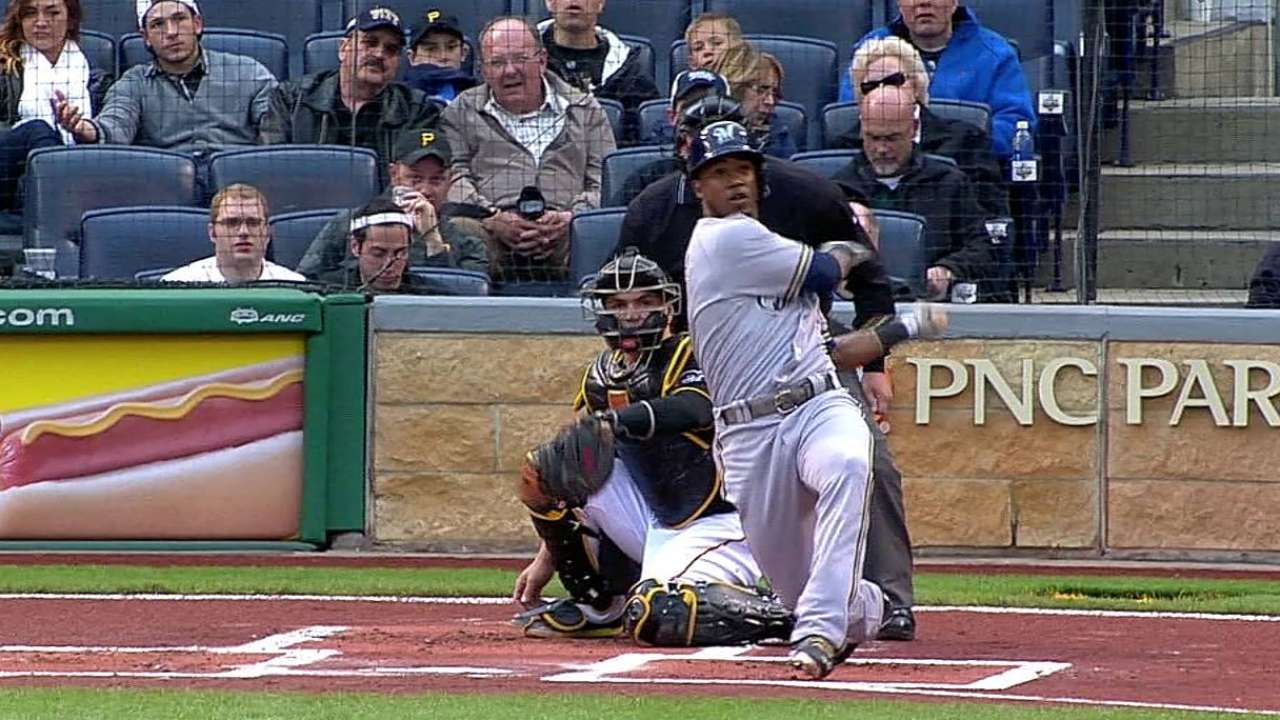 PITTSBURGH -- How confident were Brewers officials that Jean Segura could handle his first full season in the Major Leagues? They reportedly have already offered him a longer contract.
Agent Joe Klein told FoxSports.com that the Brewers made their offer about a month ago, mere weeks after 23-year-old Segura made his first Opening Day roster. The report did not include details about the nature of the team's proposal, and Klein indicated that talks have not progressed since then. Brewers general manager Doug Melvin declined to comment for the story.
"Right now, I guess it's in my court," Klein told the website. "But with a guy this young, it's hard to figure out what the right numbers would be. It would be good, be nice if it was possible to do. But I don't know. It's way, way on the drawing board."
Segura's value has only increased since that offer was made. The shortstop homered in his first at-bat in Tuesday's 4-3, 12-inning loss in Pittsburgh and later added an RBI groundout. He came into the game leading the National League in batting average (.368), hits (50), multi-hit games (17) and stolen bases (13).
He is earning $492,000 this season, just north of the league minimum salary, and entered the year with only 65 days of MLB service. That means he will continue to draw a salary near the league minimum through the end of the 2015 season, then be arbitration-eligible but still under Brewers control from 2016-18 before reaching free agency.
The Brewers acquired Segura from the Angels at last year's non-waiver Trade Deadline, along with two Minor League pitchers, for free-agent-to-be right-hander Zack Greinke.
Said manager Ron Roenicke about Segura: "I don't know. Those kind of things are gambles, they are looking at a guy who you are going to have to feel is going to be good for a long term, and with a first year or second year player those are tough decisions. I know nothing about it.
"What you see from him this year, he's doing everything right, we didn't see that player last year. This is a great player, this is a guy that I don't want to ever take him out of the lineup. I keep talking about I want to get him a day off and he plays so well I can't take him out, and he doesn't want out. He's one of the best players in the league."
Adam McCalvy is a reporter for MLB.com. Read his blog, Brew Beat, and follow him on Twitter at @AdamMcCalvy. George Von Benko is a contributor to MLB.com. This story was not subject to the approval of Major League Baseball or its clubs.