After waiting for right deal, K-Rod eager to help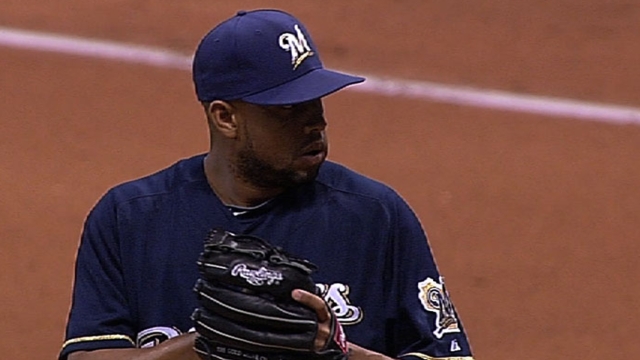 PITTSBURGH -- Francisco Rodriguez is back, and he can't wait to help the Brewers turn things around.
The 31-year-old was officially activated for Thursday night's game against the Pirates after spending four weeks getting ready following his April Minor League deal.
"I'm extremely happy to be able to wear this uni," Rodriguez said prior to the Brewers' 7-1 loss to the Pirates. "I can't wait to be on the field. It's been a long time. I'm looking forward to staying healthy and helping this ballclub as best as I can."
His first opportunity came quickly, as Rodriguez was called upon to pitch the eighth inning of Thursday night's contest. He pitched a perfect inning, retiring the Pirates' second, third and fourth hitters, and finishing things off by striking out Garrett Jones. Manager Ron Roenicke had hoped to get that first outing out of the way quickly.
"The first one, if we can do it earlier, we'll try to do it earlier," Ron Roenicke said prior to the game. "But the games change so much. Usually, we think too much, and we plan something and it doesn't work out that way. We'll see how the game goes. If other guys are fresh, I may try to keep them in the same role they've been doing, but we'll see."
Rodriguez made four appearances, two in the Florida State League and two with Triple-A Nashville, in what served as both an audition and a chance for Rodriguez to get the work in he normally would have during Cactus League play.
"It was my Spring Training," Rodriguez said. "Usually, I get between 10 and 15 outings. In that period of time, that month, I was just preparing myself to be here. It definitely was a tryout. That's the reality. But at the same time, I was trying to prepare myself, to make sure to be ready to be here."
Rodriguez said he had opportunities to sign with other clubs, some that offered him the chance to go straight to a big league bullpen without the Minor League tryout. But he felt this was the best fit for him, and it was clear that his comfort level with the organization, Roenicke and pitching coach Rick Kranitz played a part in his decision-making process.
"There were a few teams out there, but I was waiting for the right opportunity," Rodriguez said. "I had a few options I could have taken to be at the big league level right away, but I wasn't ready physically to make that commitment.
"I like the ballclub. I really do feel comfortable here. I could've gone elsewhere and taken a big league job. But I didn't. I was just waiting for the right moment. It came and we got it done."
Now that he's here, it remains to be seen what role Rodriguez will ultimately fill in a bullpen that has a 3.59 ERA, good for seventh in the National League, entering Thursday's game. Getting his 2013 debut out of the way was the first step. Rodriguez, for his part, is in no hurry to have a defined role. He's just happy to be back in the big leagues and hopes he can somehow contribute to reversing the Brewers' recent fortunes.
"We just have to put it together, be a little more consistent," Rodriguez said. "Hopefully, me coming in and helping in the 'pen, hopefully it helps. That's my goal, to contribute as much as I can.
"At this point right now, I just want to put zeros up on the board and take a lot of pressure from the guys. I think in the coming days, it will be more clear [what my role will be]. Right now, I just want to be ready when the manager calls."
Jonathan Mayo is a reporter for MLB.com and writes a blog, B3. Follow Share This