Aramis breaks through after unlucky road trip start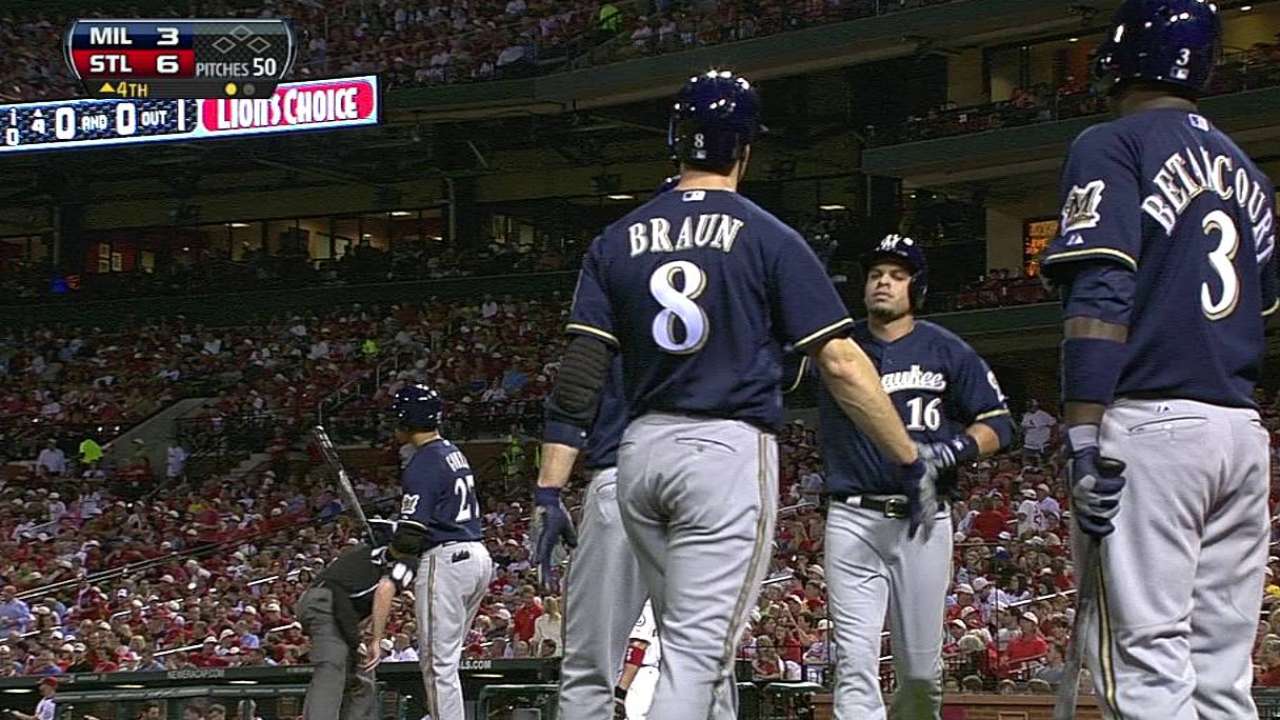 ST. LOUIS -- The box scores say he was 3-for-18 on the first two legs of the Brewers' long road trip, but Aramis Ramirez felt better than that and manager Ron Roenicke saw better than that.
"Two games ago, he squared up three balls well for outs, and even the at-bat [on Thursday], he just missed it," Roenicke said Friday afternoon, referring to a warning-track fly in the Brewers' loss to the Pirates. "So, I like the way he's swinging the bat. He's obviously still not 100 percent, but he's important in our lineup in that four-spot."
Said Ramirez: "I thought I swung the bat pretty good in Pittsburgh, I just didn't have any results. I made five or six outs in the warning track, some line drives. Hopefully, good things are coming."
It turns out he was right. Ramirez returned to the lineup Friday for his 10th start since returning from a month-long stint on the disabled list, and he delivered a three-run home run in the fourth inning that put the Brewers on the scoreboard, and another three-run blast in the sixth that cut their deficit to 7-6. All three of Ramirez's three home runs this season have come in the 10 starts since he returned.
"It was nice to see 'Ramie' get a couple, too," Roenicke said. "I think he has been swinging the bat well and he hasn't had anything to show for it. That was a big day for him."
It marked the 26th multihomer game of Ramirez's career, and his seventh game with at least six RBIs. He has a pair of seven-RBI games, most recently in July 2010 for the Cubs against the Astros. In 173 previous games against the Cardinals, Ramirez had never driven in more than three runs.
Ramirez's left knee remains far less than 100 percent, so Roenicke has been working in regular days of rest.
That policy has no end in sight, Roenicke said.
"I'm not thinking in a week from now that I can leave him out there all nine innings and not worry about him. I know I'm not there," Roenicke said. "It's not [ideal], but he wants to be out there and he knows he can help us by being in the lineup. I think if we thought this was a quick fix, that if he took off a week that he'd be fine, then it would be different. But that's not what we're thinking."
Adam McCalvy is a reporter for MLB.com. Read his blog, Brew Beat, and follow him on Twitter at @AdamMcCalvy. This story was not subject to the approval of Major League Baseball or its clubs.