Gonzalez seeking better results against lefties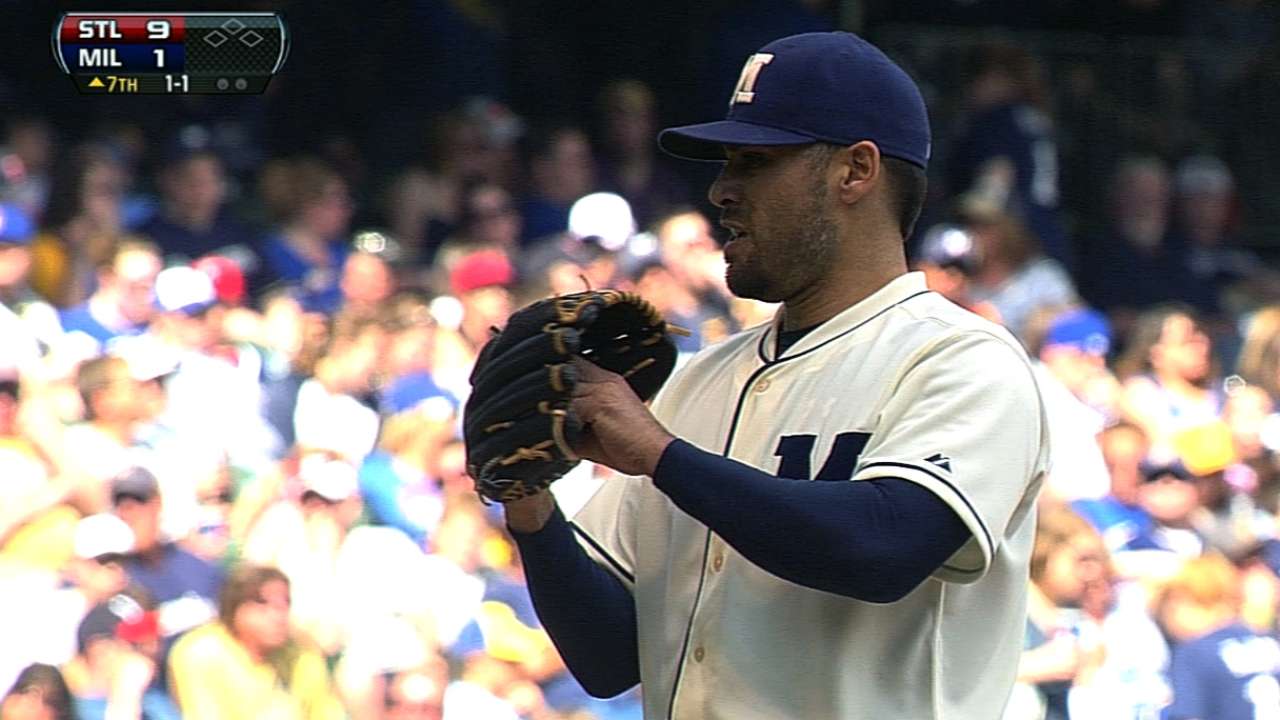 ST. LOUIS -- The Brewers began the season with three left-handed relievers, but this weekend were down to one -- and that one has been struggling to retire left-handed hitters.
With Tom Gorzelanny and Chris Narveson on the disabled list, the Brewers' only active left-handed pitcher is Michael Gonzalez, who was called upon Saturday to face lefty-swinging Cardinals center fielder Jon Jay and surrendered a tying single.
Including that hit, left-handers are 10-for-32 against Gonzalez this season with two doubles and two walks.
"I don't know. We talked about it today, just the pitches he has been trying to make, he has not been locating like he was used to," manager Ron Roenicke said. "He certainly has the stuff to get out lefties. Last night, he tried to go down and away and he threw it up and away."
That was against Jay, who prompted a call to the bullpen for Gonzalez with the Brewers leading by one and the tying runner in scoring position. Jay blooped that misplaced pitch to left field for a tying single.
"I think it's just phases you go through that from one year to the next can change," Roenicke said. "I look at lefty-righty matchups. Well, you may look at this year and it says he gets out lefties way better than righties, and then you go back and look back at 2012 and it's just the opposite. I would say more than half the time it's opposite, and it makes no sense to me. If you get out right-handers, it seems you should always get out right handers, but the numbers tell me it's not the case."
What does that mean for Gonzalez, who held left-handed hitters to a 1.79 batting average last season for the Washington Nationals?
"I think his stuff is fine. He doesn't throw 95 [mph] like he used to, and that's an adjustment he has to make," Roenicke said.
Adam McCalvy is a reporter for MLB.com. Read his blog, Brew Beat, and follow him on Twitter at @AdamMcCalvy. This story was not subject to the approval of Major League Baseball or its clubs.