Roenicke pleased to see more animated Axford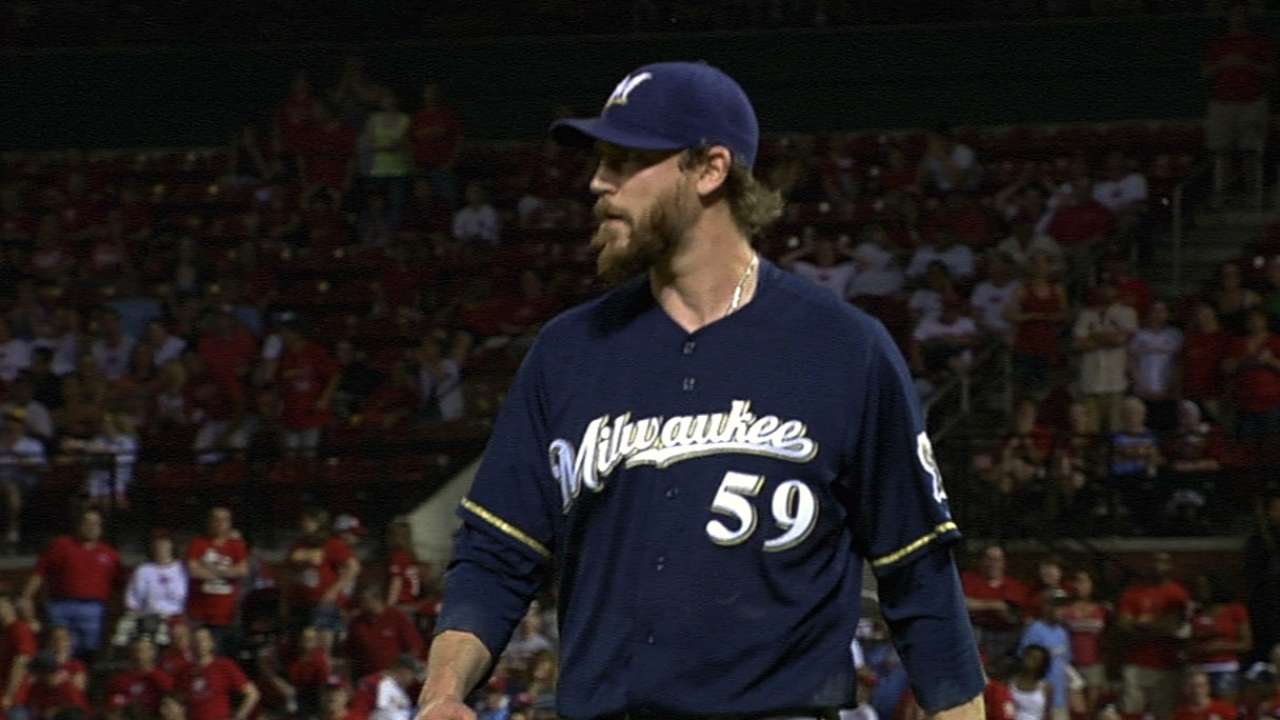 ST. LOUIS -- Brewers manager Ron Roenicke was happy to hear that John Axford is planning to adopt a more animated presence on the pitcher's mound.
The usually reserved Axford punched his right fist into his glove after striking out Daniel Descalso with the bases full of Cardinals in the eighth inning of a tie game Saturday night and told reporters afterward that he planned to show more emotion in future outings. He has been searching for ways to shake the issues that cost him the closer's role and drove his ERA above 9.00 as recently as last week.
"Look, change!" Roenicke said. "Do something different! This game, you play so many games and so many days in a row where you're out there, and when you're scuffling with something, don't be afraid to make a change. I don't get the mentality that, 'I'm going to stick with the same thing, regardless of what happens.'"
Roenicke paused, and before a reporter could fire a follow-up question about his commitment to slumping second baseman Rickie Weeks, he added, "If I'm sticking with someone in the lineup, it's because there's a lot of history there and the options aren't better. If I'm doing something the same way, at least there's some sense to it, I guess.
"But I don't know. Cal Ripken changed his stance 50 times a year, every year. You know, if this isn't working, I'm going to try something different."
Weeks, by the way, was back in the Brewers' starting lineup Sunday with a .175 batting average.
Axford was back in the bullpen, although probably unavailable for duty on Sunday after throwing 33 pitches the night before. He was not near his sharpest on Saturday against the Cardinals, throwing only 13 strikes versus 20 balls -- a rare combination for a game's winning pitcher. Descalso struck out on a slider that would have been ball three.
But the pitch before was a 98 mph fastball, a good sign considering Axford had worked with diminished velocity in some previous outings.
"I've been feeling really good lately," he said. "I think I just kind of looked in the mirror and have gone a little deeper inside myself the last few outings. … I kind of dug in and realized I need to do a little bit more."
Adam McCalvy is a reporter for MLB.com. Read his blog, Brew Beat, and follow him on Twitter at @AdamMcCalvy. This story was not subject to the approval of Major League Baseball or its clubs.