Hart takes BP as rehab progress inches along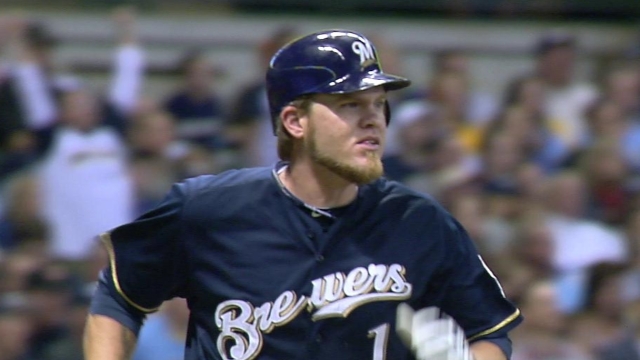 MILWAUKEE -- Corey Hart hit two more milestones Monday in his recovery from right knee surgery but will not be ready to come off the 60-day disabled list when his term expires on May 30, Brewers officials concede.
The 31-year-old first baseman, who hit 30 home runs last season as Milwaukee's five-hole hitter, had hoped to be back in the lineup long ago, but his rehabilitation from the Jan. 25 procedure has taken longer than expected. On Monday, before the Brewers opened a homestand, Hart ran on the field and took full batting practice for the first time this year.
"It's progress," he said. "It's still little by little but you continue to move forward rather than backwards. It's always positive, so hopefully I can get a lot done here this homestand. I'll get enough done where I can actually go on the road with the guys and then hopefully try to find a spot to go play [in a Minor League rehabilitation assignment]."
But that assignment is not expected to begin until a week or so into June, pushing Hart's return to the Major League lineup well into the month.
His running in the outfield on Monday was "awkward," Hart said, but "right now, my knee is stronger than it's been in a long time. Everything I'm doing now is almost like I have to relearn it. My quad has been shut down for so long that leg extensions, that's a chore just because my leg doesn't want to learn. I'll sit there and have to try to force it to move. It's not like my knee is hurting, it just doesn't want to do it. That's the challenging thing. It's awkward just because I'm trying to make my leg go where it's supposed to go. It's kind of frustrating. I'm making strides so I can't complain too much."
The Brewers could use his bat. Alex Gonzalez started the season at first base but has slipped into a reserve role and entered Monday batting .179. Yuniesky Betancourt, who took over, started the season scorching hot and still was tied with Ryan Braun for the team lead in home runs (eight) but entered Monday with only four hits in his last 43 at-bats.
With Hart rehabbing at Miller Park, the team went 2-8 on its recent road trip.
"Right now it's a little more frustrating because the team is not playing as well as we all want," Hart said. "That makes it a little more difficult, like, 'I've got to get back soon because I can get out there and help.' At the same time, I know I can't overdo it because I want to come back and stay on the field instead of having to worry about going back on the DL. Once I'm on the field I'll be 100 percent and ready to go for the rest of the time and not have to worry about that kind of stuff."
Adam McCalvy is a reporter for MLB.com. Read his blog, Brew Beat, and follow him on Twitter at @AdamMcCalvy. Kevin Massoth is an associate reporter for MLB.com. This story was not subject to the approval of Major League Baseball or its clubs.